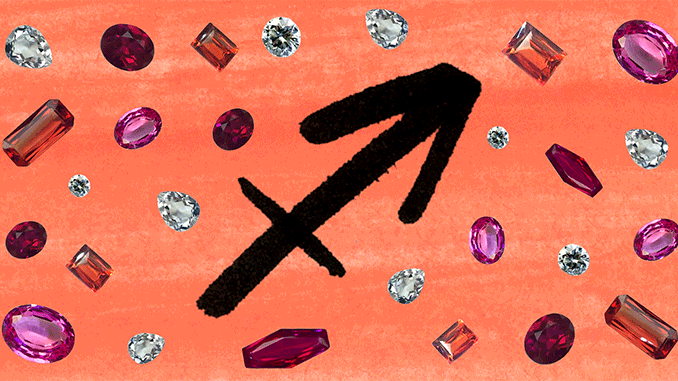 February 2018 Horoscopes: Sagittarius
NOVEMBER 22 — DECEMBER 21
This Valentine's Day, it's all about the story. You're no stranger to writing, speaking, or otherwise entertaining other people with your words, but under the visionary Aquarius solar eclipse on the 15th, you upgrade your communication style for good. You could take on a more authoritative voice in your community, start writing a book, or take on a more public-facing role at the office. Whatever goes down is sure to cause an emotional stir, especially with the sun into your sensitive fourth house on the 18th. You'll need to be meticulous about self-care in order to take advantage of the opportunities being offered to you this month. Luckily, a magical alignment of Venus, Mercury, and Neptune on the weekend of the 23rd help you heal from the inside out—though a trip to the dermatologist wouldn't hurt, either. Look after yourself, and the universe will look after you.
What to do for Valentine's Day: Trivia night. Under this month's stars, flexing your intellectual muscles is a must. Grab a pitcher to share with your babe, and get your team name ready!
Want more stories like this?
The Best Workout for You According to Your Zodiac Sign
The Hottest Places to Have Sex Based On Your Sign
The Lipstick Shade You Need In Your Life According to Your Zodiac Sign