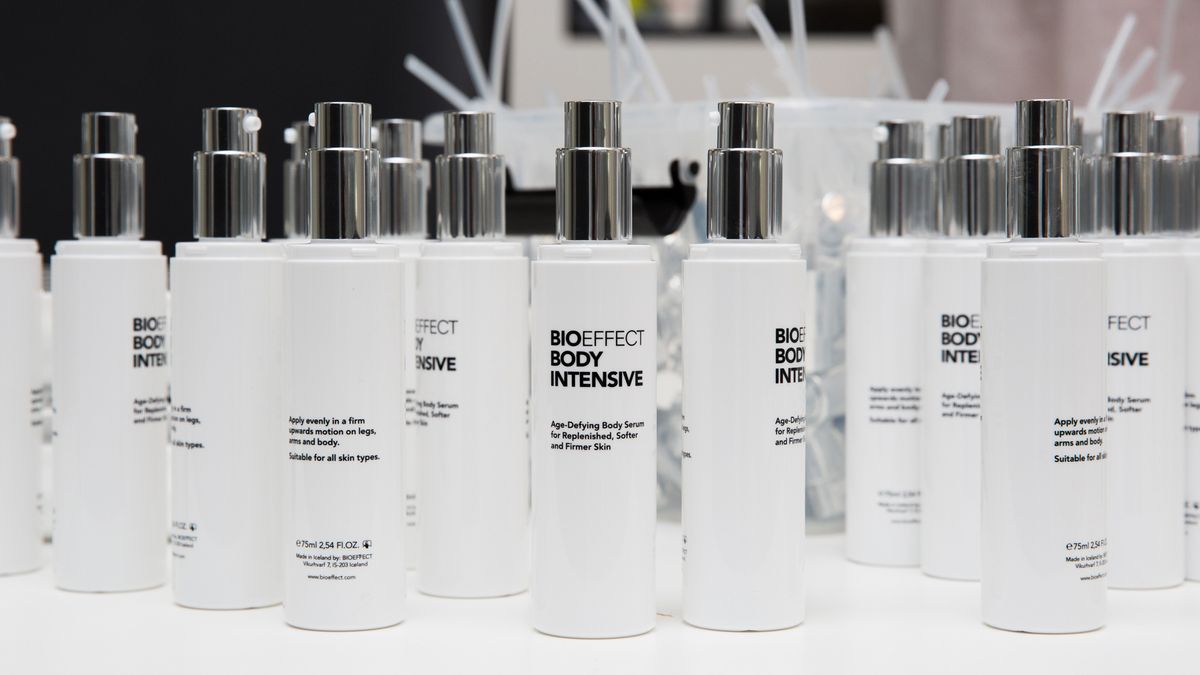 Skin
Karl Lagerfeld is a fan.
Alec Kugler
Iceland has a lot of good branding these days. It's become one of the must-go, must-Instagram cities on anyone's bucket list. (This writer's been twice!) But there's one destination way off the beaten path that has one of the island's best kept secrets. Way outside of Reykjavik is a large greenhouse owned by the Icelandic skin care brand called Bioeffect. The brightly lit white structure is surrounded by dark moss-encrusted volcanic lava rock as far the eye can see and just a few paved roads. The wind is battering, a dormant volcano is in the distance, and, as our host Björn Örvar, Ph.D., Bioeffect co-founder and chief scientific officer tells us, we're also on earthquake-prone land. This is where the magic happens.
---
Bioeffect, a skin care brand that has been available in the EU and Iceland (where it been said that 30% of women use it) for nearly 15 years, has been praised by the likes of Bianca Jagger and Karl Lagerfeld, and was a persistent bestseller at Colette (RIP), uses the greenhouse to grow a very specific kind of barley. The little green plants have been genetically modified to produce an ingredient called epidermal growth factor (EGF). This is a big deal for a couple reasons: The high-level of efficacy and the fact that, unlike some other EGF products, it comes from a plant.
First, why EGF works so well. It is a naturally-occurring protein in your body that normally tells the collagen-making fibroblasts inside your skin to keep chugging. Until, that is, your supply is depleted with age (bad news: our skin gets thinner by 1% every year after 20, and that speeds up after menopause), in which case a topical EGF through skin care can come to the rescue and remind those fibroblasts they're still on the clock. That's why EGF has become one of those gold standard ingredients dermatologists swear by next to retinol, vitamin C, and glycolic acid—in fact, the discovery of growth factors won a Nobel Prize in 1986. I've always heard derms rave about SkinMedica TNS serum (which is made by Botox parent company Allergan) and others like Regenica and DNA Renewal.
Before Bioeffect launched in the US about two years ago through Net-a-Porter (it's now also sold at Cos, Bergdorf, and Neiman Marcus) those were the main EGF brands beauty editors talked about. But then the Icelandic brand hit the US PR circuit with some pretty impressive stats: in a double-blind study over two months, tester's skin thickness increased by more than 60% and skin density increased by more than 30%. And these were all objectively measured, rather than responses from testers personal beliefs. For the non-beauty editor, these are the kinds of high-effort studies and big changes you don't see very often.
This brings us to the second point. Some of the aforementioned EGF products on the market derive their star ingredient from non-plant sources, as in, ahem, human sources like discarded foreskin tissue. (You might have heard of this concept almost like an urban legend, but it's true.) While they aren't actively working with human tissue—one original sample was used to proliferate all the cells used afterward—some people don't like the thought. The barley-derived EGF is not only a little more palatable, Bioeffect also limits the number of other ingredients—their best-selling serum (which sells 18 bottles per hour) has only seven ingredients in it total. If you look at almost any other skin care product in your bathroom, you'd be more likely to see 15, 20, or 30 ingredients.
That's not to say there are zero concerns. Not everyone likes the idea of genetically modified plants, either, so there's that. And the ingredient is sensitive. The EGF can be rendered ineffective by other ingredients easily (part of the motivation for the minimal seven-ingredient formula). That means you need to let the product sit on skin for a little while on its own before you can apply anything else on top. The classic Bioeffect EGF serum is fairly sticky to the touch. That's not a huge issue if you're just headed straight to bed, but can be a bit annoying during the day. The new Bioeffect EGF + 2A Daily Treatment has a boost of antioxidants and it leaves a soft smoother finish.
But with the kind of results they're talking about, a lot of people find it 100% worth it. If Bianca Jagger and Karl Lagerfeld don't convince you, allow my 68-year-old. mother to. She dabbles with some serious skin care like retinoids and hydroquinone but is otherwise extremely minimal with her beauty routine as she doesn't see a difference with most of it. She's a no-fuss lady. But after almost a year of using it, Bioeffect has got her *hooked.* Any serums I have left over, if she doesn't pry them away from me, I love to use specifically at night. I put it on totally clean, dry skin all on its own and dream about those awakening fibroblasts and skin as luminous as a glowing greenhouse in the middle of an Icelandic tundra.
Want more stories like this?
Behold: A $1,200 Face Serum That Comes from Outer Space
These Are the Eye Creams You Should Use in Your 20s
I Faked Extensions with This $60 Lash Serum