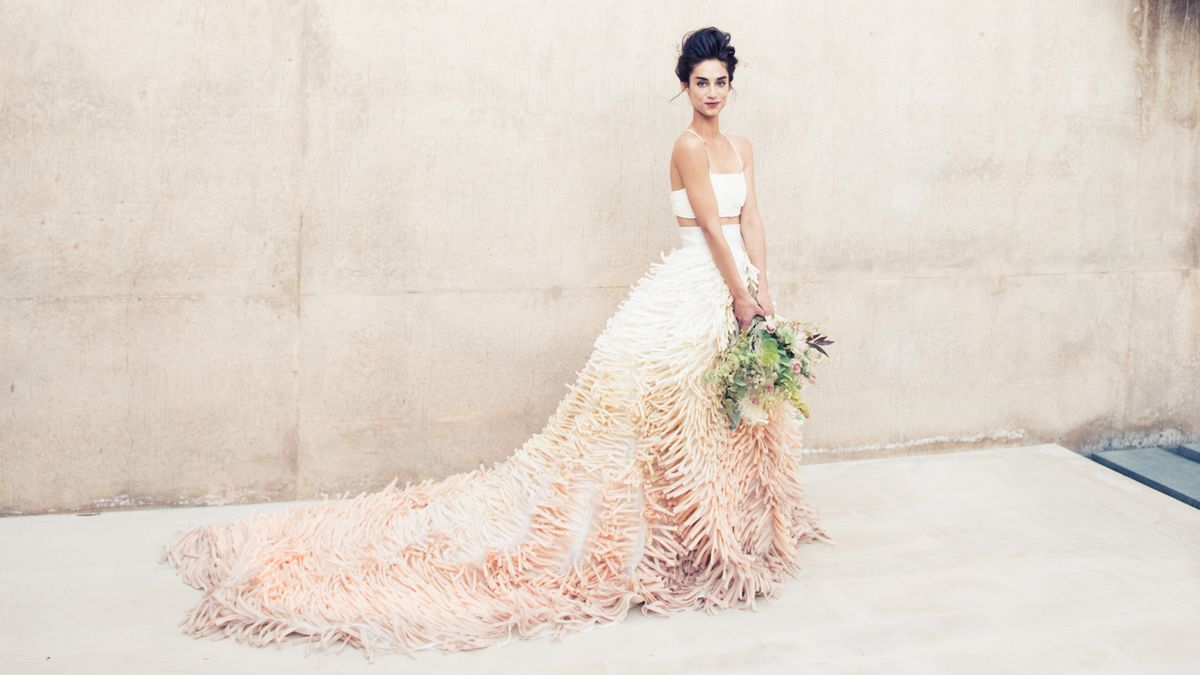 Trends
The Wedding Trends You're Going to See Everywhere in 2018
Festival weddings and colorful wedding dresses will dominate.
It doesn't really matter if you're in the midst of planning a wedding or not—perusing images of silky, crystal-encrusted gowns, glittering diamond rings, and tables of towering cakes set on a backdrop of a chateau in the South of France is equally inspiring (even if it's sometimes a wee bit jealousy-inducing). One thing we're seeing: a lot of rule-breaking and fresh new ways to make a wedding more fun, less predictable. As we gear up for wedding season, we asked editor-in-chief of Martha Stewart Weddings—the go-to glossy for everything bridal—Amy Conway to give us a sneak peek into what trending new wedding ideas we'll be scrolling through all year long.
---
---
Decor
---
Bigger *Is* Sometimes Better
(For Flowers, That Is)
"Flower installations are huge—literally. We're seeing amazing, dramatic floral walls, lush arches over doors or as ceremony markers, 'chandeliers' and other dramatic hanging arrangements. Many have a loose, almost wild look, as if they just sprouted up out of nowhere."
Create Your Brand
"Branding the event is big—right down to the floor. Couples are having custom dance floors (done with a decal or projection) with their monogram or crest, a bold pattern in their color palette, or a motif picked up from their stationery."
Mixed Media
"There's an emphasis on materials—lots of lucite and Plexiglas, leather, slate, velvet. For reception tables, people are mixing different textures and patterns for rich, distinctive settings—the variety of high-quality rentals makes it possible to create something completely unique."
---
Bridal Style
---
More Color
"Gowns with hints of color—think the palest pink, peach, blue, or gray—let the bride do something different."
No Frills
"But we're also seeing a return to simplicity—clean, chic, unadorned gowns that are all about the silhouette and the bride herself."
Pants!
"We love the jumpsuits, pantsuits, and minis we're seeing—and brides do too, but more for their shower, rehearsal dinner, or after-party. They're wearing white to everything!"
---
The Location
---
Multi-Day Affairs
"Destination weddings are more popular than ever. Couples want to spend more than a few hours with their friends and family, so the 'big day' has turned into a long weekend getaway with everyone you love. As for where they're going, Mexico is having a major moment! We are seeing so many destination weddings there. Italy and France are also super popular."
The Coachella of Weddings
"We've also seen some cool 'festival weddings'—think of it as a music festival atmosphere without the bands. Pick a remote location (don't forget the permits), set up glamping-style tents, and move in with all your friends and family for a few days of celebrating."
Want more stories like this?
A Fashion Editor's Romantic Wedding in the South of France
How to Find the Perfect Wedding Band for Every Type of Bride
What to Do When Your Engagement Ring Isn't You