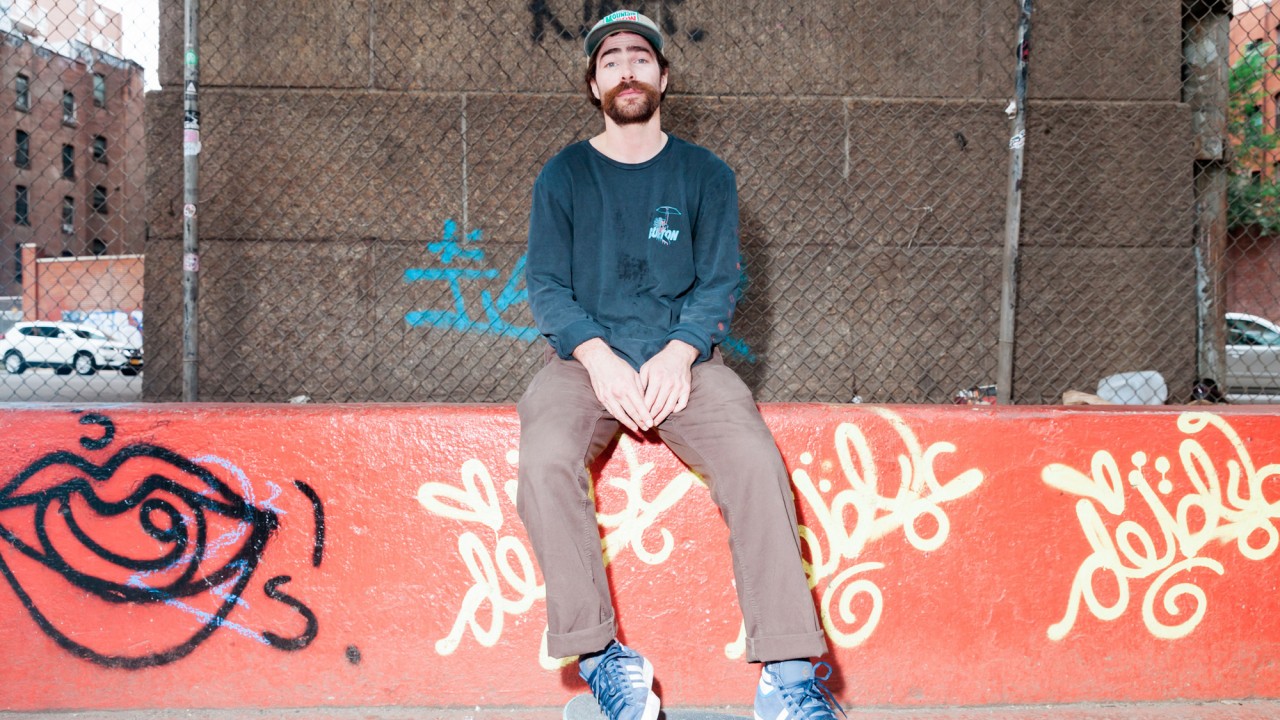 This Pro Snowboarder Swears By a $12 Lip Balm
Danny Davis continues to make waves in the sport without sacrificing style.
In case you weren't already aware, there are approximately zero snow-covered mountains on the island of Manhattan. So when we found out we were meeting pro snowboarder and all-around chill human being Danny Davis, we knew we needed a plan B activity, fast. Fortunately, what New York lacks in fresh powder it makes up for in concrete, and since Davis is nearly as good on four wheels as he is on the slopes, a trip to the legendary LES Skatepark was the perfect alternative. On the day of our shoot, it was easy to spot the 29-year-old athlete—his long auburn hair and signature bushy mustache give him away among the dozens of black denim and baseball-cap-wearing teens crisscrossing rails and quarter pipes.
"I was lucky my brother let me skate with him and his friends at a young age," Davis says after gamely cruising the length of the park for our photographer. "[Those] older guys kind of taught me the ropes. [It's a] 'if you don't use it, you lose it' kind of thing with skateboarding, snowboarding, and surfing." He rides back to the edge of the park and ollies over a low rail as the camera snaps away. With his hectic schedule (at the time of our interview he is gearing up for the back-to-back Toyota U.S. Grand Prix and Dew Tour competitions in Colorado, the first of four U.S. Olympic qualifying snowboard halfpipe events), it wouldn't be crazy to assume the two-time X Games SuperPipe gold medalist might feel a little worn out; rather, as soon as he begins describing his recent snowboarding adventures, his face lights up like a marquee.
"We go to some of the most beautiful places on Earth—places you'd never expect, [like] China," he explains as we wander across the street in search of iced coffee. The overhead rumble of the subway does little to drown out his infectious enthusiasm as he recounts a recent trip to New Zealand. "We get to explore the world, and that's a big part of why I think the fun doesn't stop. [I'm] living my dream that I dreamt as a kid, to be a professional athlete."
Growing up, Davis first took snowboarding lessons at a local Michigan resort, or what he calls his "home mountain." "They had a ski school so you could get the discount with tickets, but if you were a snowboarder, you couldn't. I remember my mom threw a big fuss [over] that." For the last two years of high school, a fellow pro snowboarder provided him with scholarship money to attend a snowboard academy, after which he signed his first contract at 18. "It's a good industry, a good culture," he muses sipping his coffee. "I was just talking to another guy today, and he was saying, 'It must be interesting [how] you learn tricks, and then you help your friends learn those tricks, but ultimately they might beat you in the next competition.' That's just how our culture is. We're all rooting for each other in a way."
In the spirit of that trademark snowboarding camaraderie, Davis and six of his fellow riders formed the FRENDS crew back in 2008. "A lot of people started to go off on their own and learn tricks. We did things together. Well all grew up through it together. If I didn't do well, one of the seven of us was going to do well, so it was always a reason to party and have fun. That's why we took the 'i' out of 'Friends,' saying that there's no 'i' in friends like there's no 'i' in team." Although the collective was created to foster friendship and a good time, the members were also there to support one another when things went wrong. "We all went through what [the others] went through—injuries, Kevin [Pearce]'s injury. Another kid on the crew, Luke Mitrani, broke his neck. To have a crew to go through that with was really nice."
Unfortunately, serious injuries like those are becoming more and more common due to the sport's growing popularity, spectators' expectations, and the pressure to win. Davis explains, "[The tricks are getting] crazier, but unfortunately you start to lose some style. It's finding that balance between being a stylish snowboarder and doing the tricks that it takes to win a contest. [For me] I want shit to look good. It should look ballerina-esque."
And while he continues to compete (though he just missed a spot on the 2018 U.S. Olympic team), Davis refuses to let any contest or potential sponsorship stand in the way of what he does best: have fun and look good doing it. "What snowboarding brought to the snow was style. A 360 wasn't cool until somebody did it on a snowboard [with] cool graphics, wearing a backwards hat. Sort of like 'That guy hasn't even stepped on a snowboard yet, but he looks really cool.' It was kind of edgy, and people didn't want it at one point. That was cool in a way." We remark how similar this mind-set is to people in the fashion industry, and Davis nods, laughing.
Before we part ways (a pack of teens has assembled outside the coffee shop, waiting for him to return to the skatepark), we must ask: What products does he swear by to protect his skin from the sun and snow? "Sunscreen is huge in our sport," he says. "I use Badger—natural, non-GMO kind of stuff. L'Occitane makes a nice lip balm. You can use it on your face and all that stuff. Moisturizing is huge, as any woman knows." We couldn't agree more.
Want more stories like this?
A Former Pro Skateboarder Is Making the World's Most Luxurious Sneakers
21 Products Editors Swear By for Their Winter Skin Routine
Our Social Media Manager's Hydrating Korean Beauty Routine for Dry Winter Skin