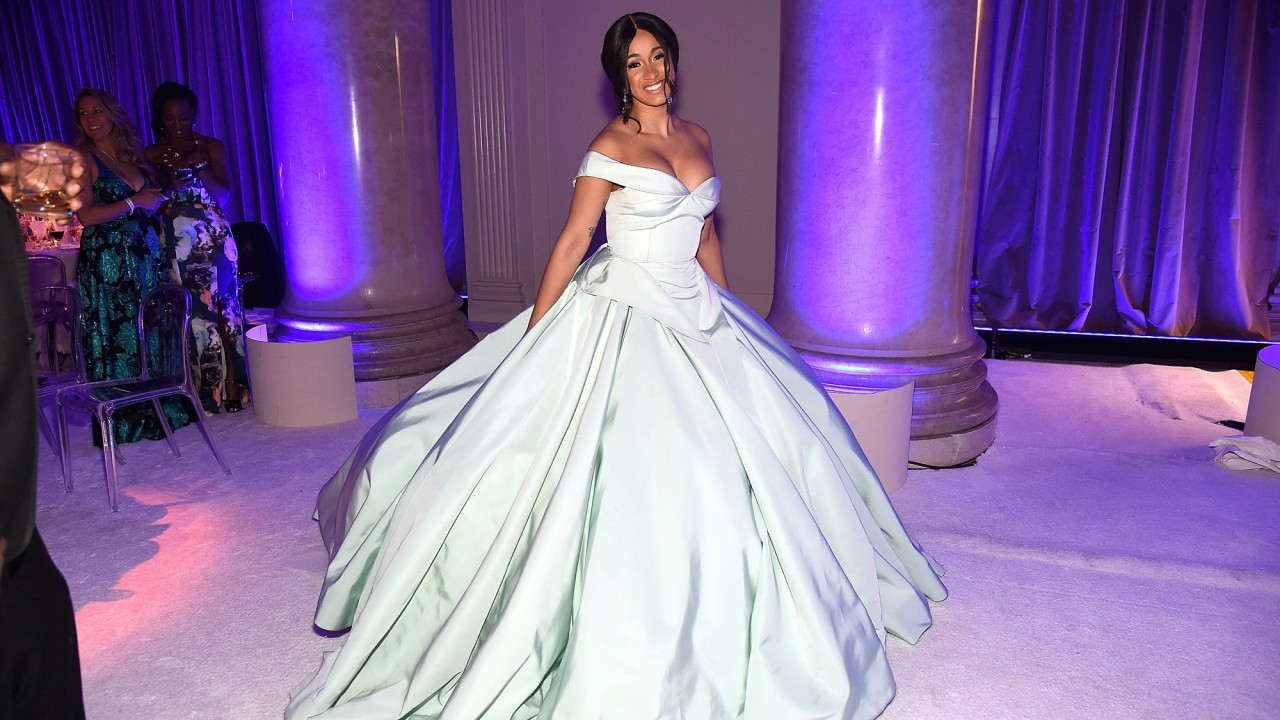 9 Fashion and Life Lessons I Learned from Cardi B's Instagram
Cardi B is the hero we all need right now.
Some people listen to positive affirmations, some people listen to self-help videos, and some people listen to Cardi B. And yes, I am one of those people.
I'm not just talking about her music; I'm talking about her, and more specifically the videos she posts on Instagram. I've recently found myself consulting her feed when in need of a pick-me-up. When I was doubting myself and my life plan, watching a video of hers—which started with a common intro, "You wanna know sommmething?" and ended with an inspirational and impassioned spout about how, no matter where she was in life, she was always thinking about her five-year plan and was convinced she was going to make it somehow, somewhere—made me feel unexpectedly optimistic as I called my boyfriend and said, "You wanna know something? I think it's gonna be OK."
When I'm feeling insecure about an outfit, mostly because I'm not sure if it's too eccentric, I'll think about her green feathery outfit she Instagrammed with the caption "If I wear a leotard with boots I'm a hoe. If I dress like this I'm not being myself. Being myself is FASHION. [insert glasses smile emoji]" Amongst the 13 thousand comments, there are hundreds of haters, one asking Cardi why she would wear what she did. She wrote back saying, "Because I love fashion." She makes me want to wear whatever I want because, yeah, I love fashion too, and with that comes not caring what other people think. Being myself IS fashion.
I think her appeal in large part is because every celebrity as of late has a famous last name, a more clear-cut path to fame, a history that's set them up for a higher probability of success. Whereas, Cardi told New York mag last November, she's just "a regular, smegular girl from the Bronx." Cardi went from dropout to stripper to vine star to reality star to rap star to the first solo female rapper to have a No.1 song since Lauryn Hill did it with "Doo Wop (That Thing)" in 1998. Just like she told Fallon, in reference to her Grammy nominations, "I already feel like a winner because I never thought...me? It's like, yeah, I already won—what's good?" On paper, Cardi B seemed destined to fail, but in reality, she's done everything but that. She's actually already won.
Whether it be on a talk show or on Instagram or onstage, Cardi B is Cardi B. She's just as likely to make a video where she has on a face full of makeup (and fake lashes) as she is to make one with nothing on while she's sick. From her enthusiasm for Uggs to her hundred-thousand-dollar budgeting strategy, here are nine things we can all learn from Cardi B—from life to fashion to bedazzled fingertips.
Celebrating Is Best in a Bra (No Frills) and Sweatpants
When she had three songs in the top 100, she celebrated in a way most wouldn't—she went to her grandmother's house and danced in front of her Christmas tree, wearing a plain bra and grey Nike sweats, before saying, "You know, I know we all God's children. But I think He loves me the most." Agreed.
If you were ever wondering when was the right time to start wearing Uggs, Cardi would like to reiterate that's most certainly tah-day. Especially if you happen to get an exclusive pair, like Cardi did from Swisher Sweets. "You know I love me some mother-fucking Uggs. You know I like my feets warm." Same.
If Your Shoes Don't Fit, Wear "Big Fat Manly Socks"
For Christmas (or "Bhristmas") Cardi was gifted a lot of presents—everything from Gigi Hadid makeup to a McDonald's gift certificate (that she promised she would buy 100 chicken nuggets with because why not) to five pairs of Timberlands—although none were in her size. Cardi described the dilemma as "a Bronx girl's dream and nightmare," but remained unfazed. "It's cool though, I'm going to wear some big fat manly socks." You know, as they say, if the shoe doesn't fit...thick socks will do.
Go On a Budget Until the Day You Die, Bitch
In this #ootd video, Cardi shows everyone the $100,000 watch on her wrist before quickly exclaiming her actual outfit was only $60 ("But not the shoes, let's not talk about my shoes") because she bought it from her favorite retail website, Fashionnova. This is Cardi's recommended way of spending money, also known as "I'll be on a budget until the day I die, bitch."
Your Runway Is Preferably Not a Runway
The perfect #ootd isn't a photo but a video, preferably one in which you don't talk as you let your favorite song play dramatically in the background. Bonus points if it's by your mans.
Your Nails Are Another Place to Wear Your Diamonds
Normal nail polish is fine, but have you ever considered bedazziling your fingertips? You should. And maybe go ask for Jenny Bui at Jenny Queen of Blings in Harlem or the Bronx.
Go Out of New York to Find Those Special Pieces
If you want to find the "Ferrari of sunglasses" and they're sold out at every Gucci store you go to and online, consider venturing outside of New York. And if you can't pronounce a designer's name, that's a surefire way of telling that "these shits is so poppin."
Go Out, Sis, and Live Your Motherfucking Life
No one cares if you go out or not—just go and live your best life.
Always Think about the Lighting—and the Kids