5 Personality Types Will Now Determine Your Next Shoe Purchase—Which One Are You?
It's kinda like the zodiac—for sneakers.
WWWRN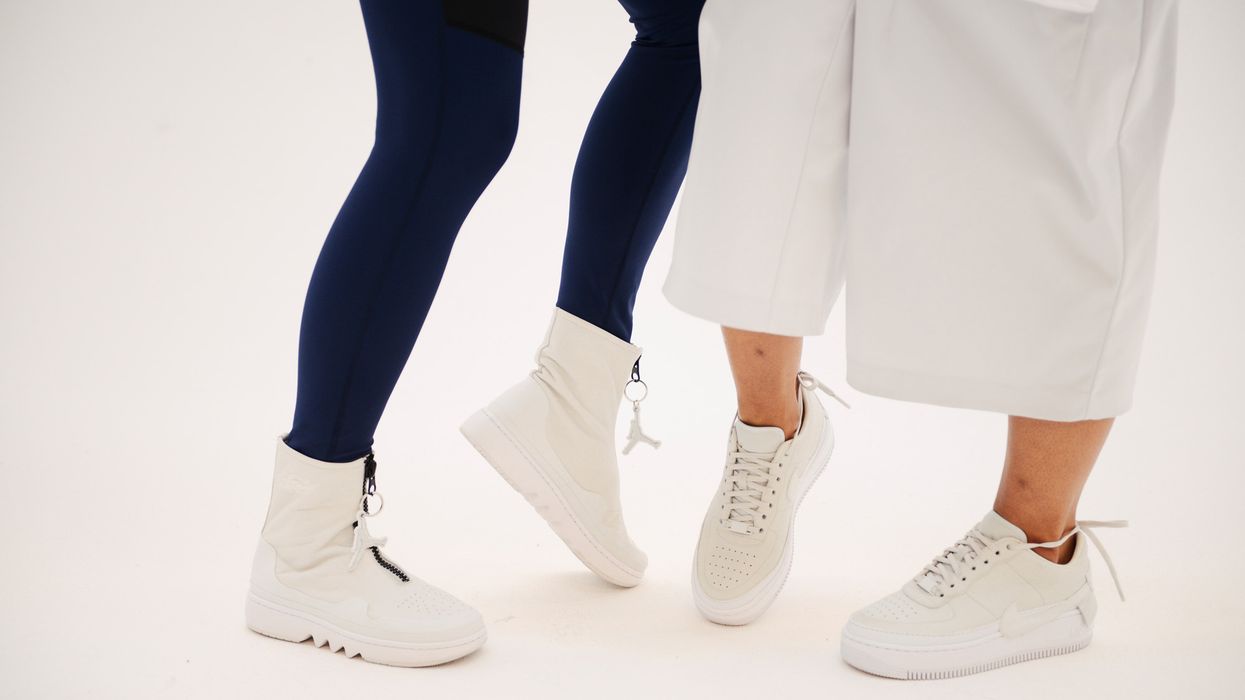 On a Monday night in November, while on a trip with Nike in Portland, I found myself alone in a hotel room opening up a red box with gold lettering that read "Caroline Myss, Archetype Cards." In it there were 74 cards, each about the size of an iPhone 8+, labeled with different character types, from Dilettante to Alchemist to Fool. The red mini guidebook it came with told me, "Archetypes are ancient, universal patterns of behavior that are embedded in what Carl Jung called the 'collective unconscious.'" It also instructed me to pick from five child identities—I chose Eternal ("determination to remain young in body, mind, and spirit") because I have a Peter Pan complex. Then I selected eight cards that have archetypes whose characteristics I felt defined my personality.
I realize I sound like the type of person who swears by the zodiac, goes for frequent palm readings, and lives amongst a collection of assorted crystals (all of which are excellent!). But all I know about my sign is that I'm a Pisces, which means I'm creative and have a kinship to fish, psychic readings scare me, and I have one crystal that sits on my desk, and when I feel stressed, rubbing it provides no relief (although, I also have a feeling that's not how those things work).
And yet, as skeptical as I was/am about all things "witchy," I found myself thoroughly enjoying this archetype activity–which was assigned to every editor on the Nike trip as a homework assignment. No one told us why we did it (they're sneaky like that) until we showed up the next day with our eight cards in tow to attend a panel led by the all-female design team of the new Nike collection, which features five new pairs of Air Force 1s and Jordans. The ten pairs of shoes are actually based on five different archetypes, and they all maintain the classic silhouettes everyone has grown to love in their AF1s and Jordans—plus some amazing new details, (literal) twists, and styles.
The collection will be available on February 7th, but since you'll want to make an informed decision before selecting your own, here's a rundown of the five archetypes they're based on. Choose the pair you save up for by seeing which personality type you relate to most–the Sage, the Lover, the Jester, the Explorer, or the Rebel.
---
THE SAGE
You're extremely wise and have definitely been called an old soul before. People look up to you, and not only do you know it—you like it. You're the kind of person who willingly becomes a mentor to someone else at work, and you're the one who everyone texts when their life is seemingly falling apart. The whole crystal thing is totally up your alley, and you probably call on a spirit every once in a while to help you make a decision. At yoga you say ohm the first and loudest; you'll spot the person who can't do that cool-looking headstand thing and teach them how to find their inner balance. When it comes to shoes, you want something sleek and comfortable that you can slip on with ease because you've got lots of shit to do, people to guide, and spirits to reckon with.
THE LOVER
Passion! Sensitivity! Love! But also pasta! Art house films! Crime thrillers! Clutches! Stuff! Everything! Anything! You love love and everything else. You're passionate about so many things—everything from your relationship to your hobby to your favorite film—that it can almost feel overwhelming. The ability to do and love so much has to do with your sense of confidence, which undoubtedly attracts people to you. You might not be aware of that, and the constant attention can sometimes make you overly confident. As for shoes, the ones you're attracted to are, like you, not afraid to show a little skin.
THE JESTER
When you have a story to tell, everyone listens because they know it'll be funny. You have a natural tendency to make people laugh and loosen up with everything you say and do. In your eyes, nothing should be taken too seriously. It's an attitude that can get you in trouble sometimes, when you inappropriately address a serious situation from a lighthearted place. But that's also how you cope—with a smile, even if it's forced, and a laugh, even when it's not necessary. For shoes, you'll gravitate towards the ones that are guaranteed to make people point and, of course, smile.
THE EXPLORER
You don't like to go to the same restaurant more than once, and you try to wear a different outfit every day. Planning trips to places most people don't want to go to is your specialty, and your itinerary probably involves a handful of educational experiences because you're not really going to relax, you're going to learn something (anything, really). Nothing is too unknown or big or scary, and every day is a new opportunity to try something different. When it comes to shoes, you want something you've never seen before—as in, sneakers designed with materials you've never seen on shoes before.
THE REBEL
So you probably got into a fight or two with your parents when you were younger. You got that piercing they didn't want, decided to major in that one thing they asked you not to, went out with that kid they hated. But your rebellious spirit goes further than just doing things most people don't have the courage to do. You'll stand up for a cause you believe in even if it isn't popular, and you'll speak up even when others try to silence you. As for clothing, you wear whatever the hell you want, like Jordans with laces on the back and AF1s with a twisted check.
Want more stories like this?
These 10 Shoes Will Be Replacing the White Sneaker Trend This Year
7 Snow Boots That Are Actually Cute
A Look Inside the Nike Archives