9 Styling Tips That Will Help You Wear *Anything*
From statement tees to bustiers to high-waisted leather pants.
Designers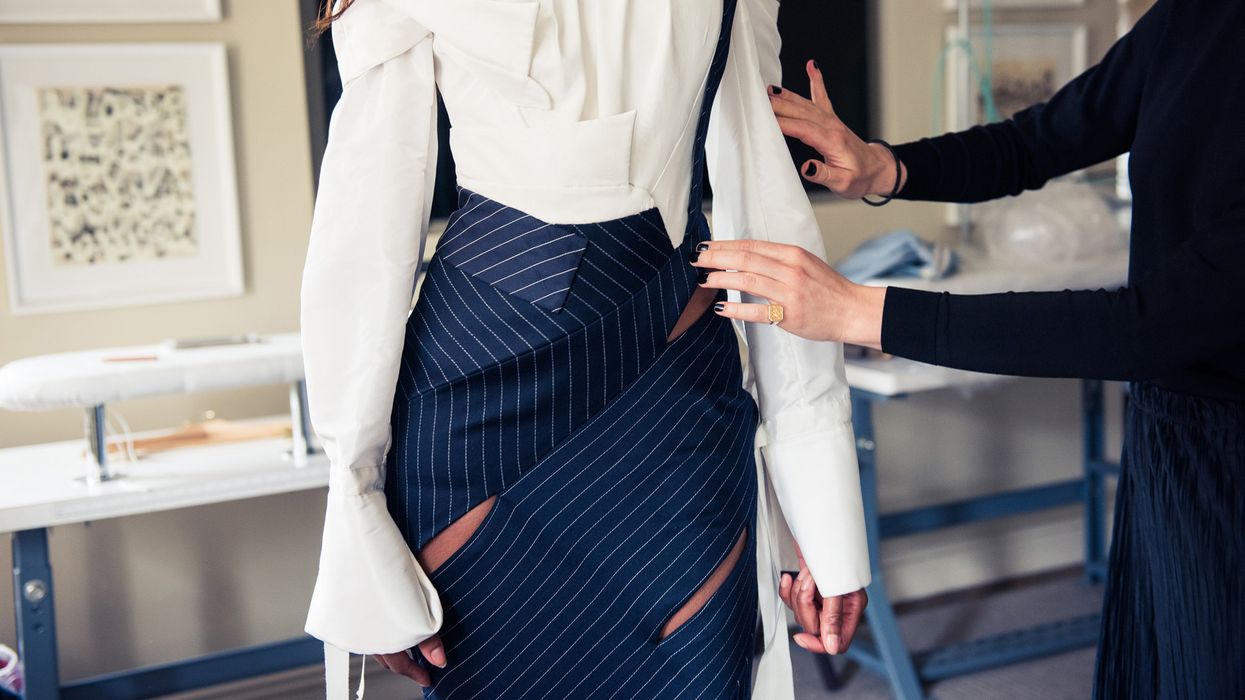 Effortless, edgy, and ethical are the three words L.A.-based designer BreeLayne uses to describe her luxury clothing line of the same name. BreeLayne's designs feature leather and lace in timeless silhouettes, and were inspired by the likes of Brigitte Bardot, Jane Birkin, and Bianca Jagger. They'd look as at-home on a rock band in the East Village or a French girl in the south of France. Her line is also ethical and sustainable, as it's made from unused stock of recycled fabrics, and for every purchase made, she plants a tree in partnership with the National Forest Foundation.
"I make pieces that will be in your wardrobe forever, the exact opposite of fast fashion," she tells me. "Luxury is about ease, and the relaxed silhouettes in the line reflect my relaxed L.A. lifestyle. I don't plan my outfits in advance unless I'm going to an event, so usually I'll just roll out of bed and get dressed, and my style is kind of built around that." Since BreeLayne gets dressed with such ease, I went through her best pieces—which you very well might have a version of in your closet, and if not, look no further—and asked her how best to style them. Like I said, these are definitely bold pieces, but styling them doesn't have to be so scary. Read her tips below.
---
That Statement Tee That's Very Opinionated
"I honestly wear mine a few times a week because it's so comfortable and goes with everything. I like to tuck it into something slimming and have it blousy over. If I'm going somewhere where I need to wear something other than jeans (I'm from L.A., OK?!), I'll pair mine with a black vinyl skirt I got in Japan a few years ago, which makes it more sexy. In my opinion, sexy doesn't have to mean showing a lot of skin—all you need to do is accentuate a feature (in this case, my hips and ankles). I also love wearing it with a little denim mini skirt, if I wanted to keep it casual."
A Modern-Day Corset That Makes You Feel like an Extra from Pride & Prejudice
"The best part of the Eryn corset is how versatile it is. If you want to edge up an outfit, you just throw this on over and it makes anything instantly more cool. I wear mine with anything from a t-shirt to something vintage that's super feminine in a floral or polka-dot print for contrast. You can make it more sexy by pairing it with a blazer, or even edgier by pairing it with plaid and Dr. Martens boots."
The Sheer Top That's Like, "Hi, Hey, Hello, Here's My Bra"
"My favorite part about this top is the beaded lips on the collar. I recommend wearing a slimming pant or a flouncy floral circle skirt. Evan Rachel Wood wore hers under a striped suit with the collar peeking out for a little pop."
The Button-Down That's Too Big to Mean Business
"[A tunic like this is] timeless and made in the most luxurious materials, so you'll have it in your closet forever. [It's perfect for] days where you don't want to think too much about your outfit. For the black silk version, wear it with a beret, knee-high boots, and a denim jacket with both sleeves rolled up. For the denim version, pair it with some sneakers, unbuttoned and over a vintage mini slip dress."
A Fuzzy Sweater That Resembles a Yeti
"Because of the bold texture, let the sweater do the talking. Wear it as a top over an oversized silky black trouser or on its own as a dress with sneakers."
Those Leather Pants That Make Your Legs Look like They're In a Biker Gang
"These pants are so special and are actually really easy to wear and integrate into your everyday wardrobe. If you want to lean in to the sporty feel, pair them with a cropped sweatshirt and open-toe simple heels. For something more dressed-up, tuck in a cream blouse and pair them with booties."
Very Shiny Pants That Are Like, "Hey, Hi, Hello, I'm Here"
"I wear these with a cropped white t-shirt and denim jacket because I'm a creature of habit. If you want to have even more fun with them, wear them with [a bold patterned top]—because why not?"
Overalls That Make You Look Like Half Artist, Half House Painter
"I think overalls are a part of my DNA because I grew up in the '90s. I wear them with the reversible Lorelei silk top underneath, or something simple and close to the body that's long-sleeved with a mock neck."
Skirts That Are Barely Skirts and More Like Leg Covers