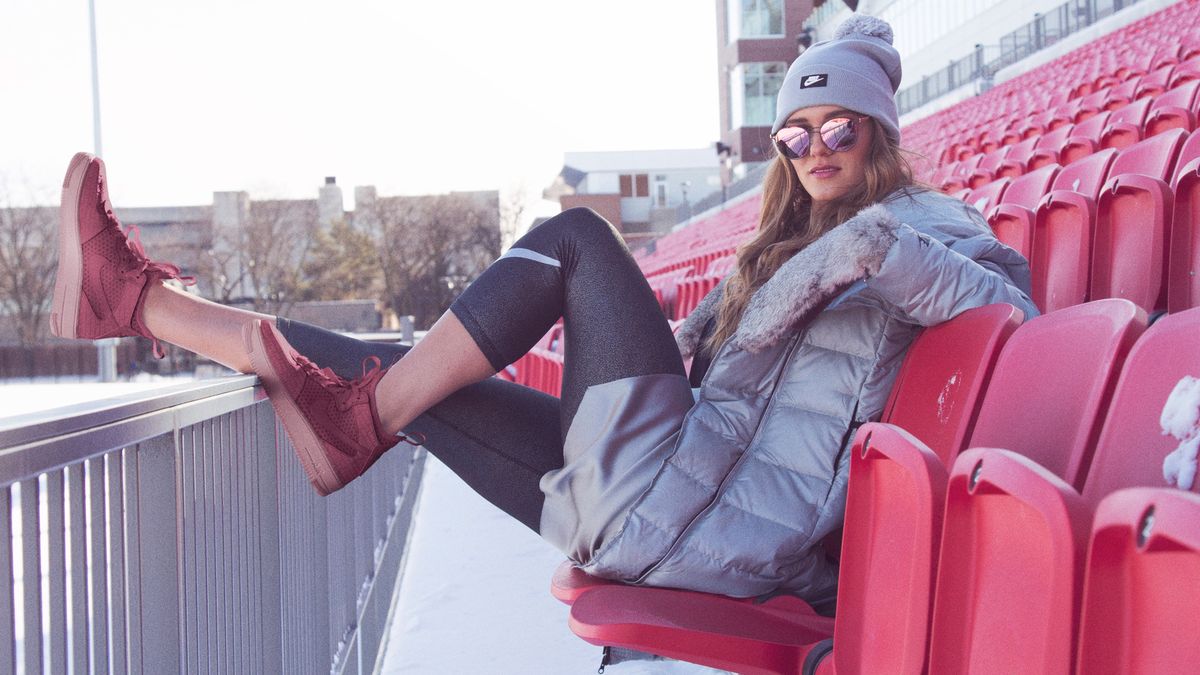 Fashion
In case you needed more proof. In collaboration with Nike.
Sure, we can thank homegrown musical talents like Drake, The Weeknd and Céline Dion (and okay, and maybe a particularly follicly-blessed, charming Prime Minister and Meghan Markle) for finally shining a spotlight on Toronto. But the truth is the city has been churning out talent in a myriad of industries (fashion, design, sports, tech, you can literally name it) for years. With Toronto finally having its moment, Nike tapped four of the successful women who embody the culture here to be the faces of their Force is Female collection (available at Nordstrom x Nike at both Toronto Eaton Centre and Vancouver Pacific Centre). We sat down with them to talk how growing up in a diverse city like Toronto influenced their style, how they broke through geographical and gender barriers, and why Toronto should stay on your radar.
---
---
 Mary Young
---
You won't find pushup pillowy cutlets, underwire, or frilly french lace on any piece of Mary Young's namesake lingerie and loungewear collection. Every bralette, pantie or cozy bodysuit in her ethically-sourced Canadian-made line is constructed from ultra-soft materials like bamboo jersey and knit, but doesn't waver on its sexiness. But her rapidly growing brand is more than about her product: it also prescribes an inclusive, body-positive lifestyle.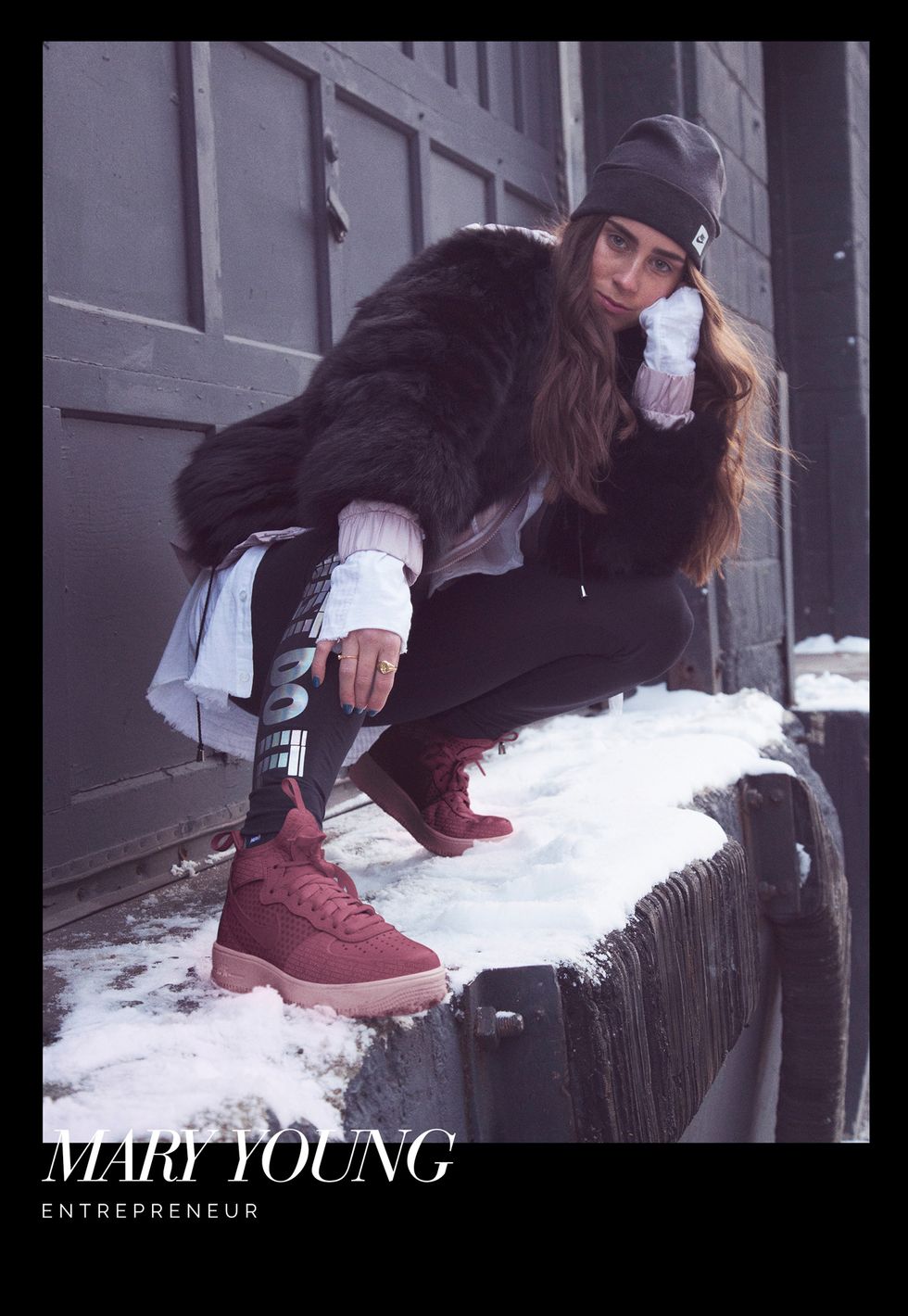 Has Toronto influenced your style?
"I grew up in a small town, but when I moved to Toronto at 18, it opened so many doors for me, both personally and professionally. I can't imagine living in another city and growing as much as I have these past eight years. My style has evolved since living here. Today, I'd describe it as boy-meets-girl with a focus on androgyny. Over the past few years I've definitely made some terrible fashion choices but they've all led me to try new things, explore and get creative, which is encouraged in Toronto."
What are your thoughts on the wave of inclusivity in fashion?
"I think it's dangerous when we view inclusion as trendy; inclusivity is much more than a wave, it should be a standard. When I started MARY YOUNG, I never saw [women like] myself in the media. Taking that into consideration, I want all women to find themselves in our images and relate to what they see. When I'm working on new content, I think of my friends, the community and women everywhere to make sure they feel represented."
The best piece of advice you would give an aspiring designer:
"Take every opportunity and explore as much as possible. Try new types of work, new ideas, explore new concepts and challenge yourself. You grow the most by failing. Never be afraid to fail, but take each step as an opportunity to grow more."
---
Karla Moy
---
Multihyphenate Karla Moy, has been in the music industry since the age of 12. From her graphic design work, that's wrapped Lil Wayne's mixtapes No Ceilings and Sorry 4 The Wait, to her early days of promoting local artists like The Weeknd and Drake, and DJ'ing for Michelle Obama's speaking engagements, the 20-something has been a trailblazer in the Toronto music scene for over a decade.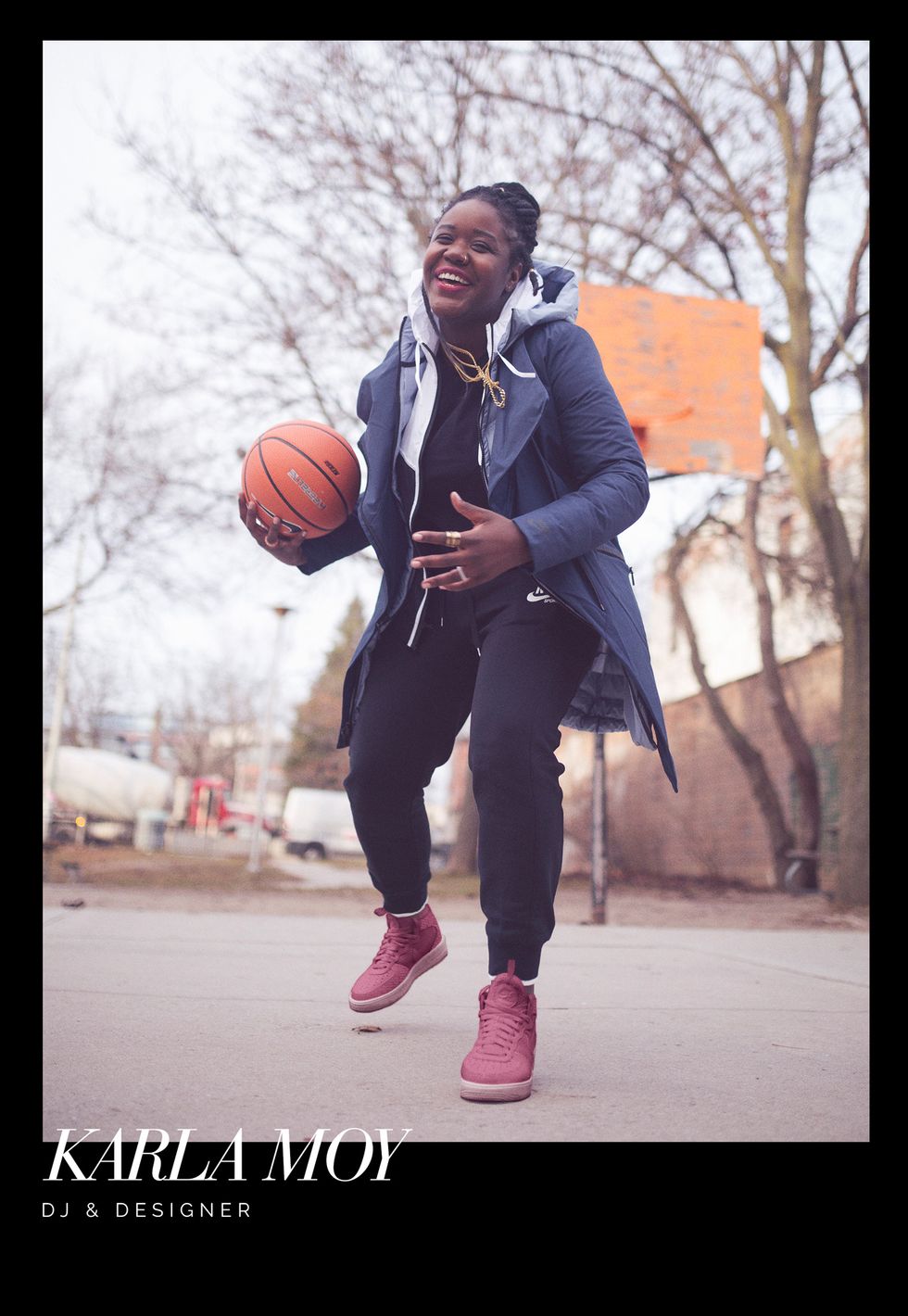 What should everyone know about Toronto?
"Toronto is full of talented folks, but I think the world knows that now. So many acts from different industries are flourishing globally and they rep Toronto proudly. What everyone should know is that there's plenty more where that came from."
What's the best thing about this city?
"Toronto means so much to me because you can literally come to this city with a dream and work towards bringing it to life. My family came here as immigrants [from Congo] and my parents were my living proof of the Canadian Dream."
Have you faced any challenges with breaking into the music industry?
"Getting paid. It's okay to intern or volunteer your time, but if you let people walk all over you, they will continue to do so. Somebody out there will pay you, it's a matter of finding the right people to work with that will respect your time."
How has the music industry changed since you started?
"The music industry has gradually grown thanks to technology and the internet. There are so many ways to hear and share new music and it's much easier to get in touch with producers, writers, etc. That's game-changing if you're trying to build a team."
The best advice you've ever received:
"You are your most important client, so you must take care of yourself. Invest in your comfort and happiness by putting yourself first while doing what you love."
The advice you would pass on to a young girl trying to make it in your industry:
"I say this all the time: let your craft speak for itself. Always commit to doing your best work because at the end of the day, people judge you based on what they see. Your work ethic will always outshine the image or persona you have built for yourself and if your work is always on point, it will be sought after. Lastly, keep up with the industry, its development, and those who lead it."
---
Alysha Newman
---
Award-winning pole vaulter, Alysha Newman checks off practically every box: strong, determined, powerful, smart, and, yes, also happens to be incredibly beautiful. Newman's impressive athletic aptitudes won her a spot on Team Canada's Olympic team in 2016 and she continues to shatter her records in every competition she's vaulted in since.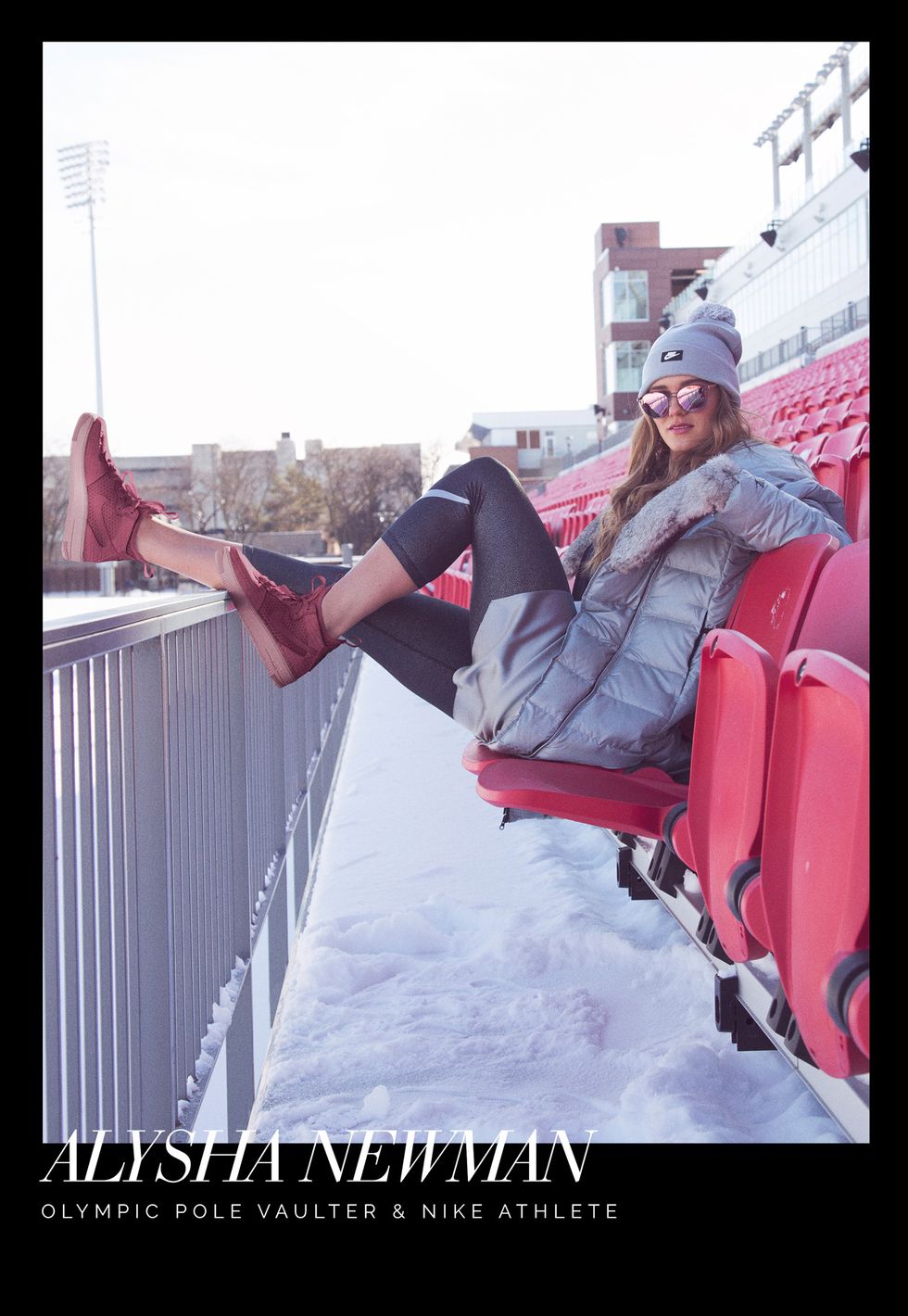 As a female athlete, have you experienced and gender-based challenges?
"Many people don't understand that females can be just as successful in building their careers in sports, as men can. Another challenge that I find female athletes face is body image. When I was at World Championships this past year, it was the first time I really came across the different ways [people would speak] about male and female athletes. I remember hearing a group of people chanting about how fast the male 100m [athletes] were, but then criticizing the female athletes [for their appearance]. 'Oh, what a nice butt; look at her thighs; I think she's a little too heavy for this sport.' I can't wait for the day that I hear someone say, 'damn, look how fast she runs, what a powerful athlete.'"
How have you overcome criticism?
"It is taken me a really long time to overcome body image! I was always told that I'm supposed to look a certain way to be an Olympian, but at the end the day, all I needed was confidence and being comfortable in my own skin. First, I looked at the people who were leading me wrong and then realized that my abilities and talent overshined any of my looks. I continued surrounding myself with people that would bring me up!"
What do you wish young girls would know about getting into professional sports?
"It's an amazing life but difficult at times. There's going to be a lot of people telling you what you should do but stick to your roots and don't let them make you doubt yourself. Listen to the people you trust and value the people in your circle! You will meet your best friends overseas, you will travel around the world and see the most beautiful places. You get to be a part of something so special that not everyone can say they did."
What would you tell an aspiring young athlete?
"Be confident and don't let anyone tell you you can't be successful. It's never easy and often the most beautiful things are the hardest to accomplish, but you cannot underestimate yourself or your abilities. Find your path and embrace every minute of your journey."
---
Janet Han
---
A staple on Toronto's trendiest strip for almost a decade, designer consignment shop, Fashionably Yours, is the brainchild of founder Janet Han. You can find everything from vintage Louis Vuitton luggage to Gucci hoodies at their Queen West storefront.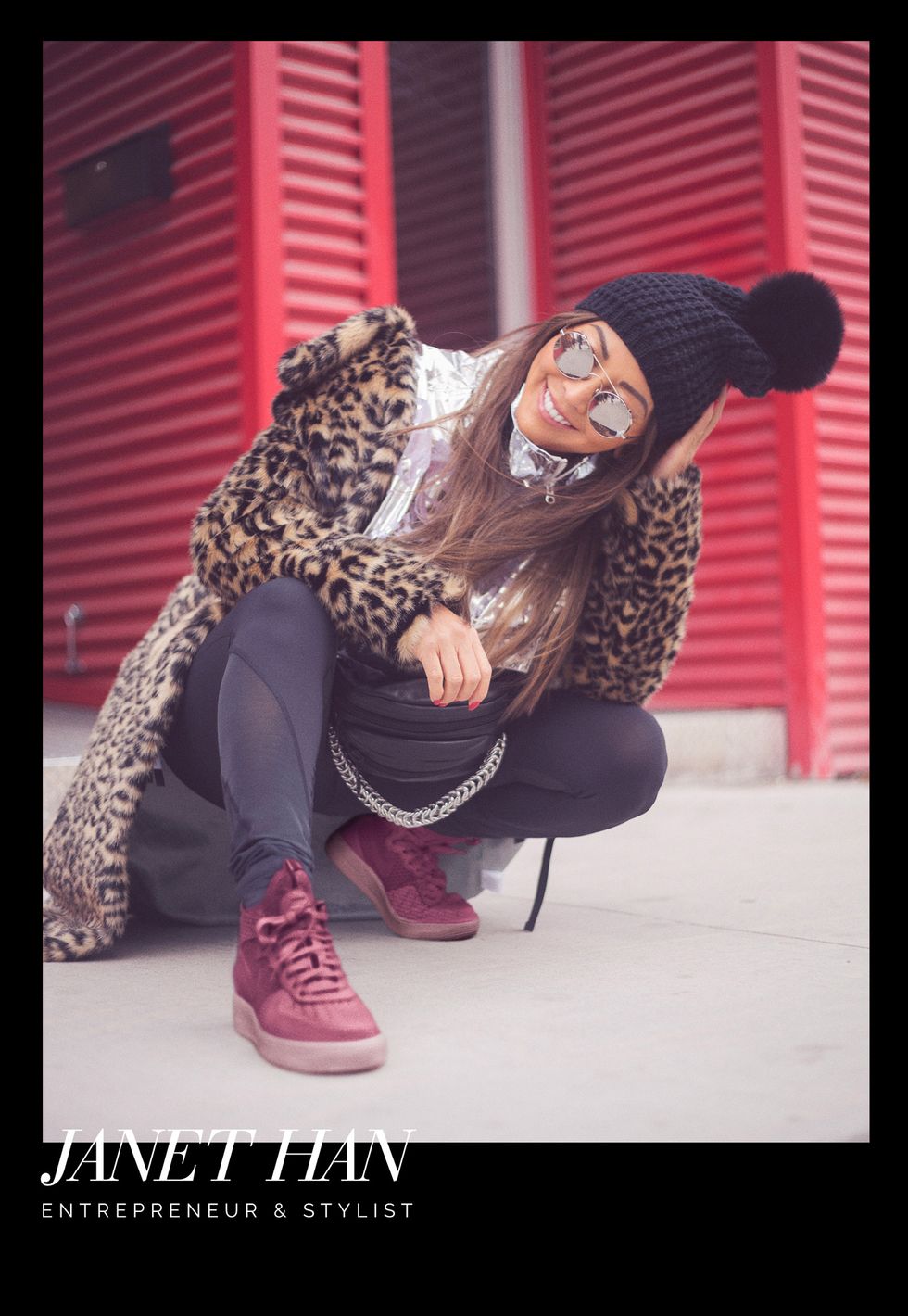 How has growing up in Toronto influenced your style?
"I grew up in Scarborough, a suburb of Toronto, and a world on its own, where there's a heavy Caribbean influence, and where I was surrounded by a lot of ethnicities. I grew up listening to hip hop, dance hall and house music until my high school years, when I moved and attended a posh private school in Forest Hill. My combined upbringing is where that bit of edge always exists in my style, or what I like to call street-luxury."
What makes this city special?
"Toronto's talent far exceeds music, so pay attention—we have a hell of a lot of heart and soul."
How has this generation influenced fashion?
"This generation has been all about breaking boundaries and creating the things they wish existed. From fashion to music, if we have a vision for something, we create it with our own flavor".
How do you stay confident in the era of social media?
"Social Media is all about perception, which isn't exactly always reality. The best way to stay confident is to mind your own business and don't fall into the danger of competing. Have your own identity and people will always recognize and appreciate that. The impact of social media could go either way depending on how you use it and your ability to filter what's real or not. Authenticity is key."