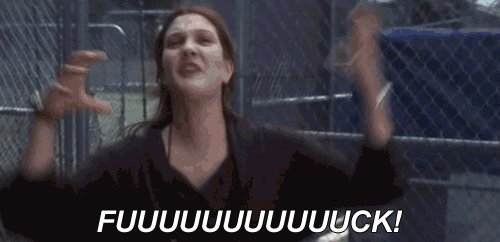 Fitness
Turns Out Saying F*CK! on the Treadmill Makes Your Workout Better
A new study confirms it.
Halle-fucking-lujah! About fucking time! This is fucking great! Studies continue to provide solid scientific proof that cursing is good. In recent years multiple studies confirmed that swearing was a sign of intelligence. (Based on that alone, you could say we're geniuses.) Now a new study from the Journal of Psychology of Sports and Exercise has shown that yelling out profanities while working out can increase your performance significantly.
According to the study by Dr. David K. Spierer of Long Island University Brooklyn and Dr. Richard Stephens of Keele University, during a 30-second stationary bicycle test, cursing increased participants' initial power by 4.6 percent. When swearing during a grip strength test, there was an 8.2 percent increase.
"Swearing appears to be able to bring about improvements in physical performance that may not be solely dependent on a stress response arising out of the shock value of the swearing," Dr. Stephens explains. "We know that swearing appears to be handled in brain regions not usually associated with language processing. It is possible that activation of these areas by swearing could produce performance improvements across many different domains." Dr. Spierer adds, "Cursing may allow people to shut down their inhibitions and somewhat veil the effort and the pain of this really difficult task. Using swear words might be helpful in any circumstance where muscle strength and a sudden burst of force or speed is required."
Turns out yelling "FUCK!" in a particularly intense Barry's class helps you get through it.
Want more stories like this?
Bella Hadid's Nutritionist's Surprisingly Simple Approach to Wellness
The Psychology Behind Why You Can't Get Yourself to the Gym