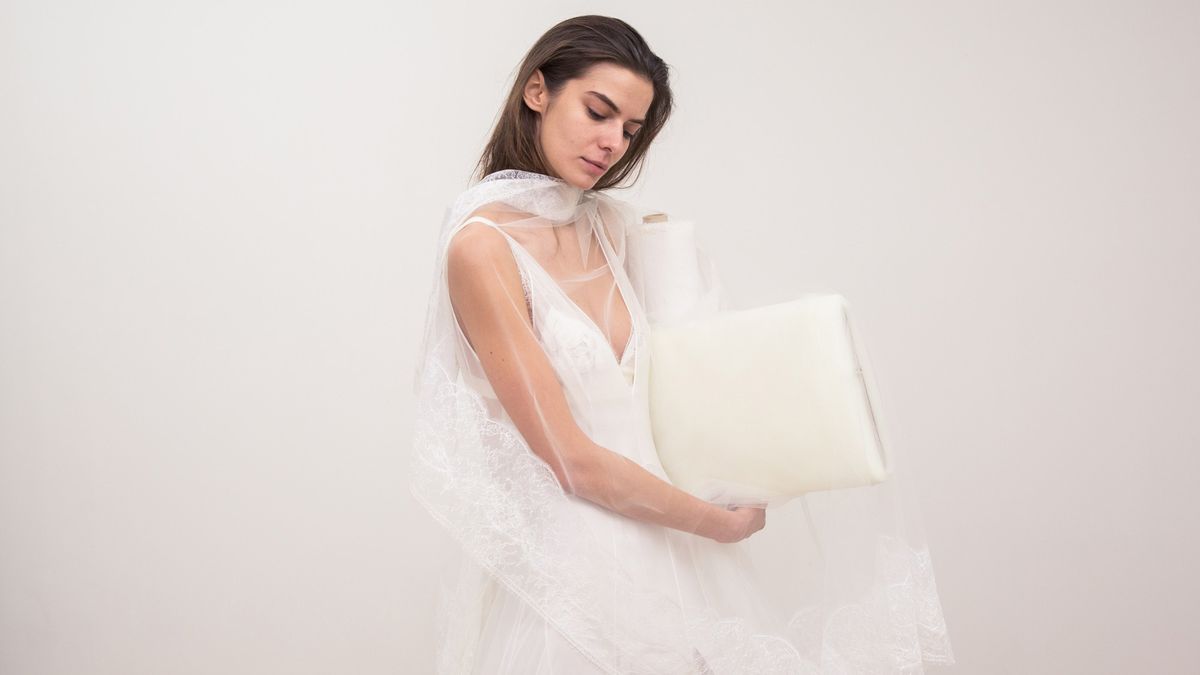 Designers
The Best Wedding Dress Styling Tips You've Never Heard
Wear a trench dress or a pantsuit or both, all at once!
Alec Kugler
"I have never thought about getting married until I saw these" was the gist of seven Instagram DMs I received moments after uploading videos of Danielle Frankel's wedding collection. Slightly dramatic, yes, but I understand: Frankel's designs are so different and fresh, they made me envision my wedding dress, too—something I can honestly say has never happened before.
Frankel creates elegant white pantsuits and trench dresses, which are radical enough in how they differ from traditional wedding gowns. But even with more feminine customary pieces, her distinctive styling really sets them apart from anything you've most likely seen. A cardigan thrown over the shoulder, a belt cinched at the waist, a mesh top worn underneath; Frankel is designing for everyone except the traditional bride—the eccentric, the tomboy, the siren. She's designed everything from an off-the-shoulder shirt dress to a mini blazer dress to a lace crop top, and they all feel ceremonial. Her collection is the style sermon you didn't know you needed.
When I visited her studio, Frankel styled some of her favorite looks with unused fabric, her own vintage sweater, and more. Read on for all of her off-kilter wedding style advice and prepare to convince yourself a pantsuit with a lace train is the perfect look to say "I do" in.
---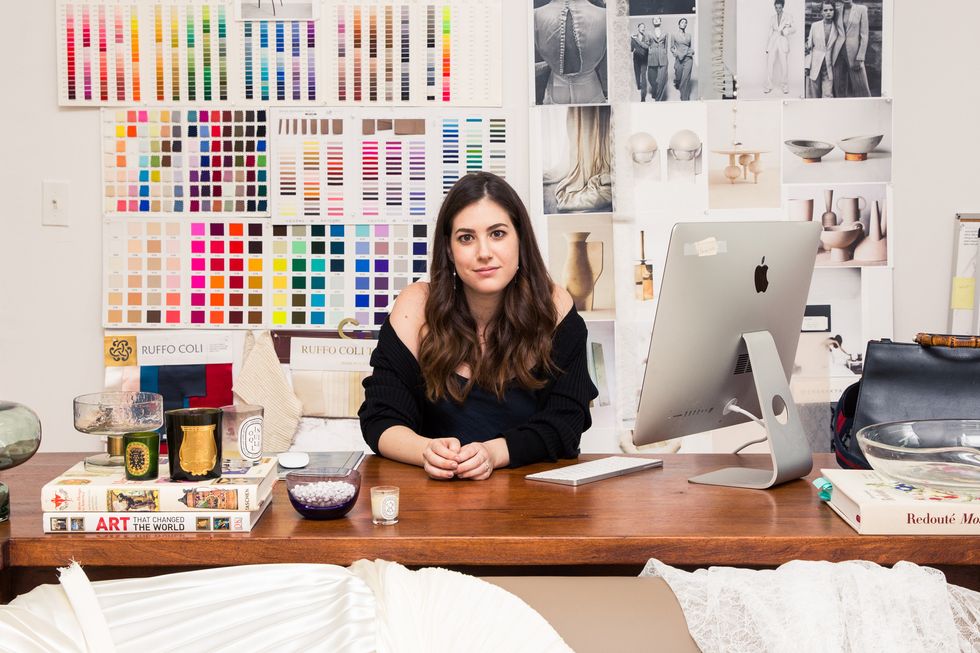 Look beyond sparkles, lace, and white
"Today women experience a lot of predictability when looking for wedding styles. This purchase is most likely the biggest wardrobe investment in a woman's life thus far, and I want the customer to feel like it's significant. It is important that women can look at bridal and see beyond sparkles and lace and the stark white. Those elements can often be beautiful, but there is a lot of room in the business of bridal to move forward into a more streamlined fashion and way of dressing. I look at the collection as luxury items that go beyond the traditional wedding wardrobe. I think the educated consumer wants to purchase an investment piece—something that can carry beyond the memory of a wedding into one's life after the celebrated moment."
Consider large sleeves with minimal earrings
"Berthe is a great gown for a woman looking for something untraditional but still bride-worthy. The sleeves have a constructed crinoline to help with the exaggerated volume. I still see this collection as bridal [and] a way to evolve with what weddings look like today and reflect what women want to wear to those weddings. Berthe needs nothing but a pair of earrings—a self-styled moment and a dress that works on multiple body types."
But leave the '80s in the '80s:
"I think we can all agree to leave the '80s wedding dressing in the past. I love exaggerated sleeves (like with the Berthe), but there was too much sleeve for how much dress there was within the same style. Balance is important, and some women were drowning in their wedding looks!"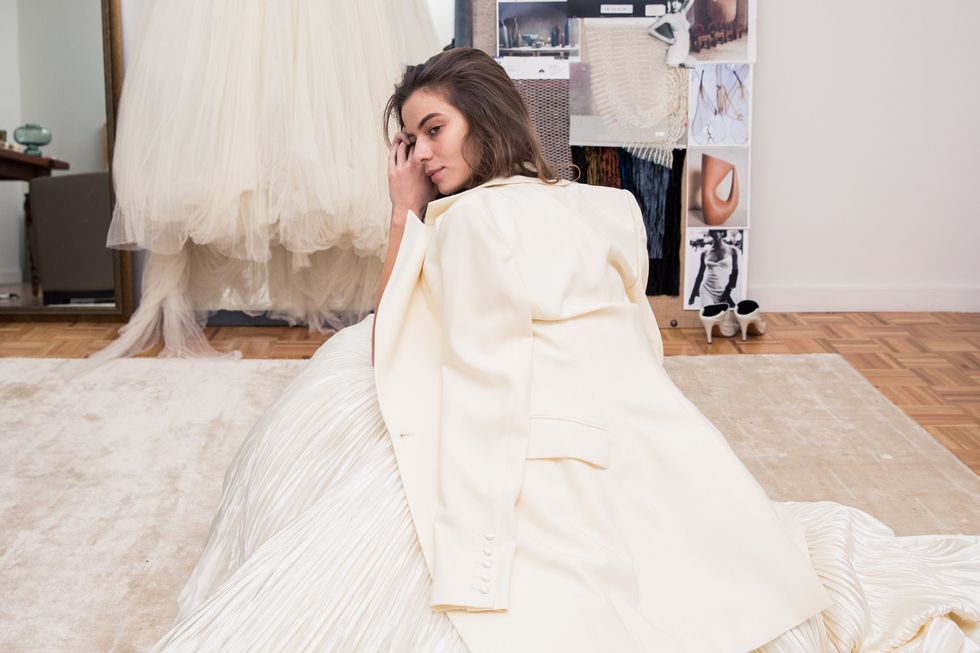 Throw on a blazer, cardigan, or vintage jacket:
"What works for women in the collection is having options. Having a jacket you can throw over your trousers—or not! I am curious to see how women will continue to assess our looks for their own liking. Today, we paired a personal sweater of mine worn over the shoulder with our pleated silk-wool canopy gown, Faye. Faye is a total editorial moment. This gown carries a lot of fabric in the pleating technique, and the canopy silhouette is quietly cool. This dress won't be seen on too many brides! And we will be introducing knits our next season, as they are wonderful options to pair with gowns."
Wear a dress over a chic pant:
"If a bride wants something really different, she could wear our Gabriela pant under Rena, which can be worn with no lining, allowing for a beautiful, transparent dress over a classic pant. Our bra is a pretty accent to finish."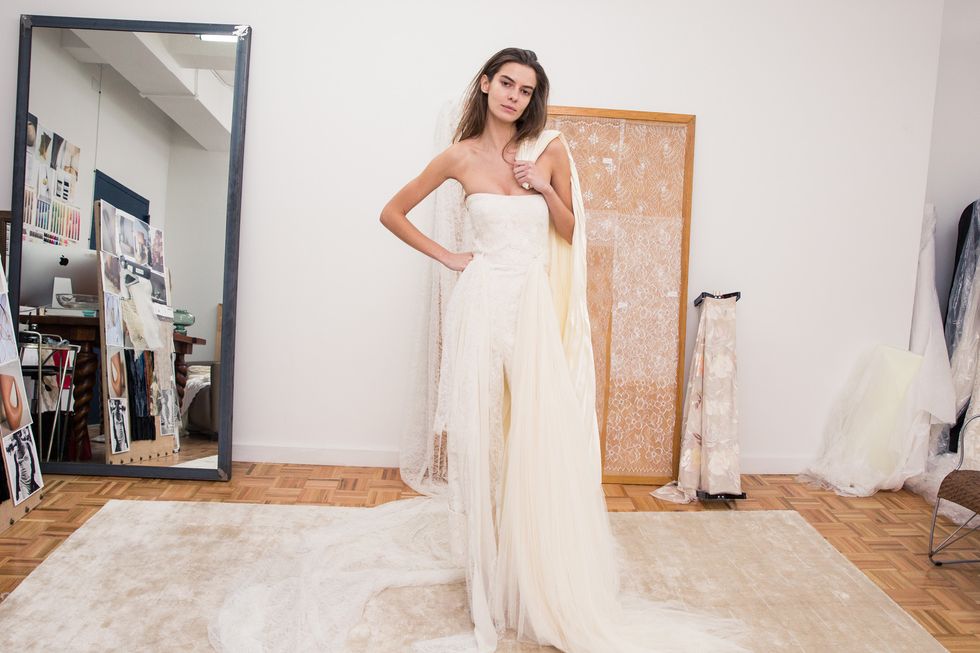 Comfort over everything else:
"It is really important to consider how comfortable you would like to be on your wedding day. I found that on my wedding day, I only wanted to dance and feel connected to those who were celebrating with me. Suddenly the feeling of looking perfect was thrown out the window; I took out my overdone hair and changed into comfortable shoes and was really happy. Wearing something that allows the bride to move freely among her guests is ideal. The more at ease the bride feels, the more she will enjoy the day, and ultimately the people around her will feel that energy. We so often feel like the wedding is this one day to be a princess, however, a wedding is a celebration of a commitment, and the way we dress that day is a reflection of just that—a badass who is making a wonderful adult decision. A woman should wear something that mirrors that importance."
Consider novelty fabrics that aren't embellished:
"The naked fabric with a beautiful texture looks really refined. I would love to see women take multiple designers with different aesthetics and really plunge into the idea of styling your wedding the way you would your everyday."
Don't rule out seperates—and show a little skin:
"Women have a lot of room to wear separates in a more evening format. I would call this a risk only because it isn't the norm, but it certainly can be!"
A pantsuit is a great idea:
"The idea of a tailored style paired with more feminine silhouettes is ideal. The customer ends up with the best of both worlds in wearing multiple concepts in one moment. Take off the tailored jacket for the 20 minutes you feel flirty. The new fashion is strong, sensual women and how that translates into clothing."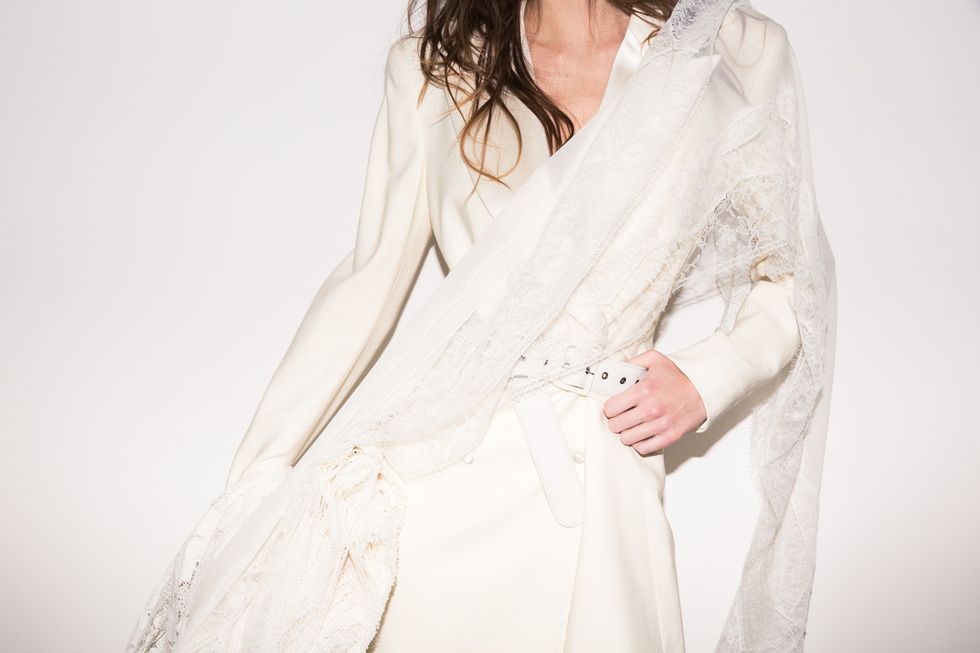 Make your coat part of the ceremony…and reception:
"Right now, I love our long silk wool coat, Jean, with hidden lace details in the hem, paired with our canopy tulle gown, Helen. The contrast of wearing a pleated tulle mess with a tailored coat takes the woman from serious ceremony to reception gold. This look epitomizes what I am trying to evoke—a fantastic party dress under a solid, deliberate coat. You'll find bridal details on our tailored pieces—covered bridal buttons and hints of lace peeking from seams."
Or get married in a trench:
"Lou is a trench dress in silk faille. The dress sits off-shoulder with a really relaxed feel. The trapunto stitching and pockets make for fine details that finish the dress beautifully. I wore this dress on my wedding day with a sweater layered underneath, as it was chilly outside. It felt formal but not super serious and composed."