WWWRN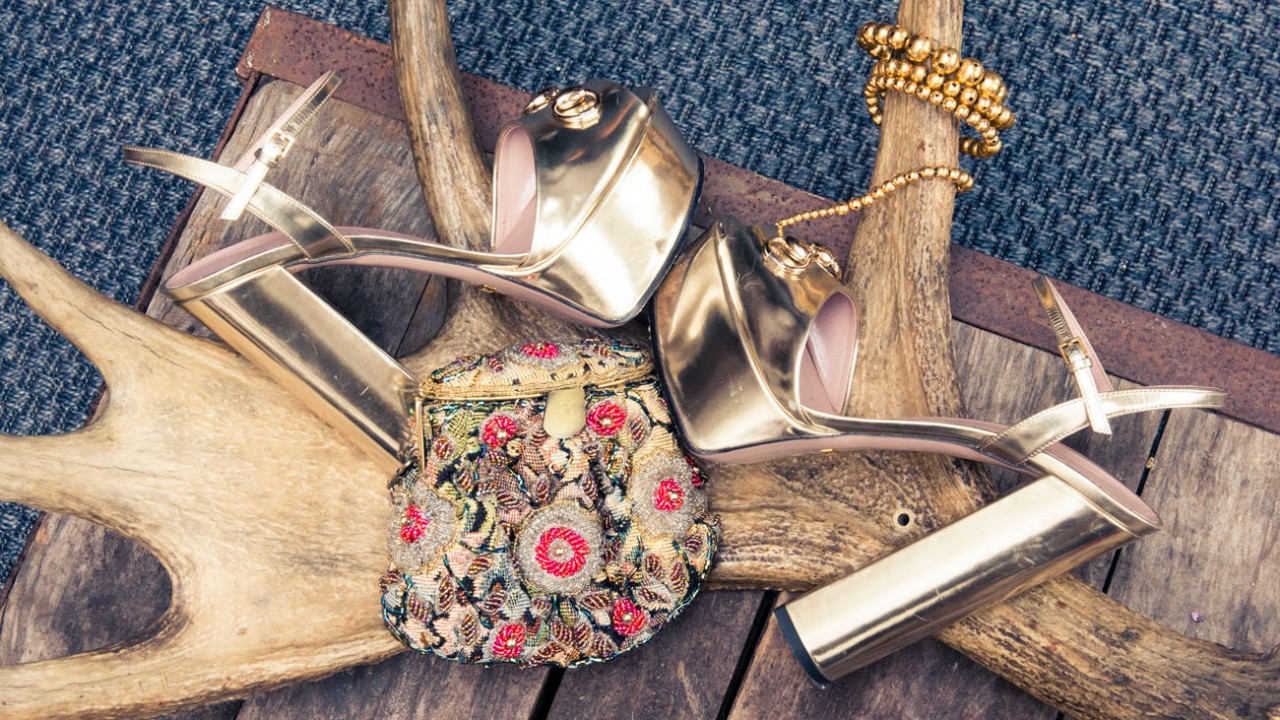 11 New Year's Eve Outfit Ideas to Kiss 2017 Goodbye
Plus the perfect way to style them no matter your party vibe.
Sound the alarm, because New Year's Eve is only nine days away. That's just over a week of eating and drinking everything in sight (dessert for breakfast anyone?) before you finally convert to a plant-based diet, say so-long to a month's worth of cocktails, work out like a Victoria's Secret Angel, and generally do anything you can think of to wipe away the sins of 2017.
But, until that ball drops and January officially arrives, it's time to start prepping for what will hopefully be the most glamorous New Year's Eve party you've ever attended (or the most relaxing getaway for our editorial director, Laurel Pantin, an eternally glam mom-to-be). That means a killer outfit is in order, plus a fierce makeup look and a few sparkling accessories for good measure. And the perfect dancing shoes, obviously. Here are what eleven editors are adding to their online shopping carts to ring in 2018 in style.
---
Hannah Baxter
Assistant Editor
1. Alexander Wang Lace Up Long Sleeve Bodysuit: I will swear up and down that Alexander Wang's bodysuits are the best ones on the market. Comfy, sexy, breathable—what else do you need when you're dancing for six hours straight?
2. Stellaire Sofia Metallic Knit Trouser: Anyone who knows me understands how much I love the '70s disco vibes, so obviously these metallic trousers are a must. They have just enough New Year's Eve-appropriate shimmer, but I can still rock them the other 364 days of the year.
3. Nars NARSissist Wanted Eyeshadow Palette: As much as I love spending an hour-plus on perfecting a subtle smoky eye, for this type of celebration I'd rather swipe on a bold red shadow and call it a day. For that, Nars' newest palette can't be beat. You'll catch me wearing the Delirium metallic rose shade all night long.
---
Meg Gegler
Audience Development Coordinator
1. Are You Am I Nyissa Dress: Regardless of the season, location, occasion, and more, you can *always* justify buying a simple black dress. This one from Are You Am I, as the description describes it, is a "liquid dream" and moves with you as you walk, making your first 2018 appearance one to remember.
2. Sondra Roberts Confetti Resin Minaudiere: I recently "hearted" this bag on Rent the Runway, and I imagine it will go with whatever I wear on NYE (even if it's not the Are You Am I dress, sad face). If this bag doesn't scream "ringing in the New Year," then I don't know what does.
3. COS Chunky Metal Earrings: I'm all about that minimalist style, so these earrings will complement my dream NYE dress and bag very well.
---
Noah Lehava
Senior Editor: Health & Wellness
1. Ganni Embellished Georgette Pants: As much as sequins have become synonymous with NYE, these Ganni wide-leg trousers are so delicate, elegant, and subtle that I'll wear them all year long.
2. Prada Feather-Trimmed Silk Top: The second I came across this feathery blouse, I was like, "THESE will go with my Ganni pants!" They were made for each other, just as this top was made for New Year's Eve.
3. Rochas Studded Mule: I'm always a proponent for more sparkle—think about the Kirakira moments!—but am especially so on a night when there's really no such thing as too much!
---
Katie Becker
Beauty Director
1. Georgia Alice Chiffon Dress: There is only one day of the year when I will wear something see-through. I love that the draping on this gauzy dress will help disguise what's underneath just a teeny bit, leaving a little to the imagination.
2. Eres Soft Cup Bra: This is the perfect bralette to go under a see-through dress. I love that the cut isn't just a straight-up bra, but has a sexy cleavage situation going on.
3. James Perse Leggings: See what I did there? I figured out a way to make leggings work for New Years Eve. Once midnight strikes, this grandma will already be halfway ready for bed.
---
Monique Kamargo
Photo Producer
1. For Love & Lemons Lace Mini Dress: One thing I always forget about when picking my NYE outfit is how cold it is outside. The long sleeves on this dress definitely help me justify wearing it in the cold, but I think the gorgeous V neckline and playful sequins already have me sold.
2. Bagatiba Silver Hoops: I recently just got my ears pierced (thanks, J.Colby Smith!), and I'm extremely excited to stock up my jewelry collection with lots and lots of pretty hoops, like these from Bagatiba that are perfect for a New Year's party. The flat circle plate is also detachable from the hoop, so I'm basically buying two pairs of earrings in one!
3. Prada Metallic Leather Platforms: These chunky Prada platforms have everything I need to complete my NYE outfit: The metallic adds that extra sparkle, the two-and-a-half-inch heel won't have me falling over after a night of dancing and drinking, and, I mean, they're Prada!
---
Brooke Bunce
Social Media Manager
1. Shop Sonix On Holiday iPhone 8 Case: New Year's Eve means being as extra as possible with ALL facets of your look—including your phone. When those inevitable bathroom mirror selfies happen, it's only right to have your cell looking as good as your dress, because it's all about attention to details, right?
2. Kara Galaxy Navy CD Bag: This bag is small enough that it still allows me to bust a move, but big enough to hold my phone, lip gloss, and all necessary essentials for a night out, and it's an iridescent hue of navy that matches most anything. If only I had this much luck on Tinder.
3. Pixie Market Valentina Bustier Puffy Sleeve Top: Usually for NYE, I buy a gaudy, sequin-loaded dress that I only wear once a year. This time, I'd like to invest in a piece that goes beyond December 31st and takes me all the way through 2018. A feminine bustier top with a neckline that's perfect for showing off bling-y jewelry is just the thing that'll make me feel better about splurging on something else ridiculous.
---
Leah Faye Cooper
Features Editor
1. Gucci Pleated Lamé Midi Skirt: I know, I know, I know—sparkles for NYE? Groundbreaking! This may be a touch predictable, but who cares? These shimmery pastels are to die for!
2. Topshop Lulu Ribbed Crop Top: I plan on doing a lot of dancing on NYE, so I need something light and sleeveless that lends itself to throwing one's hands in the air (one of my signature moves). This crop top is perfect.
3. Bliss Lau Levitate Earrings: In my opinion, a celebratory outfit isn't all that celebratory without some fun accessories, so earrings are a must. I'm currently eyeing this pair, as I'm a sucker for any jewelry that involves gold chains.
---
Samantha Sutton
Editor
1. Johanna Ortiz Polka-Dot Sequined Mesh Wide-Leg Pants: I'm not exactly sure where I'll be as the ball drops, but even if I find myself at a local dive bar, I am getting fancy—and metallic. Are these not the perfect New Year's Eve pants?! Is that even a question?!
2. Elizabeth and James Jasper Cotton-Blend Poplin Shirt: I'm not above going head-to-toe sparkle, but if I really DO end up somewhere casual, I'm balancing things out with a classic button-down. I'll likely leave it slightly unbuttoned to add a little spice!
3. Sachin & Babi Fleur Bouquet Earrings: Here's a (probably not a secret) secret: Sachin & Babi makes the best statement earrings. I'm loving these long, bouquet-inspired ones, which are so pretty and surprisingly light!
---
Laurel Pantin
Editorial & Fashion Director
1. Figue Aly Dress: This year, I'm spending NYE in Big Sur, just me and my husband, saying farewell to a lifetime of whims and freedom and wrapping my head around the reality of becoming a mom in 2018 (holy shit…). Since I won't be at a big party, I'd like to look like a big party ("big" being the operative word here), and will be wearing this brightly colored yet comfortable dress from one of my favorite brands, Figue.
2. Yang Lee Combat Boots: Heels make zero sense in Big Sur or while pregnant, so I'll be wearing my fun Figue dress with these combat boots.
3. Anita Ko Large Leaf Ring: I have politely requested (slash strongly suggested) that said husband gift me with diamonds this Christmas (given that I'm gifting him with a living human child…), so here's hoping I have something new and sparkly to top the whole thing off with.
---
Jodi Taylor
Associate Editor
1. Visitor on Earth Enterprise Mustard Velour Sweat Jacket: I plan on being super chill this New Year's Eve. Think red wine (or, let's be real, tequila), good music, a home-cooked meal, and a few friends. Naturally, I want to be cozy as hell for all of this, so I plan on wearing a matching sweatsuit, and really, what's a sweatsuit if it isn't velour?
2. Visitor on Earth Enterprise Mustard Velour Sweatpants: Like I said, it's got to be the full sweatpants, so here are the pants to match. Mustard and I are having a little bit of a moment lately, so why stop now, amiright?
3. Pamela Love Deconstruct Hoop Earrings: Just because I'm chilling out doesn't mean I can't add a little bling to my ears. These Pamela Love earrings are the perfect addition to my tracksuit. Bring on the ball drop!
---
Tara Gonzalez
Assistant Editor
1. Merlette Essaouira Dress: My boyfriend and I throw a themed dinner party every year for NYE, and I'll admit that this past month, time has gotten away from me, and we are seriously behind in planning (but can you blame me? 2017 has been one big shit show overall). Last year I wore an elaborate sequined pink fluffy Dyspnea look, and I kinda wanna do something entirely unexpected this time around. Considering I'll be hosting, bartending, cooking, DJing, and socializing, I want to wear this slightly Victorian Merlette dress like a true renaissance woman.
2. Dr. Marten's Beaumann Boot: My favorite way to style feminine, flowy dresses like the Merlette dress are with chunky, edgy platform boots. I saw someone wearing this new pair of Dr. Martens the other day with an overly floral t-shirt, and I've been dreaming about the entire look and the shoes ever since. They'll also be great for dancing in and thus help me avoid walking through Central Park barefoot like I did last year (oops).
3. Laura Lombardi Staff Earring: Laura Lombardi makes the most amazing earrings, and I am truly obsessed with my pair of Couro hoops (so obsessed I drunkenly cried when I realized I had lost one while out dancing last weekend). In an attempt to keep my NYE outfit different from my everyday look, I want to take a break from the hoops (and the heartbreak of currently only owning 1/2 of a Lombardi pair) and opt for these big babes instead.
Want more stories like this?
My Go-To Holiday Party Outfit Happens to Be Crazy-Comfortable
6 New Year's Eve Outfits Inspired By Street Style
5 Pretty Hairstyles That Might Convince You to Wear a Tiara
Part of the series:
WWWRN