Joan Smalls Has Mastered Our New Favorite Eyeliner Technique
She also has the best tip for staying motivated at the gym.
Models
If there was ever a person I wanted to give me workout advice, it's modern-day supermodel (and jet-setting fashion icon) Joan Smalls. On the day I chat with her about the brand-new "Off Duty" closet inspired by her personal style—from Creative Director, Sarah Easley and featuring a range of chic, wearable separates, shoes, and accessories for the girl on the go—I confess my lack of motivation for a boxing class later in the evening. To my surprise, she immediately relates, lamenting her promise to meet up with a friend post-interview. "We're like, 'Yeah, we should do it,' and then the day comes and you're like, 'Ugh, I'm regretting it,'" she laughs warmly. Story of my life.
As we discuss some tips and tricks for beginners boxing—she finds it very empowering—there's no denying that the Puerto Rican-born W Global Fashion Innovator is looking better than ever these days. Dressed in an oxblood leather jackets custom-made from Veronica Beard, she soon shows us how to execute an effortless pose inside a '60s-style hanging egg chair. This takes more skill and grace than I ever realized, or will ever master, to be honest. That's why she's consistently one of the supermodels of our generation, and with such a busy schedule, there's no better person from whom to seek advice about workouts, traveling, beauty, and, of course, style.
Luckily, Smalls was more than willing to reveal her go-to wellness ritual before a big shoot or event, as well as the technique for her signature "kitten eye" eyeliner and why she'll always be completely devoted to wearing hoodies.
---
So, how do you recommend I approach my first boxing class?
"You'll love it! Just don't punch hard, because you could hurt your wrist, or a pinky or a thumb. If you don't know how to hit, you might hit here or here [points to wrong parts of the hand to use], or bend [something the wrong way]. Just take it easy [laughs]."
What's your workout routine when you go to the gym?
"If I work out, and let's say it's 30 minutes, I don't do much cardio, because I'm already thin. But I love doing weights, or lunges, or anything that's core-strengthening, or butt, so that everything tightens. Sometimes when you work out, you feel your muscle hurt, and it [tenses]. I miss that, so I'll go to the gym with a purpose of having that feeling. I'm like, 'Yes! It's working.'"
Who's on your gym playlist?
"I'll listen to some ratchet music, club music, a remix, or sometimes I'll do a hip-hop remix of a year, and the whole track will be an hour. And somebody's DJing, so all you do is listen to it, and when it finishes you know your workout is finished."
Is there anything that you like to eat before you have a big shoot or an event?
"Lately, I've been [drinking] room-temperature water with lemon juice every morning or during the day. It's not that tough. I'll do half a lemon, because they say it's good for your skin. It's good for your immune system. It's good for digestion. I feel like it helped my skin."
What are four things you always travel with in your carry-on bag?
"Eyelash curler, a pair of heels in either nude or black, workout sneakers, gym clothes—pants, a top, and a shirt—and the Estée Lauder Advanced Night Repair Concentrated Recovery PowerFoil Mask."
Do you have an in-flight skin-care routine?
"I'll moisturize in-flight and try to wash my face in the bathroom. I do the Estée Lauder Advanced Night Repair, so throughout the flight there's something [moisturizing] because I know it's super super dry up there. When I'm about to land, I brush my teeth."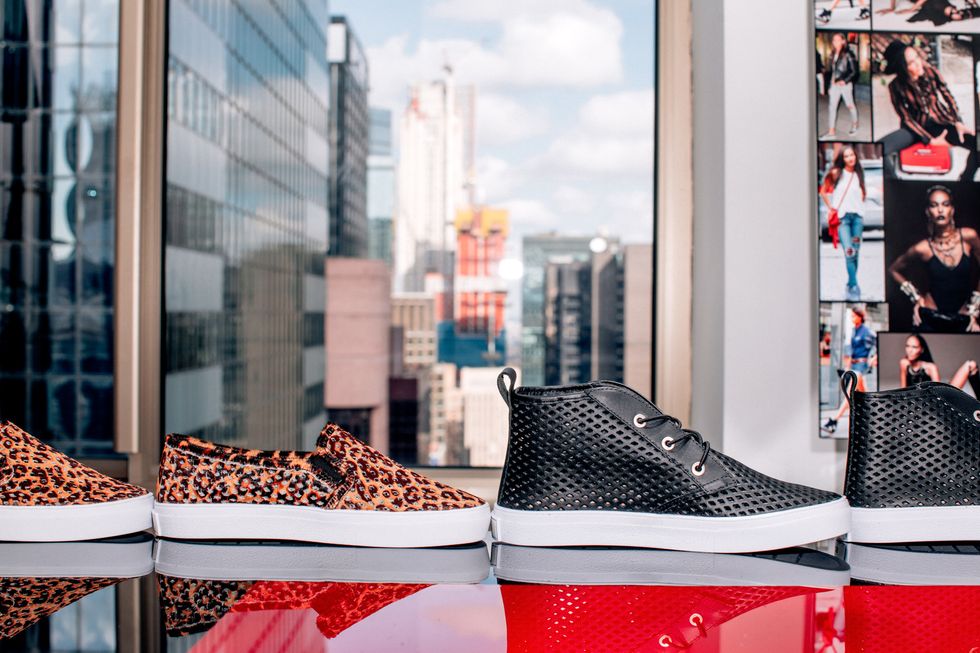 What's your go-to outfit for traveling?
"Comfy and chic. It depends on where I'm landing. If it's Paris, I feel like I'll put a little bit more thought into it because it's Paris [laughs]. Everywhere else, it'll be just a pair of jeans, sneakers, a hoodie, and a jacket. I love hoodies because you can kind of hide in there and nobody notices you [laughs]."
How would you describe your personal style?
"I would say sexy, feminine tomboy. That's the vibe I usually go for."
What's your everyday makeup look?
"I don't do [a] base. I usually just do concealer under the eyes and on the corner of my nose. Curl lashes, mascara, and then I'll always do like a baby cat eye with Estée Lauder Double Wear Zero Smudge Liquid Eyeliner. It has two sides, and one is pointy, and then the other one is flat, so it gives you the versatility of doing [the wing] wider or super, super thin."