Meet the 20-Year-Old Artist About to Take the Music Industry by Storm
Anajah Hamilton (aka @icecreameaterrr) is the epitome of next-generation style. In collaboration with Emporio Armani.
Fashion
It's not often that we meet a 20-year-old who possesses equal parts confidence, charisma, and an undeniable *cool* factor, but that's exactly the winning combination that makes Anajah Hamilton so intriguing. The budding creative powerhouse is one of the curators behind Art Hoe Collective, an online platform that promotes the work of marginalized voices, including people of color, women, and members of the LGBTQ community. "We felt like the art world is very white-male-dominated," she explains over an early morning breakfast of coffee and bagels. "So we decided to make our own space [where] people can have their work be seen and their voices heard."
Hamilton's also putting the finishing touches on her upcoming debut EP. "I keep changing the [release] date because I'm crazy," she laughs. "I've been writing some of these songs since I was 17. I talk about a lot of teenage girl things, like feeling rejected and confused about your existence. It seems really sad, but it sounds pretty cool." While her music may address the teenage angst of her past, her personal style has evolved significantly now that she's entering her twenties. "It's gotten better! I used to wear lots of bangs, lots of buns. I was a really colorful preteen, but now I'm more minimal. I let my outfit speak for itself."
We decided to tag along with Hamilton to Tokyo Record Bar (one of her favorite restaurants in New York's West Village) as she went in search of some musical inspiration. From her killer stage presence and wise-beyond-her-years attitude—coupled with her signature Emporio Armani sunnies, of course—it's pretty clear that for Hamilton, there's nowhere to go but up.
---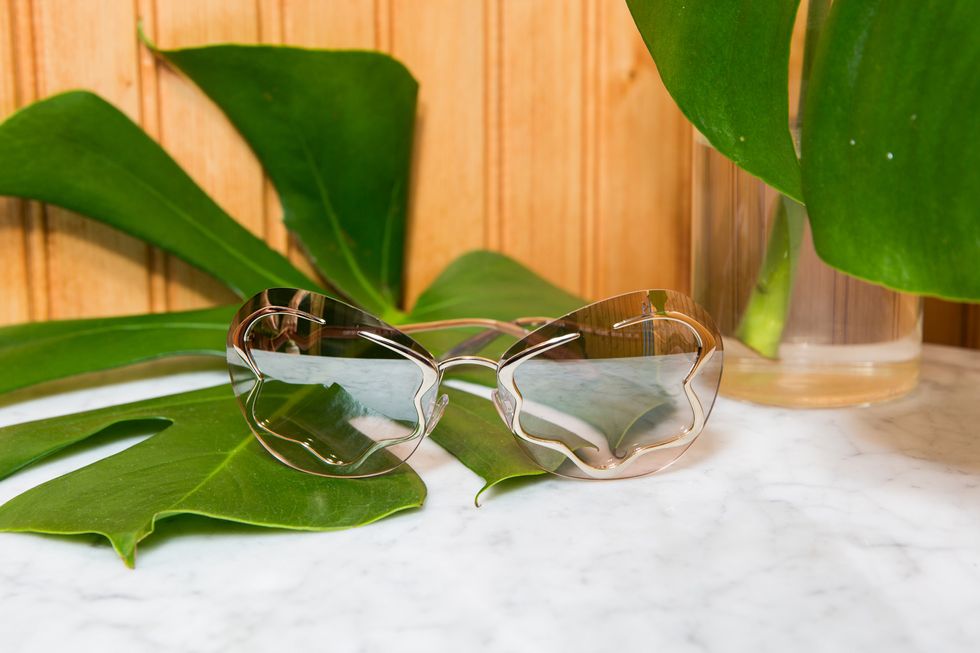 When did you first begin to embrace fashion?
"I started enjoying fashion when I became a teenager. My mom would take me to the mall when I was younger, and I hated it. Growing up, I guess I was super uncomfortable with my body and realizing that I exist. I was like, 'Makeup? Clothes?' I was only into art. Then I realized, 'Well, if I'm going to be here, why not enjoy it and decorate myself in a way where I will feel comfortable?'"
Do you have a time of day or a place where you feel most creative?
"I feel like it never ends. My mind is always working. I carry a little journal with me everywhere, where I just write my thoughts. Or I text myself so that it goes straight to my laptop. I always feel creative, but when it's nighttime and [I'm] in my room, [that]'s when I can commit properly.
"I have a pink light that I record in because I feel like that's what my music reminds me of. My best friend is also an artist, so she did the cover for me. I wanted the art to look like what it sounds like—a pale pink. I connect my songs with colors, so whatever color I feel, I'll have my room in that setting. It feels like I'm drowning in that color."
What do you like to wear when you're performing your music?
"I try to wear something really cutesy. I don't know why. I usually make sure my eyes are glittery or [use] bold eyeliner. I love '60s eyeliner. I usually wear something comfortable, sneakers. It depends on how I feel."
How do you put together an outfit when you're just enjoying a lazy Sunday?
"I plan out all of my outfits. I have lots of lists [laughs]. When I see someone on the street with a cute outfit, I either take a picture or I write it down really fast. On a Sunday, I might wear baggy jeans, cute sneakers, and a really tight top. I feel like if I'm going to wear tight pants, I'll wear a baggy top or baggy pants and a tight top. I love jackets, and I always wear gold rings and sunglasses."
Who are your style icons?
"I have lots of style icons. I love the way Solange dresses. I love FKA Twigs [and] Diana Ross. Donna Summer—I love her big hair. I love the '60s, '70s. [It was] just an iconic time. "
How do you want people to feel after they listen to your EP?
"Whenever I write songs, I write for someone who is going through a weird identity crisis. When you're in high school, or your early 20s, you don't know what's happening. You're not settled. You don't know what's going on. You can probably feel like that all your life because there's no set path for anyone, but that's definitely when you're trying to figure things out. I wrote it in that time of my life, so I want people who are probably going through that same time to feel like, 'Oh, I'm not alone.'"
What advice do you have for teenage girls who are experiencing the same things in your songs?
"That what they feel won't last forever. You have to know that you're going to continuously learn about yourself and evolve and change, and the world is going to keep moving. Even if you're going through a horrible puberty crisis, it won't last forever. You'll be OK. I wish I knew that. My mom kept trying to tell me, but you don't believe your mom, even though [she] has been here way longer than you have."