Down to Party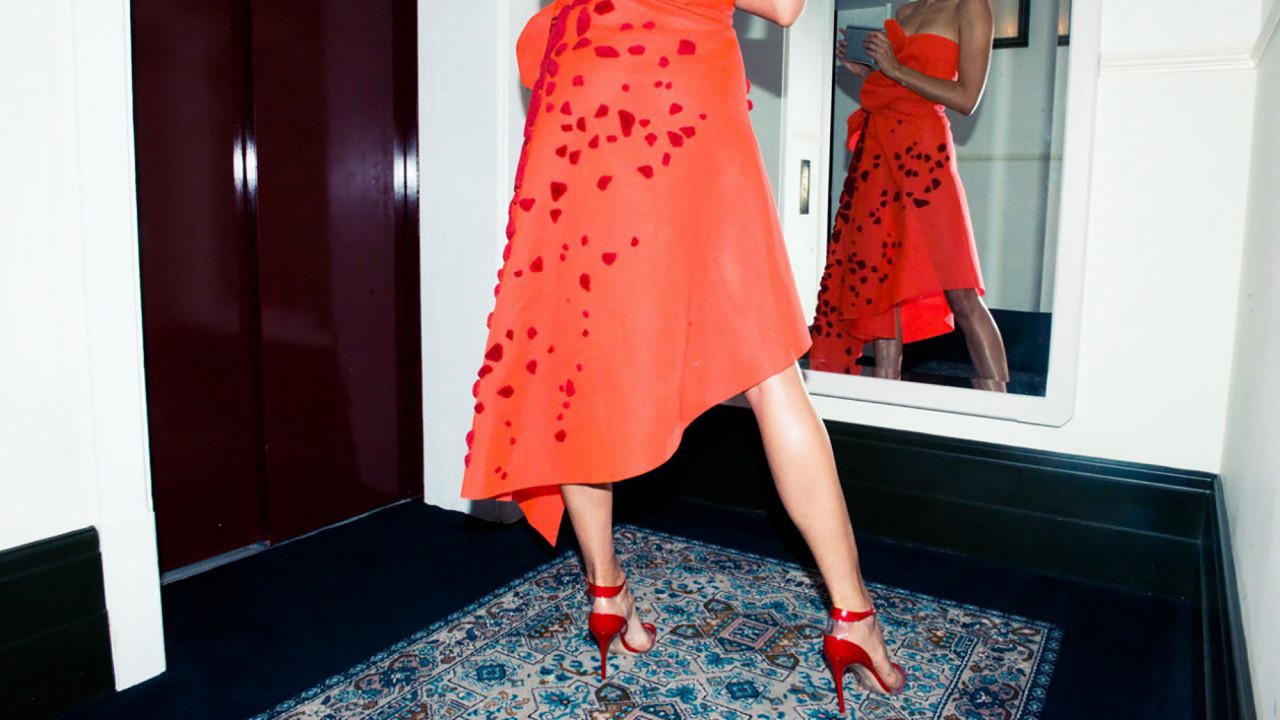 These Are the Party Essentials We Want Right Now
From hostess gifts to hangover cures, here's what we're arming ourselves with.
With next week being Thanksgiving, we're about to crest the wave of party season. All month we've been helping you prep with the best outfit ideas, entertaining tips, and style must-haves so you're ready for a marathon night of party-hopping or a long night of binge-eating with your family.
But as for each of us, the editors at Coveteur, we rely on a handful of goods to get us through what is simultaneously the most fun and most exhausting time of year. From the phone charger that fits in a tiny clutch to foolproof hangover helpers, here's what we're arming ourselves with for the festive season.
---
LAUREL PANTIN
EDITORIAL & FASHION DIRECTOR
1. Rochas Velvet Mary Janes: Being roughly six months pregnant during party season is not delightful (though I am generally delighted and everything), what with all the drinking and the standing around. I can't do anything about the amount of drinking that happens around me (and that I feel left out from), but I can do something about the standing around by wearing exclusively flats. Anything with a heel higher than flat is out of the question. These have been my go-tos, since they're velvet and festive.
2. Michael Kors Sofie Pave Smart Watch: I generally think it's rude to keep your phone in your hand, or to be constantly checking your phone when you're out with friends, so I've started wearing this smart watch instead. I love that I can leave my phone in my bag but still keep up to date with any important alerts (and, mind-blower, I can tell time). Plus, it tracks my daily activity and doesn't really look like a traditional super-techy smart watch, so it doesn't ruin my outfit.
3. Moma Pastel Nesting Bowls: I am possibly the worst gifter ever. For the life of me, I can't get it together to pick out a thoughtful gift. This year, I'm not exactly trying to turn that around, but I am trying to at least take a different track. Instead of a candle or bottle of champagne, I'm bringing these happy, pastel mixing bowls as my go-to hostess gift. They're the kind of thing that are endlessly useful, they'll have them forever, and they'll think of you every time they use them to make cookies, pancakes, a giant delicious salad, or whatever warm and fuzzy thing they like to cook as a family.
---
MEG GEGLER
AUDIENCE DEVELOPMENT COORDINATOR
1. Party Smart Vegetarian Capsules: Two words: hangover prevention.
2. JW Anderson Pierce mini leather shoulder bag: As much as I'd love to switch up my accessories for every party I go to, I'll likely keep one bag stocked with all of my essentials and bring it out every night. I've been eyeing this JW Anderson evening bag for a while now—it's the perfect going-out bag. Plus, I don't think I can wait until Christmas to get it.
3. RXbar: If you know me, you know that I'm always hungry, especially when I know a long night is ahead (and may include more cocktails than it does hors d'oeuvres). For this party season, I'm going to always keep a small snack, like an RXbar, in my bag—they're small, healthy, and perfect for when you're running from office to holiday party.
---
HANNAH BAXTER
ASSISTANT EDITOR
1. MAISON MARGIELA REPLICA Jazz Club: A hotel I was staying at recently had Replica Jazz Club bath products, and after hauling home about eight samples in my carry-on, I think it's time to upgrade to the actual fragrance. It's sensual, smoky, and mysterious—aka my preferred party persona—with hints of tobacco and rum, so you're prepped and ready for an epic night out.
2. Bull in China Stirred Cocktail Set: Take it from a former bartender, but you cannot find a better—or better-looking—set of essential tools for your home bar than Bull in China. Everything from the glassware to the shakers are handmade in Portland, OR, by a crew of industry veterans, so even if you're a cocktail novice, you'll at least look like a pro.
3. Stellaire Donna Silk Rhinestone Bodysuit: This bodysuit is getting me one step closer to covering my entire body in rhinestones, a life goal of mine since forever. The silky-stretch jersey and deep V also ooze '70s disco vibes, my fav. There's no way I couldn't dance the night away after slipping this on, preferably paired with a Stellaire silk suit and sky-high curls.
---
KATIE BECKER
BEAUTY DIRECTOR 
1. GHD Curve Creative Curl Wand: It's crucial that I'm able to touch up my curls without having to rewash my hair (hard pass on air-drying in below-freezing weather), and I love this multi-sized wand that will refresh the definition of my curls, so I can look freshly primped in five minutes.
2. NARS Radiant Creamy Concealer: Whether it's late-night under-eye circles or a holiday stress-induced breakout, everyone needs a little extra coverup over the holidays. This concealer gives amazing coverage but instantly looks like your own skin without any technique required.
3. Mariebelle Cacaotelle Gift Set: Luxury hot chocolate is such a solid hostess gift this time of year. I plan to break apart this four-piece set, put a bow on each one, and tote them with me to all my parties. It's lighter than wine and can't melt like solid chocolates.
---
NOAH LEHAVA
SENIOR EDITOR: HEALTH AND WELLNESS
1. Viski Himalayan Salt Shot Glasses: Ever since I went to Oaxaca on a work trip with Ilegal Mezcal, I've been a convert to drinking liquor without any accoutrements. Since swigging out of the bottle isn't appropriate when you're on home turf (it was, however, what we were doing out in the agave fields), I've upgraded to fancy little himalayan salt shot glasses.
2. Prada Feather-trimmed Satin Sandals: I SCREAMED out of excitement the first time I laid eyes on these. STILL SCREAMING btw! I haven't been so enamored with an inanimate object in, well, maybe ever. I could literally wear a garbage bag and still look chic with these babies on.  
3. B&O A9 Speaker: Don't be ~that~ person that makes speakers out of a red solo cup (sadly, this has happened in my life on way too many occasions—and I'm guilty, too). But having a speaker that looks like a piece of exceptional furniture? That's just next-level party cred.
---
JODI TAYLOR
ASSISTANT EDITOR
1. Lingerie Tape: This is the number one party essential in my books. It's been the year of no bra, which has made wardrobe malfunction prevention all the more important. It's truly the only way to get away with a super low-cut shirt or a blazer with nothing under. Save yourself the nip slip by having a roll of this stuff handy at all times.
2. Giuseppe Zanotti Harmony Velvet Sandals: You'll be hard-pressed to find me at a party this season without at least one velvet piece on—I'm obsessed with it. And while it's super rare that I wear anything but a chunky heel, these strappy sandals are just too good to pass up. Just imagine how much that blush color will elongate the legs.
3. Gold-plated Pocket Flask: While it's not often I carry an actual flask with me, it is often that I have a drink in hand while hopping from party to party. Gotta stay hydrated, you know. Instead of running around with a conspicuous plastic cup, why not pour it into a chic gold flask? One that will slide perfectly into my clutch for discreet sips.