Celebrity
Why Jaime King's Latest Project, "BITCH," Isn't a Feminist Film
The actress on empathy and losing her best friend.
Tristan Kallas
I didn't know what to expect when meeting Jaime King at the London Hotel in West Hollywood. Of course, she's a fashion icon—the stunning star of blockbusters like Sin City and Pearl Harbor. And, in case you didn't know, Taylor Swift serves as godmother to her younger son, Leo. (So who can compete with that?!?)
I'm here because King's latest film, BITCH, hits theaters November 10. It follows a housewife, Jill (played by writer/director Marianna Palka) who, unappreciated by her husband and children, finds herself transformed into a female dog. A literal bitch.
"It's unlike any film I've done before," King gushed while munching room service fries on the hotel's cream sofa. "I've been in big movies, but nothing that's ever felt this special."
---
This film feels different to her for many reasons, the most obvious of which is its wonderfully weird plot. But BITCH also has an undeniable chemistry, something King attributes to the strong relationships between all involved.
"I said 'yes' before even seeing the script," she remembered. "I've known Marianna for years. She's an important part of my son's lives… And Jason [Ritter, their costar] is an intimate friend... As actors, you try your best to create that history, but you can only do your best. This project transcended that."
King said it's the tightest-knit set she's ever been on. And while the Company X-produced film was shot almost entirely in a single house for a shoestring budget, it felt like family.
"All I cared about was the other actors—giving them my best performance, giving them every cell of my being. It was a very supportive environment... The only film I've been on where people wanted to come to set, even on days they weren't working."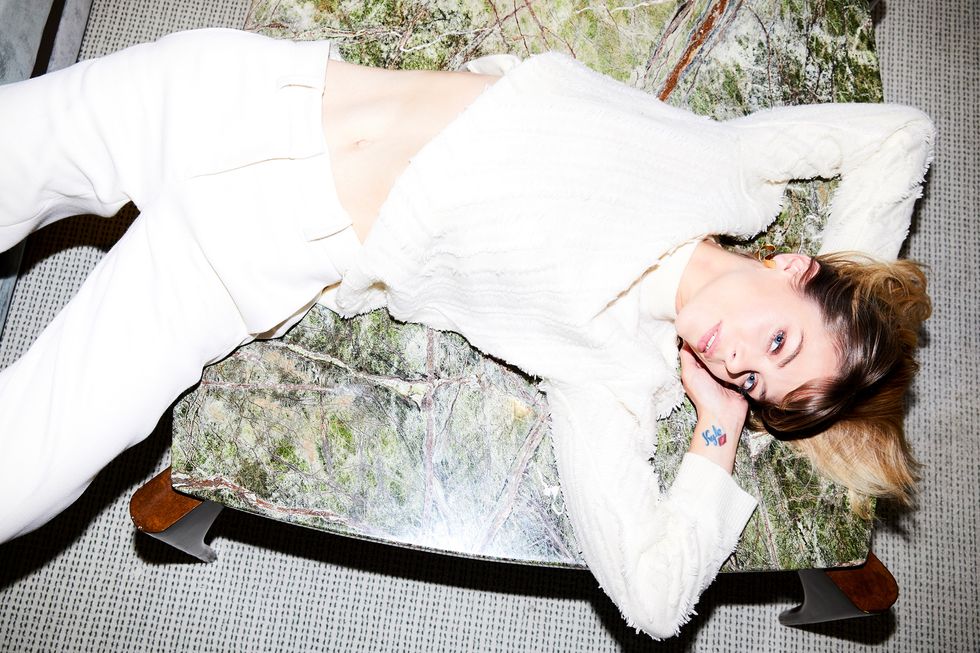 Given the plot's feminist leanings, one could assume Palk wrote it to support the current mood sweeping the nation.
"Interestingly enough, our first press day at Sundance coincided with the Women's March... And while this film wasn't created with a political agenda, that's the beautiful thing about artists: When you're connected, when you're attuned to society, you tap into something true."
King says that in her opinion, that's what acting is all about: understanding and empathizing with other people.
"Actors need to be able to relate to everyone's point of view. I'll never know what it's like to talk to my child about not being safe when they leave the house [because of the color of their skin]. But I know what it's like to be a woman. I know what it's like to be paid less than men. To be expected to look a certain way. To have my pregnancy become some big deal that's 'impacting my career.' I take those experiences and use them to empathize with others."
So, while BITCH isn't exactly about feminism, King says it is "about love and what you'll do to keep a family whole." It's a particularly poignant message for King, whose longtime acting coach, Elizabeth Kemp, passed away two months ago from cancer.
"I've never spoken about this in public, but my best friend died recently," she confides. "BITCH was actually the last movie she ever saw... [Elizabeth] always worked with me, then started working with Jason and Marianna on [this] set. She's in every cell of this film."
One of Kemp's tips for the cast? Dream work, an exercise in which actors tap their dreams to inform their onscreen characters. It's an intimate, "radical experience" that King says truly made the films and bonded the actors.
"At the [end of the] day, it's not about awards and accolades. And it's certainly not about money. The greatest perk is being with the people you love, creating art and supporting one another."
Want more stories like this?
Detroit Star Jacob Latimore Agreed to Star in the Film Before Seeing the Script
Why Kathryn Hahn Is Optimistic about American Politics
Call Me a Nihilist, but I Saw Donald Trump's Election Coming Last Year