Nutrition
Dr. Passler's Pure Change Program is more than an eating plan; it'll change how you think.
Alec Kugler
"This is Passler-approved" has become fashion industry fodder as common as "did you hear [insert notable designer ] is leaving [insert storied fashion house]?" Sit in the Manhattan office of chiropractor and nutritionist Charles Passler, and it's a revolving door of designers (Alexander Wang and Narciso Rodriguez are regulars), bigwigs from glossies like international Vogue, ELLE, and Harper's Bazaar, editors (yours truly included), and models (Bella Hadid and Adriana Lima, to name an angel-winged few). And there's a reason all of fashion relies on Dr. Passler to help them reset and maintain their healthiest bodies: because his program works. He wants his clients to eat real food, cut down on alcohol, and avoid refined sugar, but he caters to each individual—if you're stressed, he helps you gain perspective. After all, if you're in a good mental state, you'll make better decisions.
But his popularity also has to do with Dr. Passler's incredible way of making you leave feeling like you've just made a supportive best friend. But don't call it a diet plan, although trimming down is a happy consequence; the Pure Change Program changes the way you view and think about nutrition—thinking about it in its most microscopic, simplest terms: fueling your cells so that they can work at their top efficiency. Simple, right? But also not. Ask Dr. Passler how long it took to refine his program, and he'll laugh, "Fifty-three years and counting."
Ed note: I tried the Pure Change Program for 21 days and beyond—so come back in a few to get all the nitty-gritty details.
---
His approach to nutrition was holistic from the start:
"We grew up in a farm setting. We had a hundred fruit trees, we made our own maple syrup, we were hunting every weekend, fishing every weekend, and we heated our house with wood—and we didn't have very much money. We had chickens for the eggs, we had honeybees, and we canned vegetables. That's the way I grew up, and because of that, I really got a sense of nature. Food comes from the Earth! When you think about it, every living thing on this planet comes from the same place. I don't care if it's a reptile, bird, an insect, a mammal, a plant... We're all the same. And essentially what we are is a very well-organized, very well-orchestrated accumulation of cells. And what health really is, is very simply allowing our bodies to do their job. That's all it is. If you are what I call 'in service to yourselves,' and you have the right mind-set, it's really pretty easy to be healthy.
"Right after high school, I went in the army. I was only 17 years old, and that was my coming-of-age experience. I really discovered [how important] it was to take care of yourself. I went to Wagner College in Staten Island to study business. Then, after I was done with that, I decided that it wasn't for me and went on to study chiropractic and nutrition. I realized what I was really interested in was helping people look at their lives a bit differently and helping them make the changes that they needed to make to change their lifestyle. It wasn't just 'Oh, come in for an adjustment' or 'take this pill,' it was really about helping people look at their lives differently and make choices that they needed to make so that they could... I call it 'being where you want to be.'"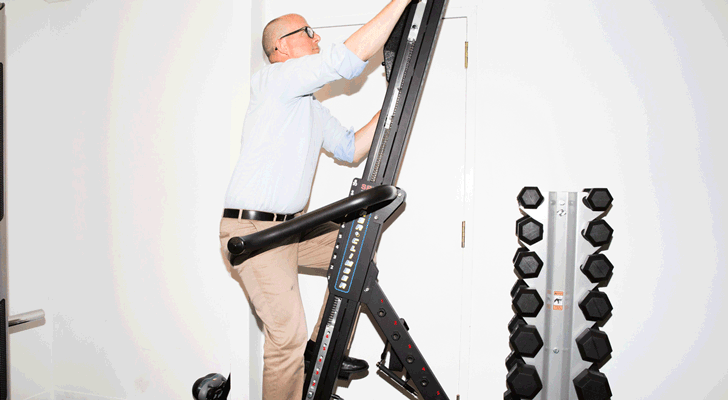 When he first started, doctors didn't believe in nutrition:
"I was an associate with another doctor, and she helped me discover what I really wanted to do. Back then there were a lot of HIV patients and cancer patients, but there weren't a lot of integrative medicine facilities as there are now. A lot of the hospitals didn't believe in any kind of nutrition. A lot of my patients lost weight, but most of all, they felt better. I realized that if you have a good lifestyle, there's less of a chance for unforeseen difficulties with toxicity. So that's why I transitioned into a lifestyle type of a practice—I did that in the late '90s."
The highlight of his career is more than a singular moment:
"This gives me goose bumps. Yesterday, a patient came in, and she had been at a dinner party—fortunately, I have patients that are very smart and successful—and she said, 'Wow, I didn't realize how many people you actually see. We were all talking about you at dinner, and the amazing thing was how much better you've made all these people's lives.' When somebody says 'Wow! You're transforming lives,' that's really the thing that I love more than anything. Life can be hard and stressful; we can accept the challenges as they come up and face the challenges. I'm going to do my best every day, and move through it, and learn from it. Just doing better and better—that's really the goal that I have with helping my patients."
What wellness means to him:
"For me, wellness is allowing your body to function properly and efficiently. Physically, mentally, emotionally, and physiologically by creating the environment your cells need to be able to easily do their job. Providing them with the energy, environment, and resources that they need to be healthy. It's really about the cells! Think about it: We're an accumulation of cells. We are taking care [of] our cells and allowing them to function properly by providing them, like I said, with the resources, the environment, the energy they need to get the job done."
How he feels about food trends:
"Nature provides us with most of the things that we need. One of the benefits of technology is that we can process nature in a way that makes it more user-friendly. If you look at foods fads, most of them have been around for a very long time. They're just re-packaged in a different way. Like kombucha; kombucha has been around forever—fermented food has been around forever."
Want more stories like this?
Everything Our Editors Do for Self-Care
How to Quit Candy After Halloween
Bella Hadid on Extreme Cleansing