Exclusive: A Hadid Sister Just Designed the Next Must-Have Jacket
It's pretty…"savage."
Fashion
You already know the denim jacket is a closet staple, but just try pinpointing the most iconic, must-have option out there. It's basically…kind of…impossible. Sure, there are a million—every store seems to have one!—but surprisingly, none really stand out in the crowd.
Alana Hadid and Emily Perlstein are on a mission to change all that. The stylists and friends (one of which has a very famous last name) have created La Detresse, a clothing line focused solely on creating quality denim jackets. Its first drop is out today: four hand-washed, hand-distressed, and hand-embroidered pieces, all of which are unisex and perfectly oversized (just like your favorite vintage find).
Right before the launch of their "baby," we caught up with Hadid and Perlstein and asked them for the scoop. Why denim jackets? Will there be more denim pieces later on? And did Alana ever ask her family for their fashion opinions? The answers to these questions and more can be found ahead.
---
How did you start working together?
Alana Hadid: "We were both stylists and personal shoppers in L.A. and became friends. Emily is a really amazing businessperson, and I'm a little bit more creative. It was a natural thing for us to come together and work together."
Emily Perlstein: "What's unique about us is that I think it would be really hard for Alana to work with someone who doesn't understand fashion, or care about it, or understand the process, or have an eye—and I do. That balance of me having experience in the fashion industry but also being more business-minded is why we work so well together."
What made you think denim jackets?
AH: "I've seen so many denim lines, but the jacket is a subsequent piece in the collection. I just feel like denim jackets are really important parts of a wardrobe. It's a cool layering piece that you could [wear] in so many different ways, and I like the way denim can be in so many different states. You can have it from raw to completely distressed. Basically, I just wanted to play with it and not just make jeans."
And you're doing drops, not seasons?
AH: "I'll go on record and say it—I think seasons are a bore [laughs]. The denim jacket is seasonless, which is what's great about it. I think if things are worn correctly, they can work in all different seasons. Even a babydoll dress can be worn in winter if you layer it over jeans. I don't know if seasons really work—it's more about fashion."
Why did you choose to solely sell online?
AH: "Whoever our [customer] ends up being, we don't want the ability to talk to them to be taken away from us right away. So we're launching with a small amount of jackets, and we want to see the reaction to it. We want to hear feedback. We want to see who's buying it. Is the person buying all of them or just one? That's what's amazing about being able to go direct-to-consumer. You get to really speak to your customer."
EP: "Of course, my business mind is like, 'Analytics!' That's also why we chose to launch with such a limited number: We didn't want to inundate a customer and not be able to see trends and get feedback."
I want to talk about the orange buttons, too:
AH: "Denim jackets aren't really branded well, unless you see the red tab for Levi's or it says Off-White on the back. There's not a lot that differentiates denim jackets from one another, or really a lot of jackets in general. We wanted to do something that wasn't our logo on the back but at least gave us something for that branding. If you know that it's our brand that has orange buttons, then eventually you'll see someone walking down the street with orange buttons and you're like, 'Oh, that's La Detresse.' Plus, we love orange."
EP: "It's a good, unexpected detail. We didn't want something so blatant."
Do you plan on adding other denim pieces?
AH: "I wouldn't say never, but right now, our focus is on the jacket. We're definitely going to do other shapes and styles. I'm definitely doing a trench. We'll add other materials. We'll probably explore it until it can't be explored anymore."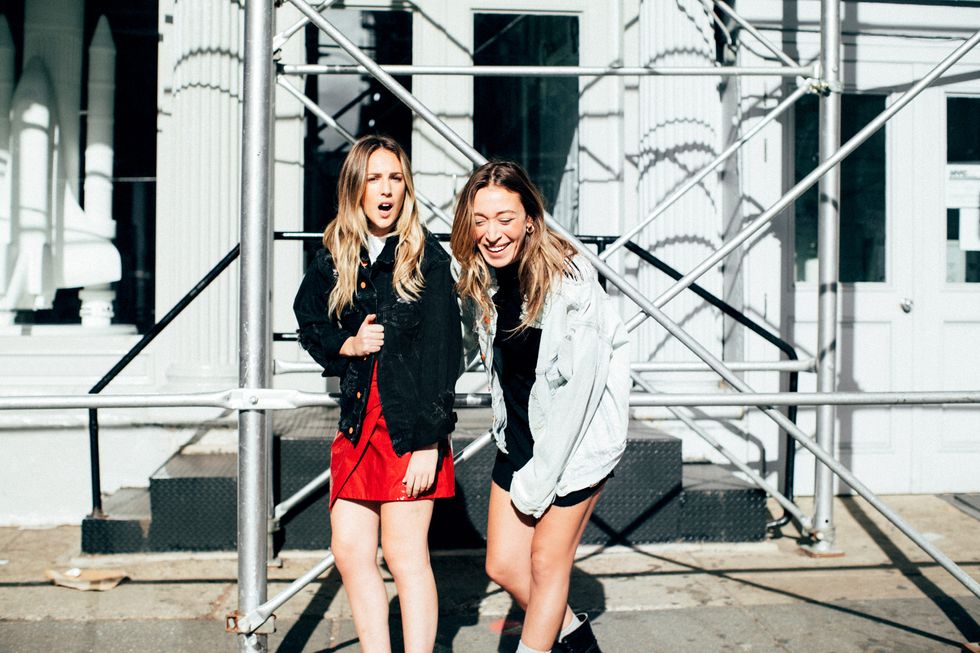 You said your dad is in the textile industry?
EP: "My dad is in the textile industry, and my dad's dad actually was in the textile industry, so I guess you can say it's in my blood. I run everything by him. He imports fabric, so some of his fabric has actually ended up in denim companies, like pockets for Guess or even Levi's back in the day. My dad's been super instrumental in connecting us to people and…"
AH: "Helping us source."
EP: "Just everything. He's the number one person I go to."
What about your family, Alana? Is it important for you to get their feedback?
AH: "I like getting a lot of different perspectives, so I do like to hear from my family, plus friends and different people. I'll show little tidbits. We've been doing that the whole way, just to see. It's what brought us to what we think are the perfect four jackets to start with."
Is there someone you would love to see wear your designs?
EP: "Rihanna."
AH: "It's like 'Uhh... Rihanna!'"
EP: "To quote one of our jackets, she's 'savage.'"
AH: "I want to see Anna Dello Russo. I talk about her every place I go. If I saw her wearing one and then she put it in Japanese Vogue, I would just fall over and die."
What inspired the sayings on the back?
EP: "Savage is a word that we probably overuse."
AH: "When we became friends, we were saying it all the time. Like 'Oh my god, it's so savage.' And 'Famous Last Name'… I get jackets all the time that say 'Hadid' on the back, and it's really cool, but also a little bit…self-indulgent. Especially when it's that recognizable. Like, 'Hey, look at me! I'm a Hadid!' But I was thinking about it, and I'm like, 'Why don't we just put Famous Last Name [on the back]? Everyone's last name is famous. It is to you, or in your circle of friends, or to your family."
EP: "It's very tongue-in-cheek."
Want more stories like this?
20 Denim Pieces That Are Perfect for Fall
How to Pull Off an All-Denim Outfit
How a Pair of Jeans Became the Most Desired Item in Fashion