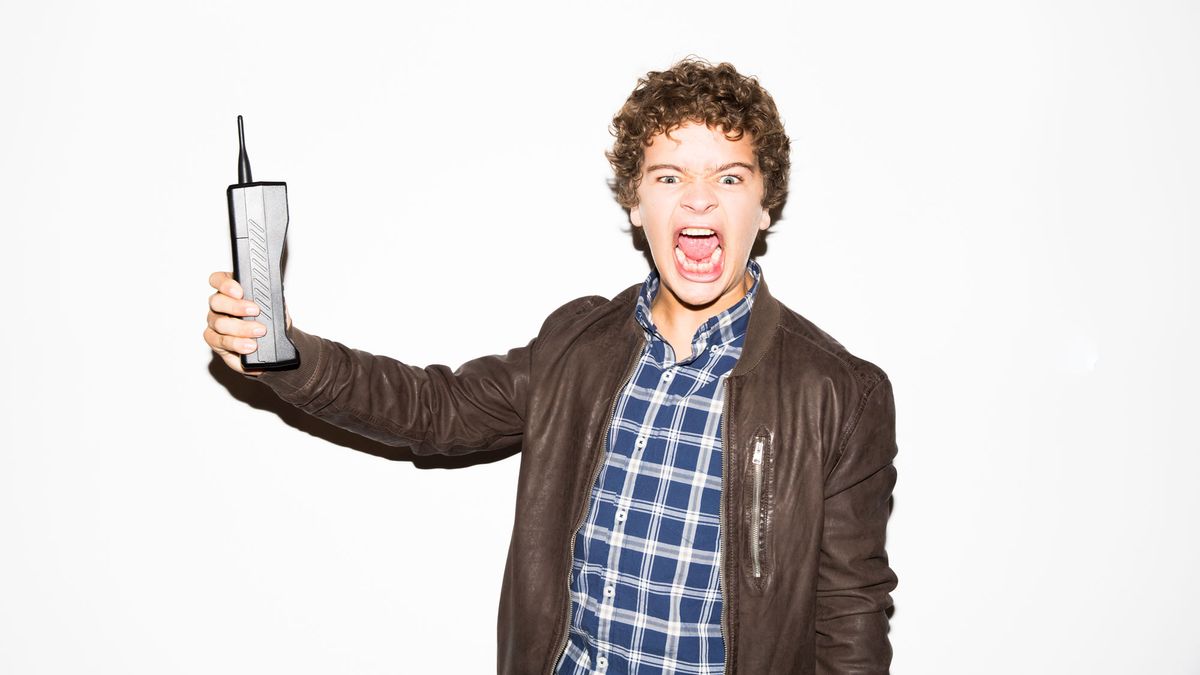 Celebrity
The actor who plays Dustin on the show sees all those fan theories...and he loves them.
Alec Kugler
"Oh my god, I love him!" That's the typical response I get whenever I mention Gaten Matarazzo, aka Dustin from Stranger Things. And how could it not be? The 15-year-old from New Jersey is most definitely a fan favorite on the show: that funny, curly-haired friend, with hilarious expressions and the most GIF-able lines ("She's our friend and she's crazy!" "I found the chocolate pudding!"). It's that sheer talent and lovable quality that has garnered him a huge fanbase—including members of the Coveteur team, some of which stayed late at our office solely to watch him walk in…with the cutest puppy ever. (It truly felt like our birthday.)
In real life, Matarazzo is a mini adult; I'm convinced he's secretly 45, and not just because he told me he's working on Halloween and won't be dressing up (duh). He's just...strangely mature (see what I did there?), and after the shoot, we talked at length about his future, why he prefers hanging with adults, and what bothers him most about social media. Of course, there was some fun stuff too: Matarazzo totally reads all those crazy fan theories, and even informed me about a Harry Potter crossover. Really, if you thought you were a fan of this kid before, go ahead and read on.
---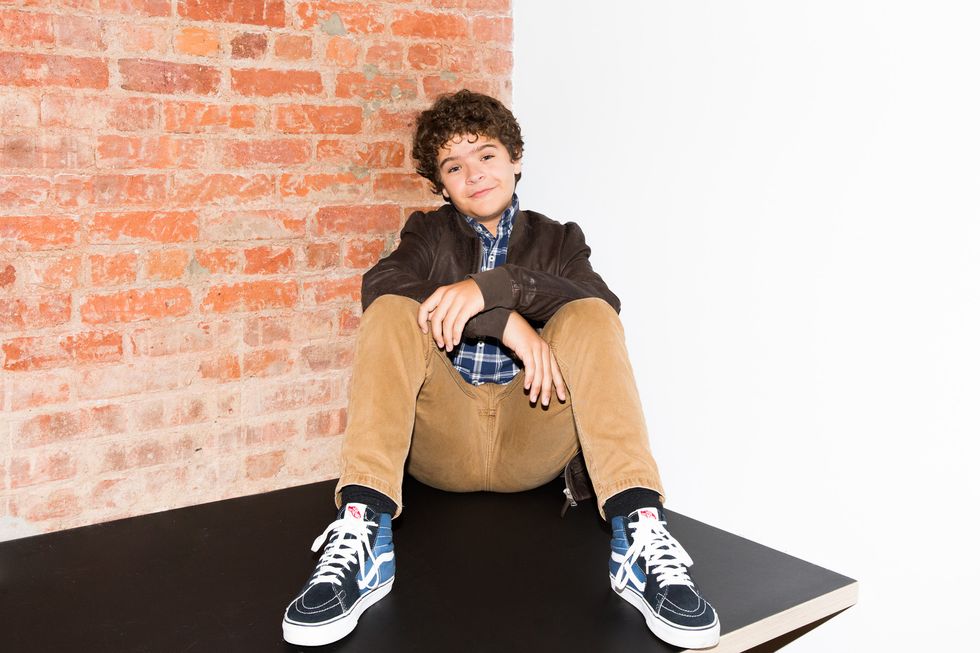 You started acting when you were so young, first with Broadway. Do you remember the moment when you thought, 'I really want to be an actor?'
"I never really had that. I don't really know what I want to do. I love acting right now, but who knows? Later this year in school, I'm taking digital photography [to] see if I'll have an interest in that. I've already got an interest in photography and cinematography, of course, through film and everything. But also I was at the GQ Awards, and they gave me this box full of goodies, and there was this big book in it of pictures of nature and different cultures in the world. It was so beautiful, and I read the introduction and everything. Nobody does that. It was like a five-page introduction of why he does what he does. That made me really excited to take digital photography. So that will be really cool. I'm only 15, and I'm only in my sophomore year of high school."
Do you feel like you get the best of both worlds because you get to work and also go to school?
"I've learned many life lessons that most kids my age don't get to learn. I go back, and I find myself talking to the teachers at the school more than I do the kids, just because I've learned how to work in an adult environment. Of course, I'm with five other kids, but the crew, the directors, everyone who works there...they're adults. I've grown up a little bit faster than most people have. I think that can be a good thing, that can be a bad thing. It's a great thing to know how to work professionally, but also, I don't want to have the conversations the kids at school have. Of course, teenage boys are going to be teenage boys. They're going to have their teenage boy jokes and everything. But I'm sitting at a lunch table like, 'What is wrong with these children?' [laughs]. And I'm their age!"
How hard has it been keeping season two of Stranger Things a secret?
"Everyone wants to know, which is really weird in my opinion. I would not want to know anything about another show before I see it. I even felt bad about a Star Wars trailer that just premiered. I was like, 'Ah! I shouldn't have watched it. I should've waited!' I feel like that's a spoiler. People keep asking me, 'Do you have any spoilers for season two?' I'm like, 'No, I don't. I'm not going to tell you' [laughs]. [They're] like, 'It's just you and me, man.' I'm like, 'I didn't say it wasn't. I said I can't talk about it, that's what I said' [laughs]."
Is season two scary?
"It's not scary. It's not. I don't get scared easily. For some reason, I had a huge reputation for being a scaredy cat, and I'm not [laughs]."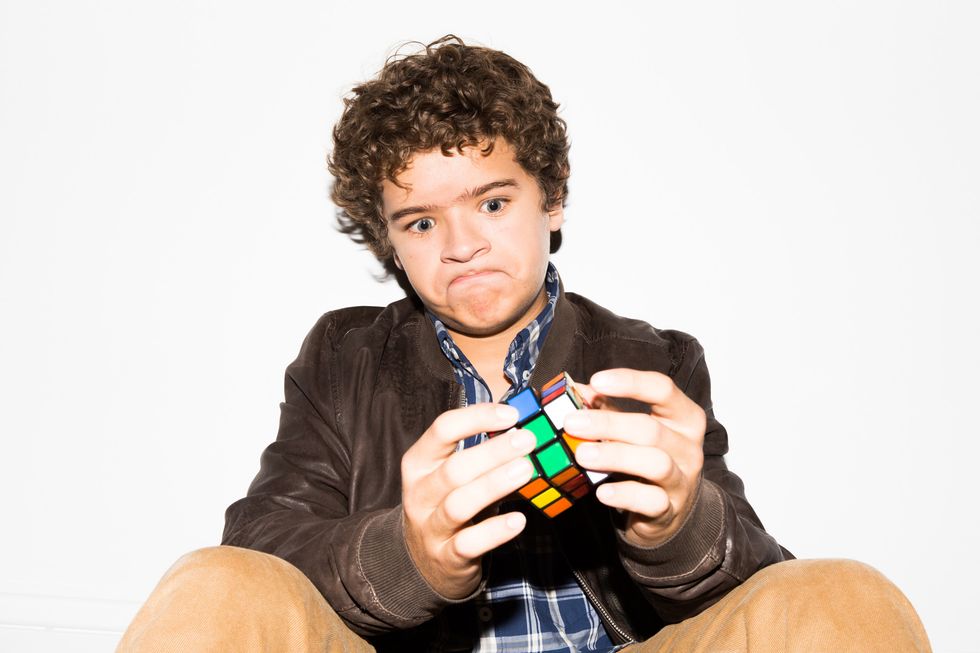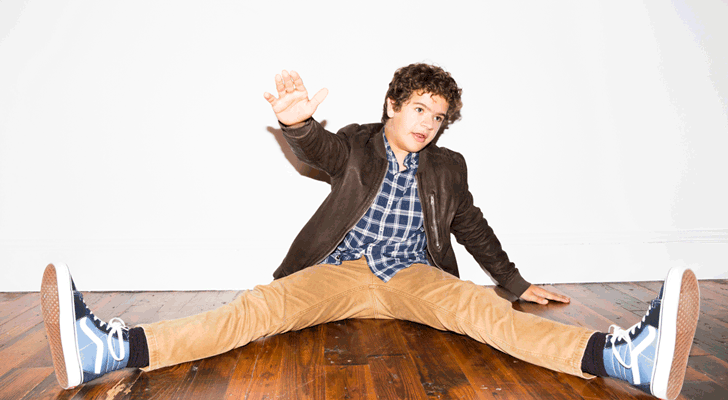 Do people come up to you and act like they know you?
"I like when people are comfortable with me. Sometimes they'll leave, and my dad goes, 'Who's that?' I say, 'A fan.' He's like, 'Oh, they really seemed like they were like, genuinely friends with you.' Some people won't just say 'I like your show,' they'll be like, 'Hey, man. How you doing? Good to see you.' And we'll have conversations about stuff. I'm not one to fanboy or anything, but if I see someone that I recognize, I would approach them and just say, 'Hey, cool to see you. I like your work.'"
Who would be the person you would ask for a picture with?
"I never ask for pictures, because I always think they probably get a lot of pictures, and a lot of people don't like it. But one person I had to approach was George Lucas. I was in L.A., having dinner at the hotel. It was late at night, and we finished the whole press day, and it was just me and my dad in a hotel that's pretty small. Then a group of people walk in, and with that group of people was George Lucas. They take him into the back in an enclosed area where they would have the Stranger Things kids eat breakfast. I wanted to get there before they settled and put in their order, so I walked over, and he didn't know who I was. I'm like, 'Hey, Mr. Lucas, I'm a big fan of your work.' He obviously thinks I'm some cute [kid] who likes Star Wars. Then his one friend had said, 'Hey! This is the kid in the show,' and I started talking about Stranger Things for a couple of minutes. I didn't ask for a picture. I said thank you, and I just sat back down and finished dinner. I didn't text anyone. I told Millie, because she was there the next morning and we were eating breakfast in the room. Like, 'I just met George Lucas in this seat like last night.' It was just cool."
Would you want to do a Star Wars-type film?
"Oh my god, that would be my dream! And now that I'm hearing they'll do one like, every year, it bumps up my chances a little bit more. They have their prequel movies coming up, they have new sequels coming up. They just had Rogue One, which was epic. Then the Han Solo movie coming out. I hear they're doing an Obi-Wan movie. But, that's been my dream since I was 5 years old."
What are some similarities between you and your character?
"I think that Dustin would definitely be a gamer kid. I wouldn't say I'm an expert with games. I have a passion for them, and I really enjoy them. I feel like we both love school. We're both Hufflepuffs."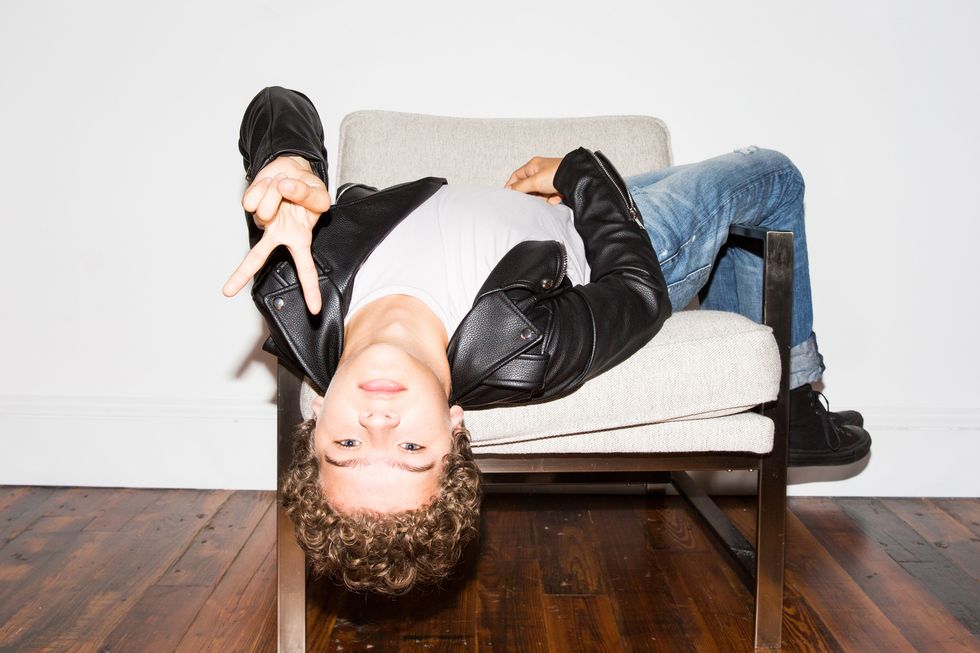 But Hufflepuff didn't exist then!
"People sort [out] all of the kids. They say each boy represents one house. They say Lucas is a Gryffindor, Will's a Ravenclaw, Mike's a Slytherin, and Dustin's a Hufflepuff. They put them in the Star Trek universe and [decide] what they would do if they were in Star Trek, or what they would do if they're in The Avengers and which Avenger would they be. It's really cool, combining universes and everything. They say who would play an older Gaten. Everyone was saying Chris Pratt. I look nothing like Chris Pratt, first of all. And they're like, 'But you act like him.' I'm like, 'Who's Caleb?' They're like, 'Donald Glover!' I love Donald Glover; he's awesome. I'm a big fan of his."
Are you a big fan of Chris Pratt?
"Oh yeah, definitely. He's hilarious, man. I first got into Chris Pratt when he was Emmet in The Lego Movie. Aw man, that was one of my favorites."
What's something from the '80s that you wish was the same today?
"Kids interacting with each other. I feel like our generation is going to grow up, and instead of walking around the grocery store and being like, 'Hey, how are you doing?' they're not going to know who anybody is. Because they don't talk to each other. Social media has done a lot to this world. It really changes everything. It lowers people's self-esteem. And filters and these new things where you can make yourself look 'better' or something. It's giving people a false idea of what the world is, saying you could just hit a few buttons and all of a sudden you can make it better. No. The world can sometimes be very unfair and very mean, and people should know that. And I feel like kids nowadays aren't learning."
You're also involved in an organization for cleidocranial dysplasia, right?
"Yeah CCD Smiles. 'CCD' is short for cleidocranial dysplasia. It's a genetic condition where it affects the growth of most of your bones. Most of the time, you're born without your collar bones. What's most noticeable is that it affects your height. You don't always get every symptom—I've got every symptom on a very mild level. A lot of people have to get spinal surgeries and have back issues, [or] have to be in a wheelchair because of it. Those are the most severe cases. The organization is mainly for people who can't afford to get dental work. The problem is a lot of orthodontists and surgeons say it's cosmetic, whereas the people who get cosmetic [surgeries] say it's medical. They just don't want to pay for it."
Want more stories like this?
Stranger Things' Natalia Dyer Has Strong Feelings about Barb's Death, Too
Shannon Purser Says There Are 2 Ways to Achieve Justice for Barb
According to One of Its Stars, Stranger Things Season 2 Is Dark and Intense