Stranger Things' Newest Character May Have Told a White Lie to Get Her Part
Let's just say Sadie Sink and her character, Max, don't have too much in common.
Celebrity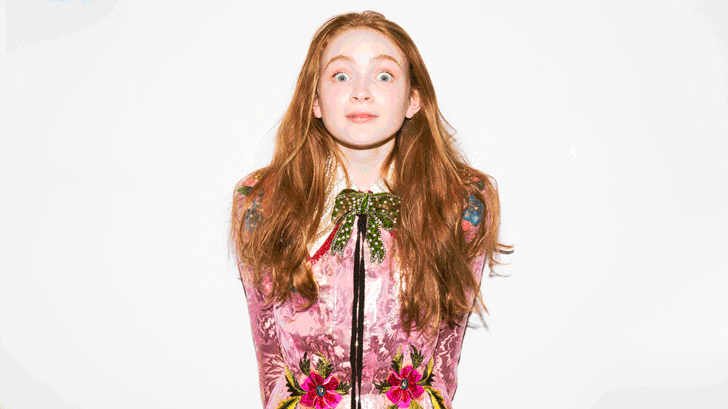 Sadie Sink couldn't be more confident in a floor-length pink Gucci dress. But when I ask her to put on a pair of roller skates for a photo, she suddenly looks nervous. "My character is a tough skater girl from California," she tells me. "But I don't know how to skate!"
After binge-watching the show's first season, Sink got a call from her agent, who told her she got an audition for a part in the second season. She was so excited that when they asked if she could skate, she didn't think twice. She just said yes and figured she would worry about it later. "I had just finished watching the show, and I was like, 'Oh shoot, now I've got an audition for this show!'"
Needless to say, at our photo shoot, she put on the skates, laced up the pink laces, but didn't skate down the hall (we asked!). Instead she sat and posed while telling us all about landing her dream role, going on vacation with Millie Bobby Brown, and what she thinks of potentially being a go-to Halloween costume once this round of episodes are released this week.
---
On being a fan of the show:
"I think it was in the summer that it came out when everybody was talking about it. I was like, 'Okay, fine, I'll watch it.' I watched the first season in a day or two, and then I was a big fan. I'm one of those people—I'll start a TV show, then I can't stop! No matter what it is, I'll watch every single episode I possibly can. That's what I did with Stranger Things. Then the next week I found out I got the audition!"
The tiny white lie she may have told to help her get the part:
"They wanted a girl that had skateboard experience, and I didn't have skateboarding experience at all. They asked me, 'Oh, do you have any rollerblading experience?' I was like, 'Uhh sure I do,' which was technically not a lie because I have rollerbladed before. In reality, I probably haven't skated for a year."
And the audition where she almost let it slip:
"I was doing some scenes, and all of a sudden, I look into the corner of the room and see a pair of roller blades. I'm like, holy crap, they're going to make me roller blade! I kept thinking, 'Oh no! Oh no! I literally haven't skated for a year, and they're going to test my rollerblading skills!' I just started freaking out. I would love to see that audition tape just to watch my face the entire time. In the back of my mind, I was picturing myself skating down the hallways and just falling everywhere. In the end, I didn't end up skating. I guess the guy that was filming me...they were his! I don't know why they were there, but it was all a coincidence."
Aside from skating, she and her character aren't too different:
"Max is a little bit different from me. I think she's a little bit feistier, but we're both kind of laid-back and carefree. We both don't really care what people think."
She got close with Millie Bobby Brown on set:
"Going on vacation with Millie [Bobby Brown] was great! I mean, I guess you could say I was a little scared of, you know, 'Am I going to bond with the other kids? Am I going to fit in?' But no! All of them are so supportive, and I clicked with Millie, obviously, as we're the only girls. We would have sleepovers all the time. We went to Cabo together to vacation. It was so nice!"
What she *can* say about season 2:
"In this new season, I think people are going to have all their questions answered, as well as have a ton of new questions. I hope that they think that it lives up to the first season and was worth the wait. I actually think it's creepier than the first season. It's much more dark, which everyone has been saying. It's really dark in the second season."
What she's going to be for Halloween:
"I'm pretty sure me and my friends are going to be Peter Pan characters for Halloween. I'll probably be Wendy or something like that. It's super crazy to think people dress up as the cast! I've seen them on advertisements for Halloween stores. It's like 'Get your Eleven costume, or your Hopper costume, or your Dustin costume!' It's crazy to think—is there going to be a Max costume soon?"
How people in school have reacted to her being cast:
"It's a little bit different as far as school goes. Everybody is too consumed in their high school problems or their own homework and grades and stuff. They're too consumed in that to worry about 'This girl—she's on Stranger Things! Oh my god, I want to get a picture of her!' Occasionally, I'll get someone coming up to me and asking me a few questions, which is fine and completely understandable. That's a little bit different. For the most part, everyone's been super supportive and happy for me. It's all pretty normal. I think occasionally there will be some funny questions here and there, like, 'Wait, do you like…know the kids?' It's like, 'Uhh, yeah, I do!'"
With the new season comes new followers (a LOT of new followers):
"A lot of people have been telling me—as far as social media goes—my followers will go up! I'm not really looking forward to that, just because like it's kind of scary in a way. The other kids were saying, 'Oh my God, just wait! It's going to get crazy—like with what happened with us!' Caleb told me you go to bed and essentially wake up in the morning with 100,000 more followers! So I turned off my notifications."
Want more stories like this?
Stranger Things' Natalia Dyer has Strong Feelings about Barb's Death, Too
Shannon Purser Says There Are 2 Ways to Achieve Justice for Barb
According to One of Its Stars, Stranger Things Season 2 Is Dark and Intense