Claudia Schiffer on How It Felt to Be Part of *That* Versace Runway Moment
The iconic supermodel let us tag along as she prepared for her book launch in NYC.
Models
If you want a master class on how to look flawless in photographs (and in this age of social media stardom, who doesn't?), we highly recommend spending an afternoon with Claudia Schiffer and diligently taking notes. With over 30 years of experience in the fashion industry, the German supermodel knows a thing or two about working her angles and can make even jeans and a t-shirt look elegant. So we couldn't believe we were invited to tag along as she and her team prepared for the launch of her new book, Claudia Schiffer, at The Crosby Hotel in New York. It contains a collection of photographs—curated by Schiffer herself—from editorials and campaigns shot by Richard Avedon, Patrick Demarchelier, Arthur Elgort, Steven Meisel, and more, all from her three decades in front of the camera.
"Some of the pictures in the '90s weren't done [in] digital," Schiffer explains in between touch-ups prior to her book signing. "Finding the negatives was a challenge, and it took a long time. A few times they couldn't find [an image I loved] at all. So every picture has a story to it and a special memory." While it was difficult for the fashion icon to narrow down her favorite images, there are a few that stand out. "The Guess Jeans pictures I did with Ellen von Unwerth [and] a Valentino ad campaign story we did with Arthur Elgort in Rome. Anita Ekberg in La Dolce Vita inspired everything, and it was also one of those crazy moments where thousands of people follow us around, and I was sort of waving at the crowd, cheering, as we're taking the picture. It was really special."
So how exactly does a supermodel prepare for a night out to celebrate her legendary career? Well, multiple outfit changes are a must, obviously, and when all else fails, a spur-of-the-moment trip to Ulla Johnson to find the perfect velvet jumpsuit. Check out our behind-the-scenes coverage before Schiffer's big event, and discover how it felt backstage with her fellow supers before this season's Versace runway show, plus why she feels more excited than ever about the future of the fashion industry.
---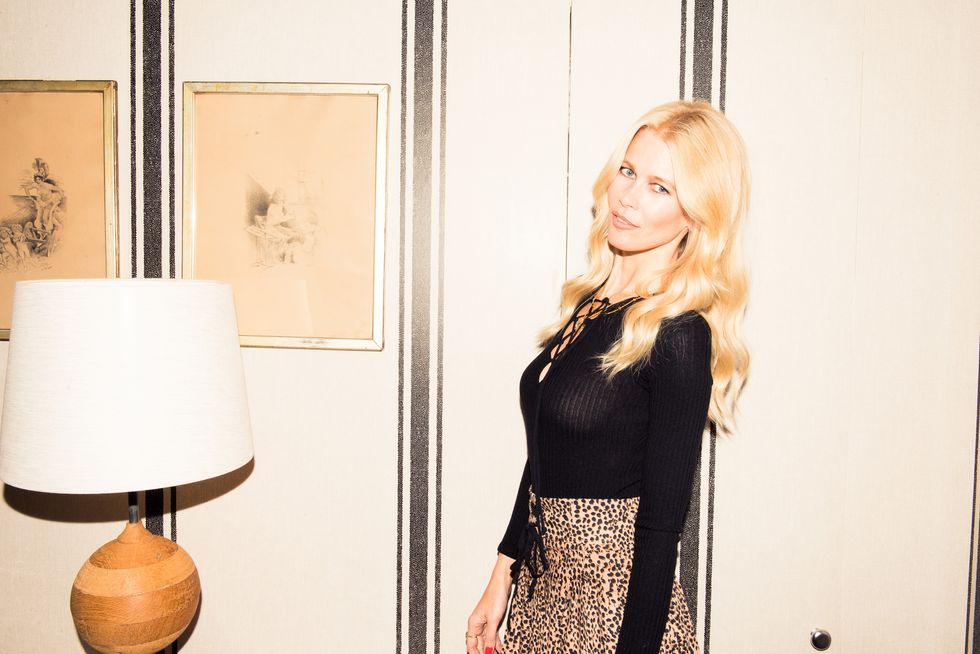 Bodysuit, Splendid; Skirt, Ulla Johnson; Jewelry, Missoma London
What was it like reuniting with Naomi, Cindy, Carla, and Helena at Versace this season?
"That was really great, because we suddenly found ourselves in a similar situation [to shows] years ago. Obviously we were there because Donatella asked if we could help remember Gianni Versace, and no one was meant to know—we were all top secret. They even had us stay in different hotels. [When] we arrived, we each had our little cubicle with our own hair and makeup team and a bathrobe made with our name on it. And then when we were waiting to come out and standing there together, we realized, 'Oh my God. This is like 30 years ago or something.'"
Did anyone predict the huge reaction that moment received?
"It just felt really fun, and we had no idea that this was going to create [so much] interest on the Internet. It was really a great moment, because we all know each other quite well. There's sort of this bond—a camaraderie—that has grown over the 30 years of working together. Especially in the '90s, having all of these special moments together makes it [so] that every time we see each other, it feels like we've just stopped the conversation yesterday."
Do you all get to see each other often nowadays?
"I would say I see Naomi more often because we live in London. There might be shoots [that] bring us [all] together. Recently, there was one from American Vogue with Annie Leibovitz where we all came back together again, and the whole time [you're] just chatting about your family or what you're doing right now and where you live and what's new. Just updating each other, [because] you never know when you're going to see them again."
How has the industry changed from when you were all the reigning supermodels?
"Fundamentally, it's the same kind of business, but it's much larger now and has a much faster pace—so many more collections and seasonal campaigns. I've seen some interviews describing a model [as] 'supermodel of the moment'; then comes the next moment. I would say longevity is harder. I'm not saying it's not possible, but you have to work harder at it, and that's where digital comes in, because we didn't have that."
Top and pants, Ulla Johnson; Bag, Isabel Marant; Jewelry, Missoma London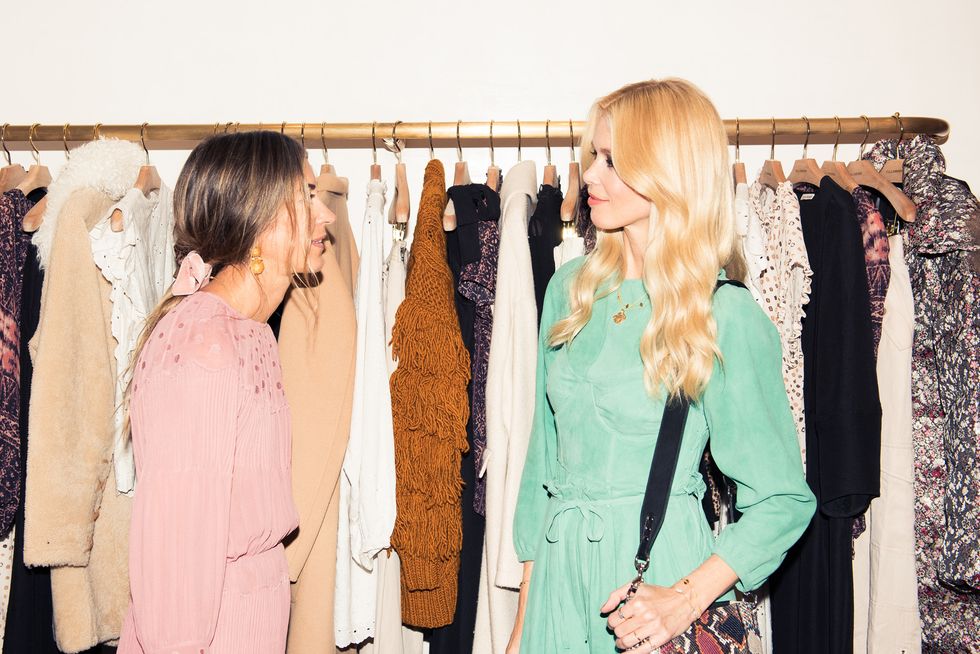 On Claudia: Top and pants, Ulla Johnson; Bag, Isabel Marant; Jewelry, Missoma London
Do you think social media is beneficial for building a career in fashion?
"It's allowing you to showcase much more about yourself than just the [professional] picture. If you only put your fashion pictures on there, it wouldn't be enough. You have to do more and document your life and who you are. Other elements, whether it's acting or music or anything that can make you different and stand out so that you are noticed, and then people will be interested in writing about you. That's a lot of work, and that's completely different because we didn't have that, because in the beginning, we didn't even have a phone. I don't know how we worked [laughs]."
What advice would you give this new crop of supermodels?
"For success, work really, really hard every minute. Be disciplined, on time, and professional. Treat people how you want to be treated, so that every time you are in a photo shoot environment, it's enjoyable and people want to work with you again. Especially if there's a lot of money that people put up, you want to give them everything and more than they expect from you, so that you become a desirable model to work with all the time. Show more about [who] you are. In our time, we would have to do a lot of interviews for someone to understand 5 percent of what you can understand today just from someone's Instagram feed."
Jumpsuit, Ulla Johnson; Jewelry, Tiffany & Co.; Belt, Maje
What is fashion's place in the cultural zeitgeist now as opposed to the '90s?
"Fashion is always a reflection of what's happening in the world and what people want. It's expressing yourself —who you are [through] what you're wearing. It is a statement. Anything is possible in fashion. There are no more rules, [like] you have to be this way; you're not considered pretty if you have this imperfection; you can't be a model if you're more curvaceous. Yes, you can! So there are so many opportunities right now. As long as you have that extra special thing—as long as you have talent—anything is possible. That's amazing to watch because I come from the '90s, when it was very regimented, and there were lots of politics about what you could do and not do. None of those apply anymore. If you are able to express yourself in a way that people respond to, you're able to succeed in that world without any rules."
What makes you most hopeful about the industry right now?
"There's this whole discussion about pay. Equality. And fashion is the only [industry] where it's the opposite. The woman gets paid more than the man. I have to say that I'm very happy to give that up, so that we are equal [laughs]."
Styled by Lucie McCullin
Makeup by Virginia Young
Hair by Harry Josh
Want more stories like this?
The Definitive Guide to Italian Supermodel Beauty
Miranda Kerr on Her Skin Care and Every Step of Her Wedding Day
How to Replicate Model Josie Maran's Dewy Summer Glow