A$AP Rocky & Young Thug Are Fans of This Toronto Brand
We bet you'll fall in love with S.P. Badu, too.
Designers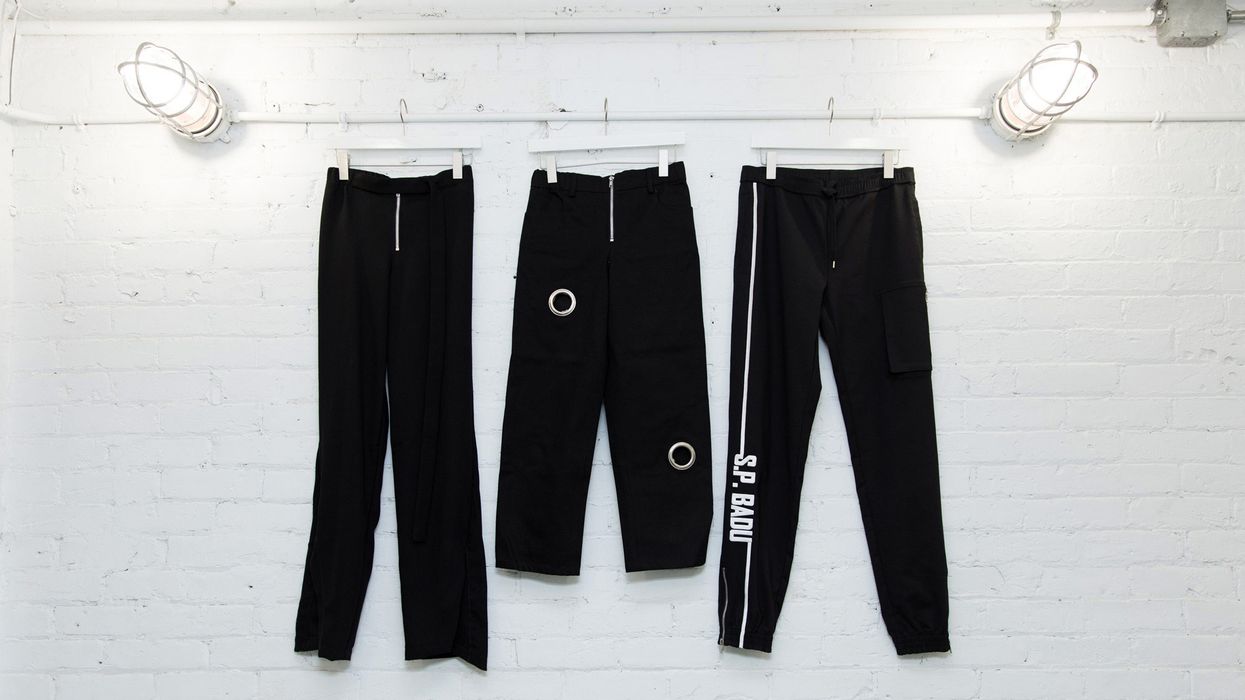 Stepping into Spencer Badu's studio, you immediately get a feel for the Toronto designer's work ethic and sharp aesthetic. With shelves overflowing with books, rolls upon rolls of film, and racks stuffed to the brim with samples and stencils, it's clear that Badu is a creative through and through, and that he puts. in. work. at his studio. Badu's the founder and designer of S.P. Badu, a genderless clothing brand we're currently obsessing over. The line has ties to the streetwear world, but is not any regular streetwear brand. It's so much more than that.
Where some streetwear brands are focused on the likes of hoodies and camo pants, S.P. Badu strives for, and succeeds at, a more elevated look. Sure, there are still trackpants with an embroidered logo, but then there are black flared pants with a slit up the front, denim jackets with silver buttons that wrap around the arm, and cropped pants with massive silver grommets. "When I started, I was like, I want to create a brand where, for instance, a couple or whoever can sit at the show and take away something that they want as opposed to a guy sitting at a women's show, not being able to buy or wear anything," he says. "I like to challenge people and challenge society in general." While this type of statement may be common in today's climate, that wasn't so much the case even two years ago in 2015 when S.P. Badu launched.
---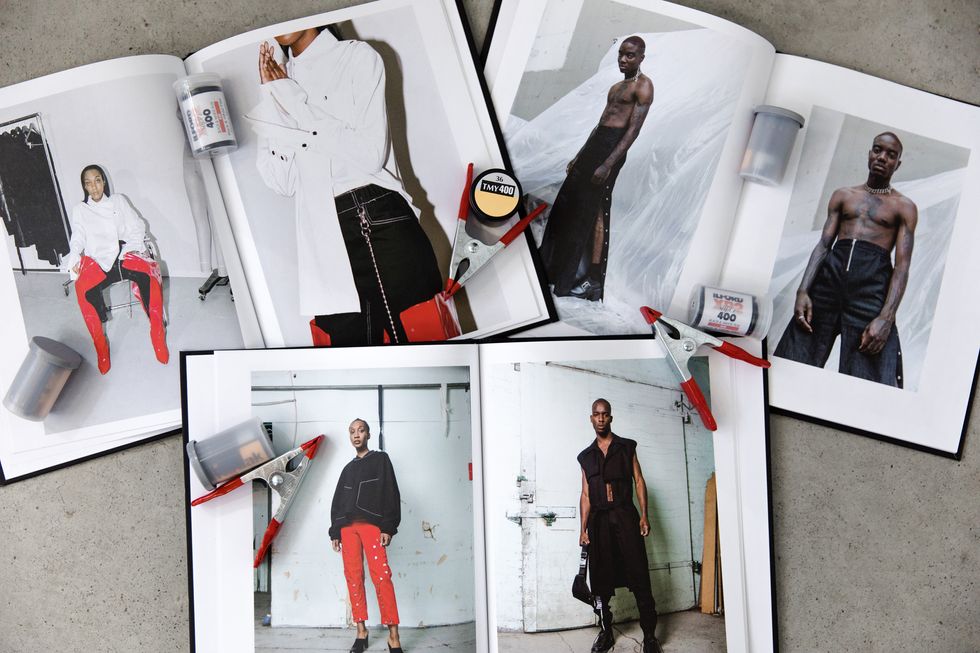 "When I first put the collection out, I just wanted to make a statement. [Post Gender Future] was something that was on the back of t-shirts," Badu tells us. "Moving forward, things aren't as loud as the initial collection, but it's still a constant theme, and even if it's not in bold letters on the back of a t-shirt, it's still in the details." Watching the designer move around his showroom, you can see just how confident and comfortable he is in his work. We watched in awe as he and longtime friend and stylist Bobby Bowen did a fitting, and we found ourselves wishing we could be a fly on the wall in the studio every day.
Although Badu remains humble about his brand, there's no hiding his success, especially when someone like A$AP Rocky starts wearing S.P. Badu trackpants and photos of the moment make their way around the Internet. Badu has Rocky's stylist, Matthew Henson, to thank for that one. "It started in L.A.. I try to travel every year to get out there, meet people, and network. I walked into like H. Lorenzo, and my sole purpose was to meet the buyer, but before I approached the person at the front desk, I saw the back of Matthew [Henson]'s head," he says of the first time they met. "I walked up to him and [introduced myself]. I was wearing a pair of my pants, and he was like, 'I love those pants. What are those? I need those.' I gave him a business card, he gave me his number, and yeah, I just keep him updated with what's going on in terms of collections." The two reconnected when Henson traveled to Toronto and stopped by Badu's studio and, that time, fell in love with a different pair of pants—the ones Rocky wore. "He texted [me a photo of A$AP Rocky wearing them] and I flipped out. It was super nice of him."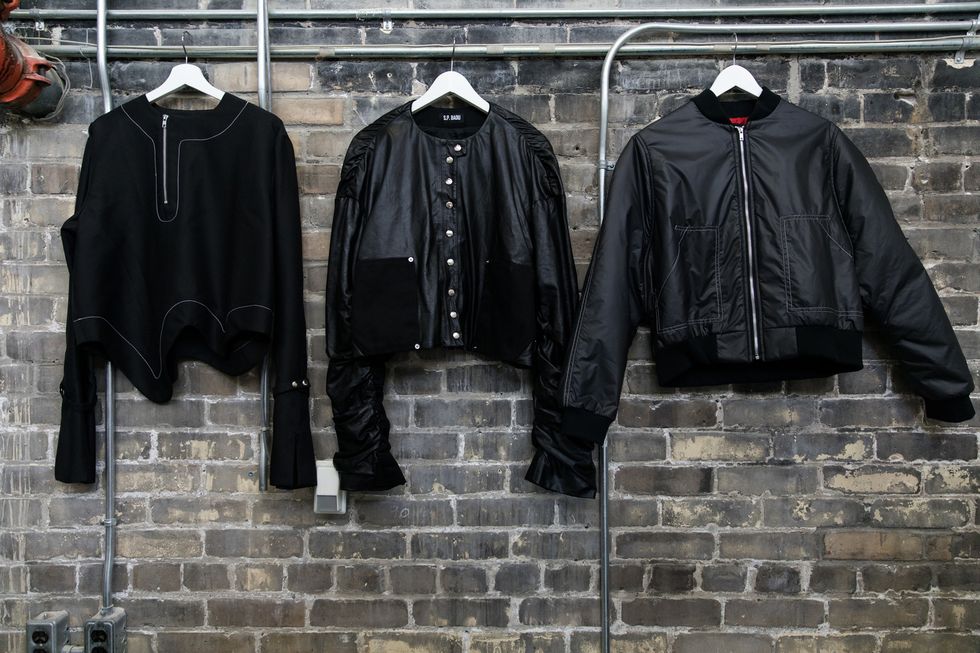 Of course, things like this have a domino effect, and it wasn't long after that Young Thug wore the same track pants onstage at one of his shows. This time, it was Thug's photographer who got the ball rolling. "I got [Young Thug's] photographer's contact through a mutual friend, [and we were] back and forth, networking, showing the lookbook," Badu says of the connection. "The photographer chose certain items that he liked, and then he asked me what items I would like to see [Thug] in and I sent him a package. Before I knew it, he was like, 'Hey man, Jeffery loves the pants and he thinks they're amazing.'"
Shifting to the current season, Badu let us know that it's focused on the perception of strength. "Every season I like to explore gender and perceptions of gender. This season I'm looking at the perception of strength," he explains. "Society portrays men as very tough and strong, but I would say in times of turmoil, you usually see women rise. I'm playing with ideas like uniforms and I'm also looking at corporate culture, so a lot of mature wear and tailoring.
"One thing I really want to get on is either eyewear or footwear. I think people would predict me to do something with sneakers, but I would want to do the complete opposite," he adds. "Either unisex heels or dress shoes that you can wear every day. Footwear is the biggest on my bucket list."
We can confidently say we would happily purchase S.P. Badu footwear. Hell, we'd probably even buy a lamp if he put one out—that's how much we're into the brand. We can definitely see ourselves bugging the designer as we (impatiently) wait for new releases. Sorry in advance, Badu.