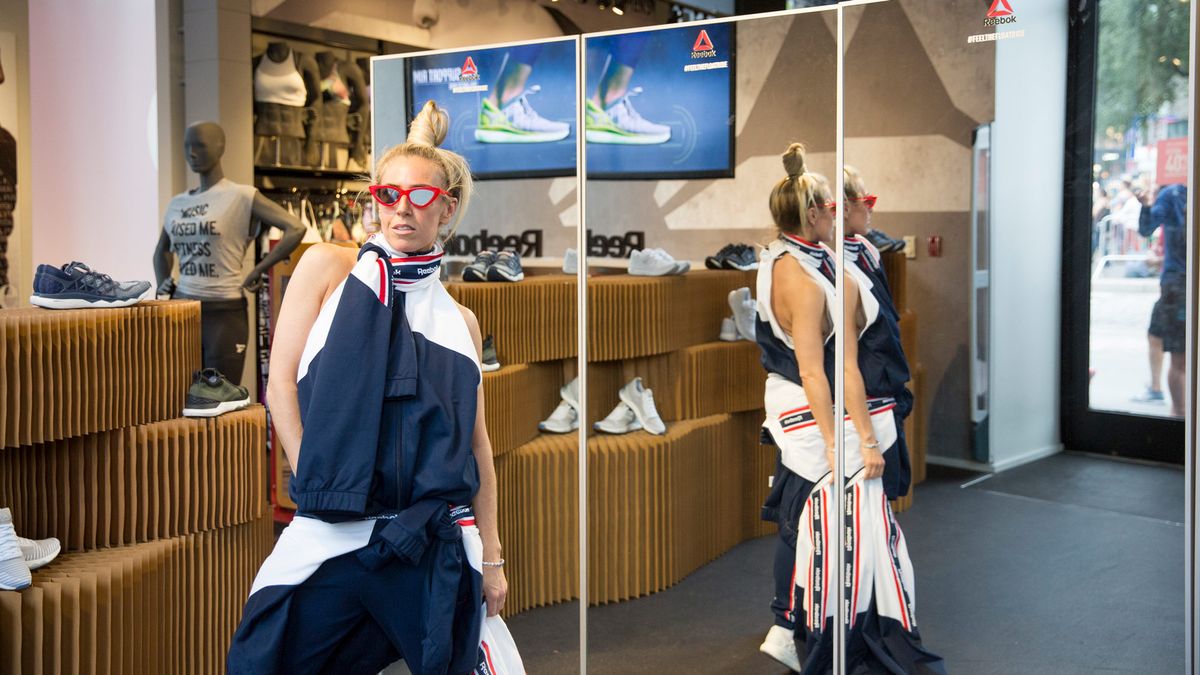 Fashion
You should start pairing them with your sneakers, STAT.
Truth be told, I've never given running a shot. I'm not that serious about fitness, and if I must work out, I shy away from anything too intense, especially if it's done in a group setting (it's less about the moves, more about being the worst one there). So if something is going to motivate me to lace up my sneakers and race from Union Square to Soho in front of other editors, it better be good—like the chance to meet the woman who styles Beyoncé and Kendall Jenner.
Marni Senofonte is the epitome of cool, and you don't even have to see her résumé to realize that. When I arrived at a Reebok event showcasing their partnership and the new Floatride sneakers, I noticed her outfit immediately. Senofonte had styled a tracksuit in a way I'd never seen: with the sleeves 90 percent cut off and tied around her neck like a scarf.
---
"This is something I really would wear," she told me, hours later, after I was nice and sweaty from running, full of endorphins…and some champagne I'd gotten when I was done. The run had actually been fun—freeing, in a way, to speed through the streets of NYC—and now I was getting a styling lesson from the best of the best. "I would work out in this," Marni continued. "But then I would put on a red slouchy boot or a heel. This is how I would go to dinner."
She hadn't gone running with us, but Marni did participate in another part of the night: a styling challenge, which occurred somewhere between running and more running. I'd worked to put together a Coveteur-like outfit with my coworker, Leah, and while we didn't end up winning the competition, Marni revealed we'd made her top three. I joked that we should have cut into the clothes, just like she did her jacket.
"That's hysterical," she said with a laugh. "I always look at stuff that way, and I try to teach my assistants how to go into a store and actually look at something." She gestured to her oversized jacket. "This could be a dress, right? A men's jacket, you could make it like a little bubble dress. I just put shoulder pads in [a jacket] so it has a little more shape and a little bit more oomph. That's why I go into so many fast fashion stores. It's easy to buy something inexpensive and add to it, or rip it up, or take the sleeves off, or turn the sleeves into leg warmers."
I was very into it, and since Marni was sharing her tips, I decided to ask for more. Specifically, how to wear the sporty new Floatrides outside of the gym, since I gravitate toward more classic, feminine styles.
"There are all of these rules that you kind of grow up with," she told me, thinking about my question. "I went to Catholic school, so I had uniforms, and it almost kind of bred me to be a maniac [because] I wanted to express myself in clothing. I couldn't wear sneakers with a skirt. But why not? I don't believe there are any rules. Especially as an adult. A plain black sneaker or a plain white sneaker are the same as flats—I don't even see the difference anymore. Mainstream designers have turned it into a chic shoe. Every single high-end designer probably makes more money on their sneakers than they do in their leather goods. Everybody is doing sneakers with dresses, and long skirts, or short skirts. Sneakers have changed."
I started thinking about how exactly I would wear mine to work the next day when I remembered a trick that Marni seemed to love: ankle socks. She had paired them with a look she'd put together at the challenge, and the winning outfit featured the same thing.
"It's just another layering piece, and really does bring another dimension to [the look]," Marni said, referring to the affordable staple. "Everybody's doing these sock booties, and [socks are] kind of another level of that. It adds to the bottom, and I love the way it looks when [the sock and shoe are] two colors. It looks like one whole piece."
Later on in the night, after my exercise high had worn off and the aches had set in, I reflected on what I had learned. For starters, running wasn't as bad as I'd thought. (Should I start doing that regularly?) But also, never be afraid of a little DIY, sneakers are basically flats, and ankle socks are totally cool again.
I wonder if Beyoncé knows all of this…
Want more stories like this?
The Best Workout for You, According to Your Zodiac Sign
Nina Dobrev Uses Her Dog as a Weight While Working Out