Getting Real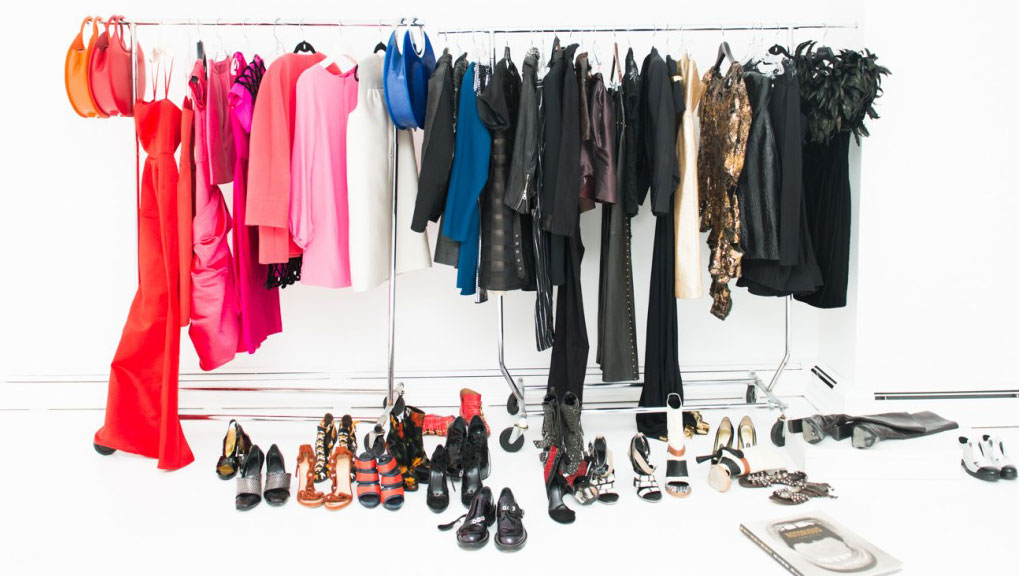 The $63K Wish List of Things We Want Right Now
Designer bags and diamonds, anyone?
According to Merriam-Webster, a splurge is "an ostentatious effort, display, or expenditure." According to us, it's a worthwhile purchase—even if we have to save our coins for the better part of a year for it. We carefully consider our splurges, whittling down our wish lists to a few standout pieces that would *really* elevate our wardrobes (and also make us feel amazing when we put them on). We currently have leather skirts, velvet-lapeled blazers, and plush wool coats on the brain, along with...diamonds. (Yes, we're going there.) Here's every fancy item we can't stop thinking about. May the splurging commence.     
---
HANNAH BAXTER
ASSISTANT EDITOR
1. Mansur Gavriel Calf Circle Bag: There's something about the silhouette of this bag that is so alternative and yet incredibly ladylike to me. Since I'll invest in pretty much anything the Mansur Gavriel team designs, the Circle Bag (and it's smaller cousin with the shoulder strap) in Blush are at the very top of my list.
2. Acne Carice Wool Coat: Every season I drool over Acne's latest version of the belted camel, and this wool and cashmere style does not disappoint. I'll wear it everywhere, with everything, forever. Even if you're rocking pajamas and a hangover, throwing on this coat will make you look and feel like a million bucks. I must have it.
3. The Row Guinevere Silk Satin Maxi Dress: I want to be buried in this dress. Seriously, give me a bias-cut slip in silky jewel tones any day of the week. It's elegant and timeless like only the Olsen twins can do it. Bring it on, holiday party circuit.
Total: $6,535
---
LAUREL PANTIN
EDITORIAL & FASHION DIRECTOR
1. Dezso Deco Cuff: I've always loved Sara Beltran's jewelry, especially her pieces with carved stones and inlaid diamonds. I'd love to make this cuff mine this fall.
2. Victorian Snake Cuff: I'm coming up on a life milestone that will justify the purchase of some serious jewelry, and serious diamonds. I love the combination of diamonds and enamel, and at a recent visit to my favorite antique jewelry shop (coming soon to Coveteur!), Bell & Bird, spied this Victorian cuff. It would be an excellent fit for my growing collection of antique jewels.
3. Racil Blazer: Lately my wardrobe has felt a little...lacking. Sure, I have sweaters and jumpsuits aplenty, I have leather and track pants galore—but I don't have a good fancy-feeling blazer. This Racil one, with its classic silhouette, menswear-inspired details, and velvet lapels recently caught my eye and I haven't been able to stop thinking about it since.
Total: $24,188
---
LEAH FAYE COOPER
FEATURES EDITOR
1. Dion Lee Two-tone Leather Skirt: I usually prefer mini skirts, but I make exceptions when leather is involved. This skirt is just my style—a pretty shade of pink rendered in a tough, structured silhouette.
2. Dolce & Gabbana Ruffle-trimmed Cordonetto-lace Top:  Is it party season yet? Because this top is begging to be worn to a fancy soiree, where I'll drink nothing but champagne and shamelessly pose for pictures all night. My closet is filled with cotton and silk tops, which I love, but lace is just so…special. That justifies the splurge, right?
3. Annie Moran Ruffle Ring: True story: I've been lusting over this ring for a decade. I know the designer personally, and every time I see her, I make it a point to mention how much I adore this intricate, glimmery, out-of-the box design. Annie, if you're reading this, hook a girl up, please!
Total: $14,183
---
JODI TAYLOR
ASSISTANT EDITOR
1. Moncler x Stylebop Down Jacket: Every year I have the hardest time finding a winter jacket that I actually like. Until now. The second I laid eyes on this shiny black Moncler beauty my jaw dropped. I'm obsessed. Now whenever I think of the cold weather to come, all I can picture is myself coziest up in this half jacket, half duvet masterpiece.
2. Saint Laurent Crystal-Embellished Knee Boots: Am I wrong to assume that these are every girl's dream knee-high boot? I honestly can't think of one single reason as to why I shouldn't own them. Who doesn't want a disco ball on their feet?  
3. Vetements & Levi's Straight-Leg Jeans:  A great pair of denim is always worth the splurge, in my opinion—especially when Levi's is involved (they are the mecca of all denim brands, after all). This particular pair looks like they will fit like a glove. Come to mama.
Total: $13,140
---
SAMANTHA SUTTON
EDITOR
1. Christopher Kane Brillo Pad Zip Dress: Kind of a strange name for such a stunning dress, but the moment I saw this design on Cate Blanchett (interview coming soon!), I was basically like, "MINE?" The vibe of it changes depending on what parts you zip, but it's the perfect combination of fun, feminine, and oh so classy.
2. Miu Miu Oversized Faux Fur Coat: Ok, it's starting to seem like I really like pink, but that's only because I really like pink (not influenced by the millennial trend, just a general fan of the color). And I really, really like pink furry jackets, such as this Miu Miu one, which will probably make me feel like a rockstar...even if I'm just wearing jeans and T-shirt underneath. 
3. Laurence Dacade Plume Patent-Leather Ankle Boots: I'm already a fan of the white sneaker, but the whole white bootie trend has really grown on me, and 'tis the season for a warmer shoe. This pair isn't just versatile and gorgeous, it'll give me a bit of height while a thicker heel offers extra support (aka less aches and pains).
Total: $5,045