Designers
Everyone from Aidy Bryant to Michelle Obama has worn her pieces.
Weston Wells
Within seconds of stepping inside designer Tanya Taylor's sunny New York studio, I feel a wave of billowing optimism. From the racks of vibrant, floral-patterned dresses to the shelves stuffed with colorful fabric swatches, the overall atmosphere is a refreshing break from the frenzied streets just a few floors down. When we visit Taylor and her team in late summer, fashion week is looming, but despite the impending craze of fittings and shows, the Toronto native continues to embrace the joy surrounding her eponymous line. "I think there is something beautiful about how we paint all of our prints," she says as we wind our way through her open-air office. "It ends up being really feminine, artistic, and inspiring. There's a story behind everything."
Taylor recalls how her grandmother originally inspired her love for prints, which appear on everything from silk separates to leather boots this season. "She would bring all of her mint [and] pink pastel buys back to Toronto from Florida. She just had a sense of adventure, and I think our family all expressed ourselves through color." Although she completed an undergraduate degree in finance at McGill University, she ultimately discovered a way to translate her love of color and painting into design at a Central Saint Martins summer course. A move to New York soon followed, where she realized how valuable her financial background was for building a successful career in fashion. "You can be as creative as you want, but I think a lot of designers get frustrated [trying to] understand a market [and] solve problems from a business side as well."
---
Combing through the racks of delicate dresses—and falling deeply in love with a shimmering A-line number with a fox fur trim—what strikes me is the sheer range of floral designs. Each piece feels entirely unique and special; the kind of dress you can wear to a wedding, but also on a particularly stylish Tuesday. Taylor reminds me that each print is first painted on canvas and then sent out to fabric mills where they will screen them onto fabrics. "We'll [discuss], 'Does the print want to feel opaque and harsh and crisp, or do we want it to feel sheer and have movement?'" Ever the champion of wearing color in a city that is famous for its black-on-black ensembles, she has a suggestion for anyone who is looking to incorporate more shades into their regular rotation. "Look at your wardrobe and think, 'OK, I would normally put black and army [green] together. Why don't I try army with yellow?' Just see how it makes you feel. I love when I see someone wearing two things that you would never think go together."
To balance her line's emphasis on color and pattern, the designer prefers to keep the shapes simple and feminine. The result is an edited selection of silhouettes, particularly dresses, that attracts a wide age range among customers. "I think that it's amazing how much our brand is worn by [everyone from] an 18-year-old to a 65-year-old," she muses. "I think there's something about femininity that can still feel really modern. Girly, to me, can sometimes feel like sweet. I think we're moving away from that. A woman wants things to feel languid, looser, and versatile."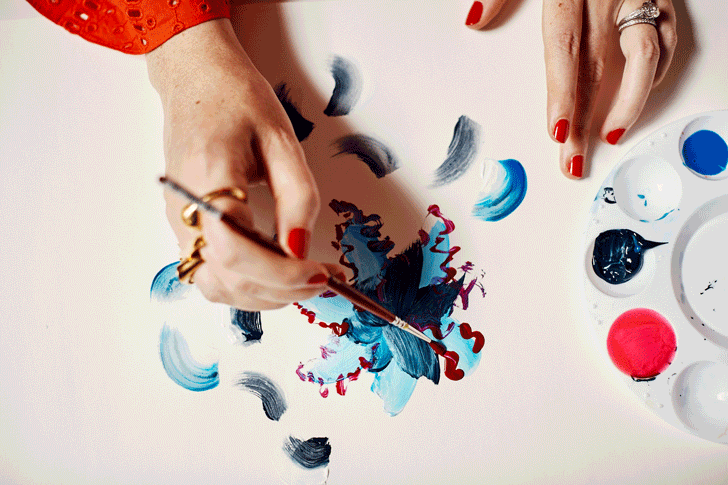 Now with ten seasons under her belt, the designer is at the forefront of one of fashion's more controversial issues: size inclusivity. After outfitting SNL-actress (and Coveteur alum!) Aidy Bryant with a dress for an appearance on Late Night With Seth Meyers last January, Taylor grew more outspoken about the need for expanded sizing in other designers' ready-to-wear collections. "I don't think that there should be any restriction to people being able to wear feminine, happy clothing. It feels like such an underserved part of the market," she says breezily. "We used to go to a size 12, and when we talked to Aidy and heard how she felt [when] Kristen Wiig and Kate McKinnon and everyone would get all these great options, and she's left with black jersey dresses. It was something we wanted to tackle." Going forward, the brand will include the expanded size range in every season, and Taylor is working to get her premium retailers on board as well. "I think that it's not overnight, but it's going to become a huge part of what we do. We want everyone to be included."
Want more stories like this?
Everyone from Rihanna to Bella to Kim Has Worn This Under-the-Radar Brand
Designer Naeem Khan on What It's Like to Dress Michelle Obama
Meet the Designer Making Lace Jumpsuits for Kylie and Solange