Makeup
When two of the biggest names in beauty agree it's essential, you know it's good. In collaboration with La Mer.
Mike Rosenthal
Meagan Wilson
Mike Rosenthal
We all have that one beauty-obsessed friend who's quick to notice even the most minor cosmetic tweak you've made—the tiniest of trims or a new shade of blush—and is the first to offer up their time-tested tips and product reccos. But what happens when both friends are the beauty-obsessed one?
To find out, we spent the day reimagining the FaceTime calls of two of the most prominent power duos in the beauty industry—celebrity makeup artist Patrick Ta and YouTuber Desi Perkins, and celebrity makeup artist Mary Phillips and hairstylist Jen Atkin. We also came away with a new favorite product in the process: La Mer Sheer Pressed Powder.
Forget the drying, cake-y powders of your makeup bag's past—this one is equal parts skin care (it's infused with La Mer's iconic Miracle Broth, aka their literal secret sauce) and makeup, and is the answer to nailing the flawless complexion of everyone's dreams. But enough from us—we'll let Patrick and Desi tell you all about it instead.
---
Patrick: "We first became aware of each other through social media and met in person approximately four years ago at a makeup event in downtown L.A."
Desi: "Patrick told me he wanted to move to L.A. and become a celebrity makeup artist. Seeing his work, I knew he was going to be big. Fast-forward: He's so successful. To top it off, he's one of the most kind, humble people I know in the industry. We've been friends ever since."
Patrick: "I thought she took the most amazing photos of her makeup, and I wanted to know all her secrets! We started to DM and comment on each other's page. This sounds creepy, but I swear it wasn't."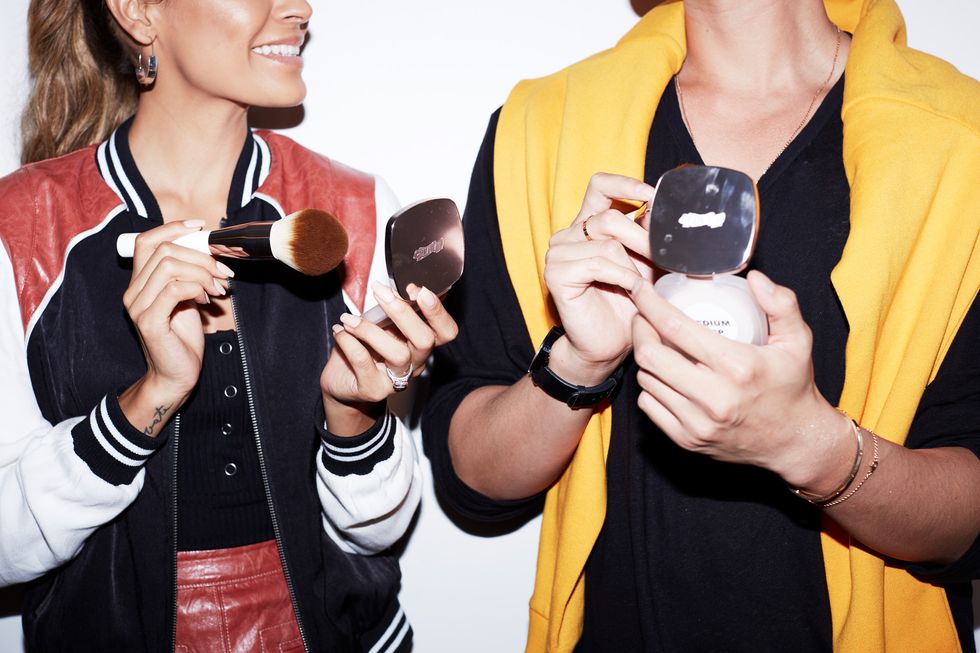 Desi: "I think that Patrick and I have a similar aesthetic when it comes to beauty. We both love to really enhance someone's natural beauty without covering up who they are. We love everything that embodies a radiant, bronzy, bold look. We vibe well in that sense."
Patrick: "I think Desi is hysterically funny, so we'll just joke and laugh all day long. We have a love and respect for each other because we've seen each other grow in this industry. We've gotten super close over the last two years."
Desi: "I think he and I have a really good chemistry together. We're really comfortable around each other—always goofy."
Desi: "The first time I ever wanted to use La Mer was because of Patrick. Whenever he would tell me about a great product he uses on his clients, I wanted it!"
Patrick: "[When La Mer approached me to work together], I nearly died! I've been in love with the brand for so long."
Desi: "My favorite product is the Brightening Facial Mask and the Brilliance Brightening Essence. Being Latina, I tend to get some hyperpigmentation on my face from breakouts. I would have these dark spots on my face for months, and using these products have drastically helped with fading them."
Patrick: "My absolute favorite La Mer product is The Concentrate. Every single time I use it, I really see a difference in my skin texture and color. I also dab The Renewal Oil under the eyes before touching up with The Concealer. That really helps everything go on nice and smooth."
Patrick: "Desi's bar soap trick totally works! That's where she rubs a damp spooly brush against clear bar soap and brushes brows with it. Brows appear thicker and stay in place."
Desi: "Patrick's all about trying to get the most precise highlight on my face with the right brush. And perfecting the skin. Patrick knows how to customize a foundation to fit somebody's skin type. Sometimes he'll add oil for someone who has drier skin, or he'll mix a foundation with something else to get the right undertone. He always caters to every skin type."
Patrick: "I love using The La Mer Sheer Pressed Powder only on the center of the face. This allows me to keep the perimeter of your face nice and dewy and sets the makeup without ever looking cakey or dry. It mattifies, but it somehow manages to keep the skin hydrated."
Desi: "I love the glowy, bronzy look he did on me for his new app. Surprise, surprise! We had so much fun filming that day, and it was the first time he ever did my makeup. I like to use the Pressed Powder in a patting motion on the apples of my cheeks. It gives this blurring effect that makes my pores almost nonexistent."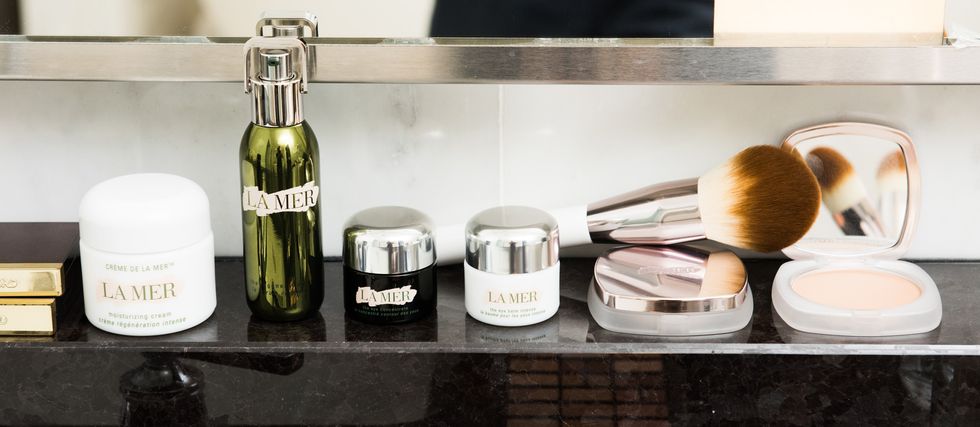 Desi: "When I first met Patrick, I told him he was going to do Kim Kardashian's makeup one day. He told me, 'Oh, I wish.' Next thing you know, he's doing Kim's makeup. Fast-forward to this year when I did Kim's' makeup, I was able to text Patrick and get tips from him. It all came full circle."
Patrick: "Watching the Victoria's Secret show together in Paris last year was so incredible. I was working backstage, and Desi was in the audience. I grew up watching it and dreamt of one day being a part of it. It felt like such a career achievement."
Desi: "Anytime I see Patrick accomplish something that's on the next level, I get so happy. We both built these careers out of nothing, and to see someone who is still so kind and humble to have this kind of success is beyond well deserving."
Patrick: "Our love for what we do—and for the girls we work on and for the makeup itself—keeps us grounded and motivated."