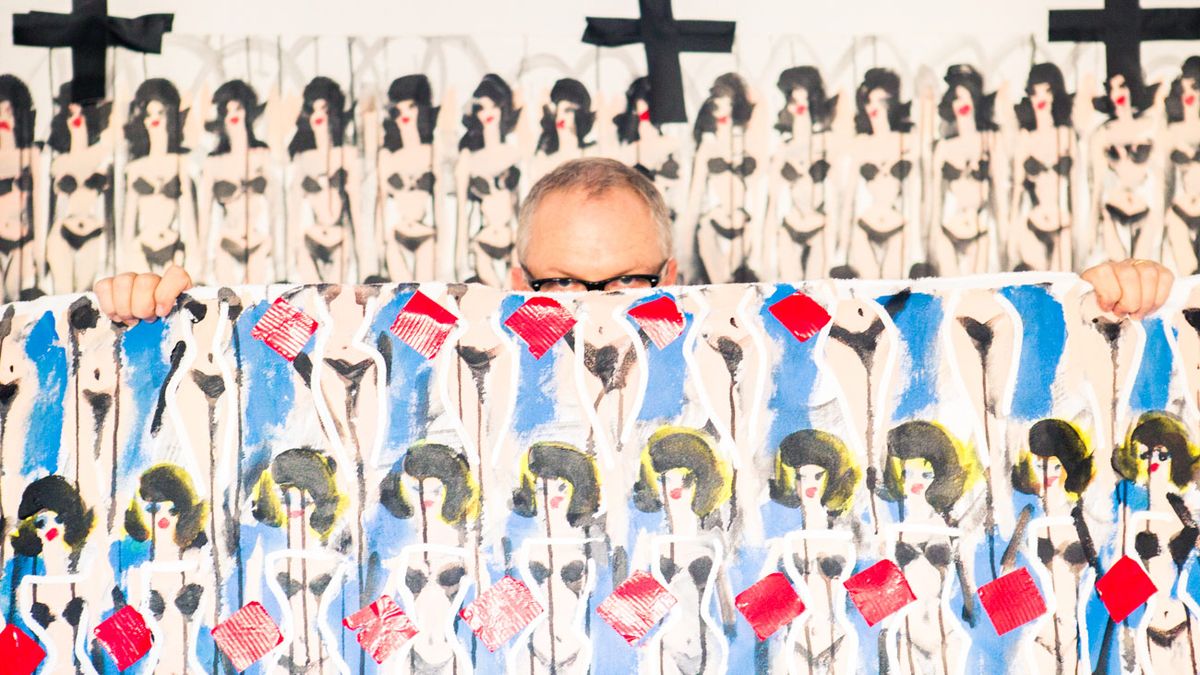 Culture
If you're not lucky enough to know Donald Robertson, Jane Larkworthy explains how his new book gets you pretty darn close.
As I stood in line on the fourth floor at Bergdorf Goodman, waiting for Donald Robertson to sign my copy of his new book, Assouline Donald: The Book (out now!), I quietly observed the effect he and his work had on his fans. One woman excitedly showed her friend the pop-art painting he'd done on her Birkin bag, while a few giddy students behind me tossed around the repeated encomiums as if they were the first to utter them.
"He's a modern-day Andy Warhol."
"He's friends with Pat McGrath."
"His twins have been in Ralph Lauren ads."
When the woman in front of me got her turn, Donald shook her hand and asked her name.
"Emilia," she stated.
"With an A or an E?" he asked, a magic marker in one hand as he opened his book with the other.
She touched her sternum and smiled. "People don't usually ask," she explained. "Everyone just goes ahead and writes it with an A, and then it's too late."
---
Donald smirked with a commiserating shake of his head. "The worst was earlier today?" he began, in the upspeak he uses at the beginning of an anecdote. "A woman named Leslie came in, and told me she spells it with a Y! Fuck off!"
Classic Donald. The first time I met him, he essentially told me to fuck off, too. I believe the phrase was: "You're Jane Larkworthy? You're an asshole."
I had been tasked to request some archival assets from Estée Lauder for a potential project at the magazine I was working for at the time. Unbeknownst to me, this translated to about a week's worth of work for Donald, as he was—and is—the overseer of all things art-related at Lauder (his official title there is Creative Director). As often happens with these kinds of proposals, the project ended up being dropped, so while I wasn't the asshole who decided to kill it, I was asshole by association.
Violet Grey founder Cassandra Grey had introduced us at a small dinner gathering, and by the end of the night, I was calling Donald an asshole right back. I had found a kindred spirit.
This was in the late summer of 2013, right before @Drawbertson exploded on Instagram. Or, to pin it more precisely, before he drew, then posted, Beyoncé and Kim. He says it all started when his kids told him to trade his Blackberry in for an iPhone. Soon after, he found Instagram, and the rest is history.
But he'd been doing portraits long before Bey and KK.
If you worked with Robertson, and he liked you, chances are you became a muse. Elizabeth Kiester, who worked with him at Marie Claire, gauges she's been immortalized more than two dozen times. (In a deep @Drawbertson dive, I found a painting of her from August 2015 that read, "Every now and then the 'Voices' remind me it's time to paint @elizabethkiester!")
"We'd be in meetings, and he would have five done in five minutes," wrote Kiester when I DM-ed her. "He just gets the gestures of people so right."
The gestures, the stance, even the attitude, despite the lack of intricate facial features. With no more than three slashes of black paint, he's captured the movement of my standard poodle Remy. A few more slashes over a strip or two of gaffer tape, there I am beside her, taller and blonder than real-life me.
Woe be the former colleague who dumbly tossed his or her vintage Donalds away before social media was born. How it must have stung when Instagram skyrocketed his numbers—in both followers and asking prices—seemingly overnight. Art shows began to pop up, and T-shirts bearing the statement "Donald Drew Me" became coveted items. I remember one fall night in 2014 when he and his wife, Kim Gieske, drove me home after one of those art shows. "I just hit 100k," he marveled. "How crazy is that?"
He speaks to his nearly 200,000 followers like a camp counselor at a staff meeting ("Whoever has the original of this painting, I need it back.") and is usually the first to translate the latest news into a visual statement, be it DACA, the passing of Hugh Hefner, or Fernando Garcia and Laura Kim's first Oscar De La Renta runway show, as well as any reason to celebrate Canada, his home country. His Trump sketch is as spot-on as Colbert's impersonation, and his Anna Wintour is always cross-armed and sunglassed, whether she's in the form of a panda or a walnut head.
Which brings me back to his book. Calling it an art book or coffee-table book doesn't do it justice. It's a textbook for life, whether that life includes being an aspiring artist or not. Nestled among the drawings of June Ambrose and Carine Roitfeld are spreads packed with dozens of anecdotes written in his chicken scratch (sorry, DR), likely because his pen is frantically trying to keep up with his brain. He explains how he got his start ("I believe in copying! With a twist!" "Start signing your name on things."), gives advice to aforementioned aspiring artists ("Use anything within your reach—crazier the better.") and explains how his doodles were born out of boring corporate meetings ("Bring a pen and notepad to every meeting because meetings are boring.") My personal favorite section is the one about the genesis of his love for gaffer tape. "Don't use scissors. Cut it with your hands. You need to let the tape know who's boss! Little kids give me the side eye when I try and take credit for TAPE ART. They have been doing it for years. WELL, TOO BAD! This old man is OWNING IT NOW!!! Move over, little girl, and give me your concept tape with the rainbows on it."
But there are also the smaller, nearly hidden captions scattered throughout the book that make it seem like he's sitting beside you, explaining every page with a backstory. Next to a chic photo of his wife, he scrawls "Kim" with a heart next to it, and in a corner of a painted Saint Laurent sketch, he scribbles, "Please google the walnut portrait I did of HEDI SLIMANE at YSL SAINT LAURENT."
Anyone who takes on the monumental task of writing a book is guided by the axiom "Write what you know." Donald has done it twofold, in both art and wording. In the meantime, we fans wonder what's next. A reality show? Kim's too private to acquiesce to that (but never say never), so for now, if you can't manage to get the actual person to come to your living room, the book is a handsome and hilarious fill-in.
Want more stories like this?
The Real Story Behind Tom Ford's Fucking Fabulous Fragrance
Even Beauty Editors Spiral Out about Their Hair Color
Jane Larkworthy's Solution for Better-Looking Skin