WWWRN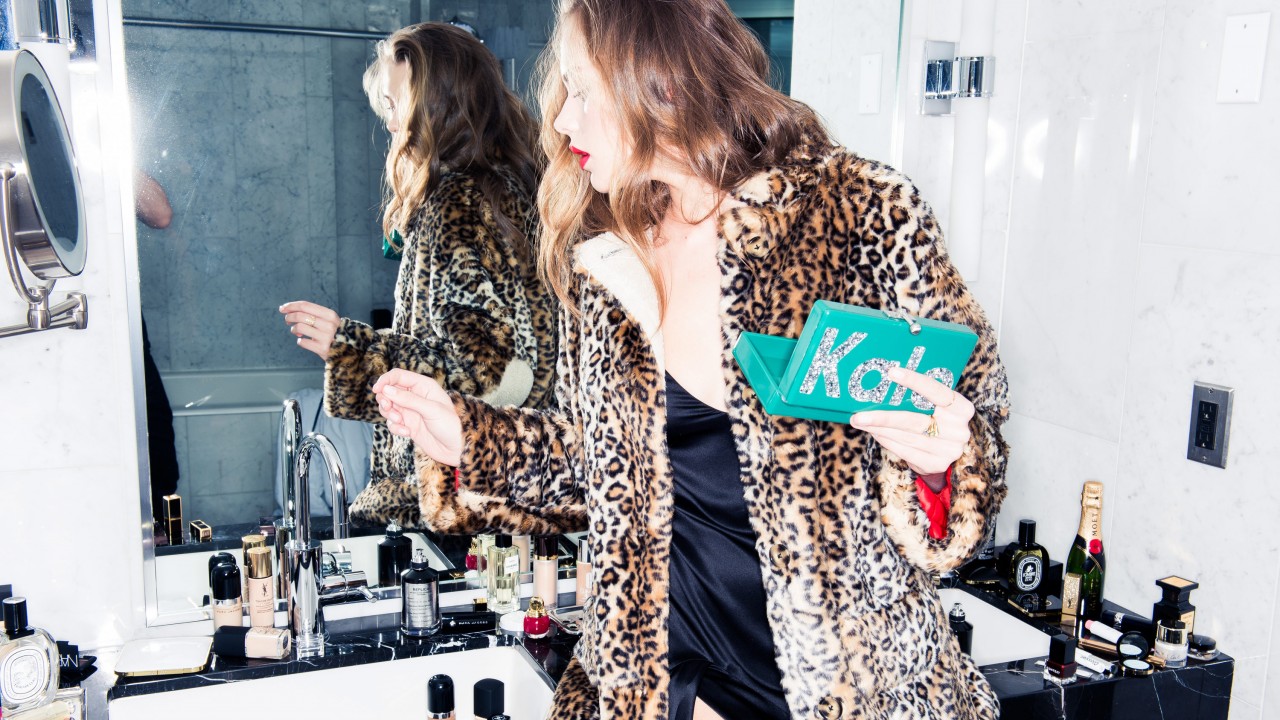 The 18 Date-Night Beauty Essentials We Want Right Now
We're all about a smoky eye and glowing skin.
As silly as the whole "date-night outfits" or "date-night beauty" thing can be, there's no denying it's pretty fun to spend a little extra time getting ready and going out in something that makes you feel extra terrific, and we're definitely not above it. As it gets chillier outside and "cuffing season" (ugh) starts, these are the products that make up our date-night looks.
---
KATIE BECKER
BEAUTY DIRECTOR 
1.  Surratt Beauty Smokey Eye Batons: There are a lot of hyped-up makeup lines these days, but you will find none as hyper-perfected as makeup artist Troy Surratt's. Everything in his line applies flawlessly, including these ultrathin eye pencils that you can smoke out with matching shadow on the other end. Basically, sultry eyes for idiots. Pretty idiots.
2. Victoria Beckham Estée Lauder Morning Aura Illuminating Creme: Before I insert a joke about "Morning After" creme here, let me say that even as a beauty editor who can nab nearly any product in the world, it was very difficult to get my hands on this much-beloved highlighter because it's that in-demand. It is honestly sparkle-free, but doesn't leave you looking like you have robot cheekbones. You look only dewy and candlelit. And hopefully sunrise-lit later. (Boom.)
3. Dr. Dennis Gross Alpha Beta Gradual Glow Pad Self-Tanner for Face: These fawned-over self-tanner wipes are nothing new, but if you want to look relaxed, sexy, and get a bunch of compliments on your skin from everyone else at the restaurant, swipe one of these across your face, neck, and chest the morning before your big date. I'm always running out of them.
---
LAUREL PANTIN
EDITORIAL & FASHION DIRECTOR 
1. Marc Jacobs Bronzer: I wear very little makeup, but I do like a little bronzer for nights out. It's one of the few changes to my appearance that my husband remarks on, and always in a 'You look nice!' way, not 'Woah, makeup…' way.
2. Benefit They're Real! Mascara: Mascara is the one other makeup item I use on a fun night. I think bronzer + mascara is so classic in a Jane Birkin way, and ultimately that brand of easy-cool is what I think looks sexiest.
3. Bumble and bumble Curl Defining Creme: I normally wear my hair in a low side braid, but on date night, sometimes I like to wear my hair big and curly, Carrie Bradshaw-style. This defining cream gives me reliably soft, bouncy, happy, springy curls.
---
HANNAH BAXTER
ASSISTANT EDITOR
1. EX NIHILO Midnight Special Perfume: One of my favorite ways to get ready for a night out is to use a different fragrance than my daytime rotation of crisp, clean scents. This blend from Parisian perfume house Ex Nihilo is sultry and warm, with a base of woody patchouli and subtle hints of rose. It smells better the longer I wear it, and I've had my boyfriend comment on it on more than one occasion.
2. NUXE Shimmering Body Oil: Well, if I'm going on a date, I need to be touchably soft for obvious reasons. I moisturize like a maniac every. single. day, but NUXE's infamous oil has just the right amount of shimmer, so I feel especially fancy. I even use a few drops on the ends of my hair so it's silky, shiny, and hopefully sparkly.
3. RMS Lip2Cheek in Diabolique: Everything Rose-Marie Swift touches will eventually become a must-have staple in my makeup routine, and her Lip2Cheek colors are no exception. This Diabolique shade looks INSANE in the pot, but I swear the deep burgundy creates the perfect post-make-out flush on your cheeks. Add a quick swipe on my lips as well, and I'm ready for the real deal.
---
NOAH LEHAVA
Senior Editor: Health and Wellness
1. Diorskin Nude Glowing Foundation: For me, if my skin isn't even and glowing, no other amount of makeup (although, I do consider myself a minimalist in this realm) will matter. I love Diorskin Nude Glowing Foundation for its sheer, moisturizing coverage that never mattes out or settles in creases.  
2. Fenty Beauty Killawatt Highlighter: And to amp up that aforementioned glow, I lightly swipe on highlighter to the crescent of my cheek, the bow of my lip, and under my brow. Do I look like Rihanna yet?
3. Guerlain Kiss Kiss Matte Lipstick in Dusty Rose: As much as summer was for lip glosses, fall always brings me back to a soft matte lip. I love this warm rosey hue that's sultry like a red lip, but without the potential mess.
---
JODI TAYLOR
ASSISTANT EDITOR
1. Honest Hazel Eye Gels: I'm big on the under-eye area, because looking exhausted ain't cute, guys. My favorite way to start prepping for a date night is to slap on some of these gel patches (they're so soothing) and chill out with a tea for a good 15-20 minutes. Pro tip: Store your eye gels in the fridge so they're nice and cold when you put them on.
2. Beautyblender: Call me basic, but I would be helpless without my Beautyblender. You see, I've never really been that great at doing my own makeup, but with the help of this li'l guy, I'm blending and shaping like I never have before. It's the best tool and will have you looking date-night-ready in no time.
3. Smashbox Cover Shot Eye Palette in Ablaze : I used to go heavy on liquid liner—until I got eyelash extensions, that is. Now, if any, I dab on a little bit of shadow. My current go-to is this Smashbox palette. I'm following the red shadow trend (so good for blue eyes!), and so I do a light mixture of these reds and golds for a subtle yet daring look.
---
SAMANTHA SUTTON
EDITOR
1. Chanel Rouge Allure Ink Matte Liquid Lip Colour in Liberee: If I'm headed out without my enormous bag full of makeup and junk, I'll—at the very least—pack a lip gloss for touch-ups. Right now I'm digging coral shades, and this baby is small enough to fit in the teeniest of clutches.
2. Carolina Herrera Good Girl Perfume: I'm really bad at describing fragrances, but this one apparently has notes of jasmine, cocoa, and tonka. Regardless, it's sweet and light—meaning it's pretty hard to overdo it, even if you're a multi-spritz gal like myself.
3. Simple Kind to Skin Cleansing Facial Wipes: To me, post-date is just as important as the rest of the night, since I must—must!—take my makeup off before falling asleep. Wipes are definitely my go-to, especially if I've had a few cocktails and feel myself fading into dreamland.
Photo: Shot on site at 6 Columbus, a Sixty Hotel. On Solveig: Dress, Jonathan Simkhai; Coat, Sandy Liang; Clutch, Edie Parker; Hair, Angela Soto; Makeup, Andriani.
Part of the series:
WWWRN