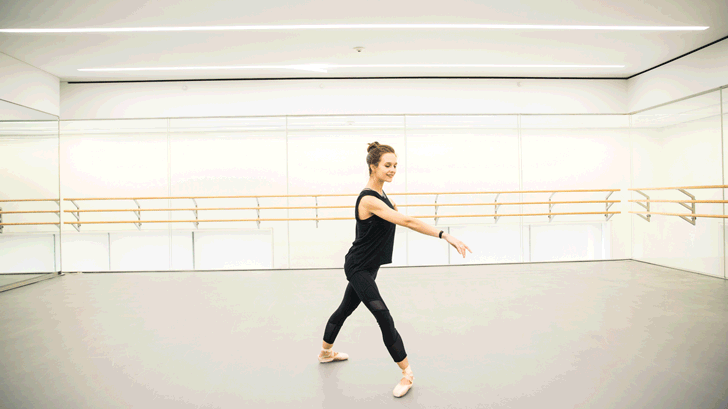 Fitness
NYCB's Lauren Lovette is learning to balance dancing with choreographing.
Alec Kugler
As much as we love watching stars like Nicole Kidman and Lea Michele on the red carpet, or Bella Hadid and Shanina Shaik walking the runways of fashion month, there's another annual event that we adore for fashion inspiration: the New York City Ballet Fall Gala. Spearheaded by Sarah Jessica Parker, the glamorous evening unites fashion with dance by pairing design houses like Monse, Oscar de la Renta, Off-White, and Jonathan Saunders with NYCB choreographers and dancers. Of the four world-premiere ballets this season, we are particularly excited to see "Not Our Fate" from ballerina Lauren Lovette. As the youngest principal dancer in the company, she has one of the most demanding schedules we've ever seen (ballet dancers work *insanely* hard), but that doesn't mean the 25-year-old has any plans to slow down. Her new dual identity as dancer and choreographer just gives her more of an opportunity to shine both on and off the stage.
We stopped by one of New York City Ballet's rehearsal spaces, housed in Lincoln Center, to chat with Lovette as she prepared for her second world premiere as a choreographer. "I like it because it takes me away," she says brightly, lacing up a pair of fresh pointe shoes. "I don't really feel like I'm at work. When you're the dancer, you're in the back, listening. You sit there and take the corrections—you try to make it perfect. But it's somebody else's ideas—somebody else saying how I should look. When I'm choreographing, I get to say how it should look."
---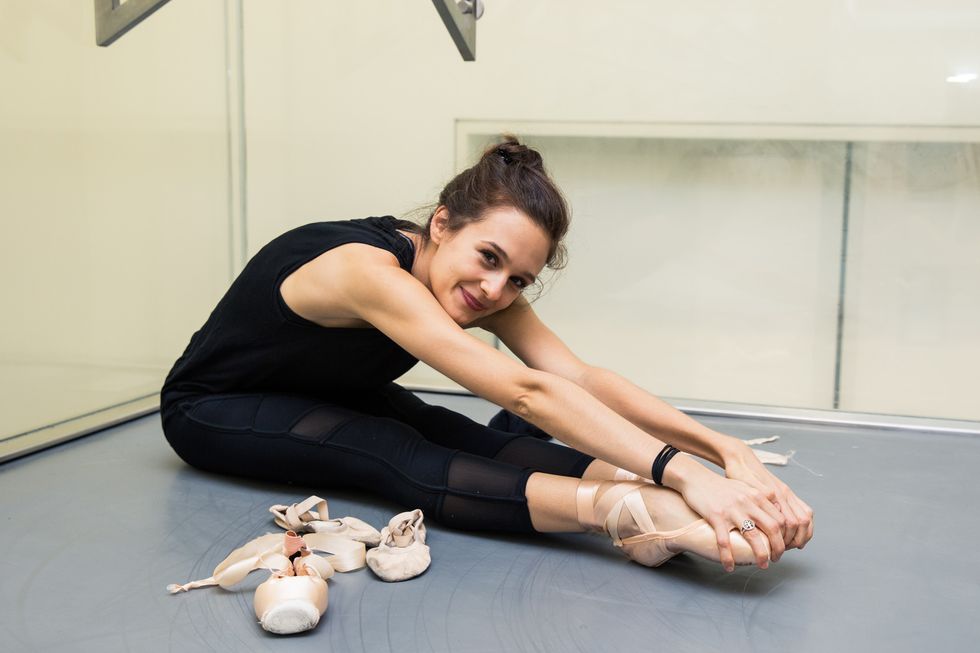 In a flash, she's demonstrating a graceful arabesque as our photographer snaps away, and you'd never guess at the huge amount of responsibilities weighing on her young shoulders. Even though we're in an empty studio space with an audience of two, she just looks happy to be dancing.
"Once my day starts, I don't have time to look at my email or do anything else. Like, I had identity theft last week, and when do you have time to deal with all of that? Never," she laughs as we hustle through the crowded hallways to her afternoon rehearsal. "I leave at 8:30 am from my apartment, I get here around 9 am, and class is at 10:30 am." With days that often stretch to 12 hours or more, Lovette has recently adapted a lifestyle change that is somewhat controversial in the dance community. "I went vegan eight months ago. It's not popular, but it's been helping me a lot as a dancer and as a choreographer. I consumed so much meat and cheese in my life before, [so] I feel very different. I'm lucky because the second job is in the same place [at Lincoln Center], and they work around the schedule, but I still eat lunch during my choreography rehearsals. [laughs]. I just make it work."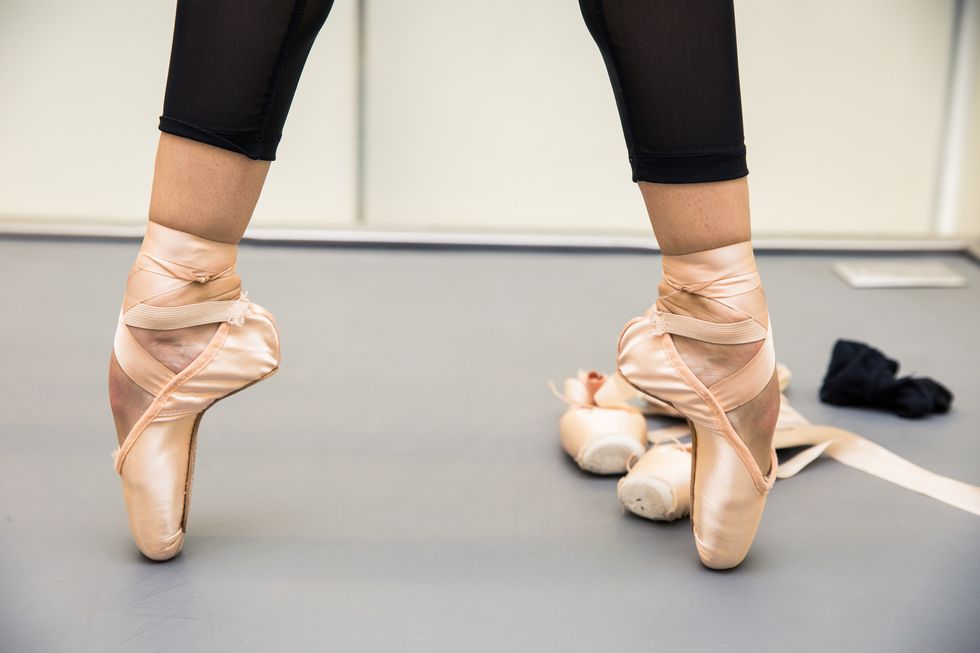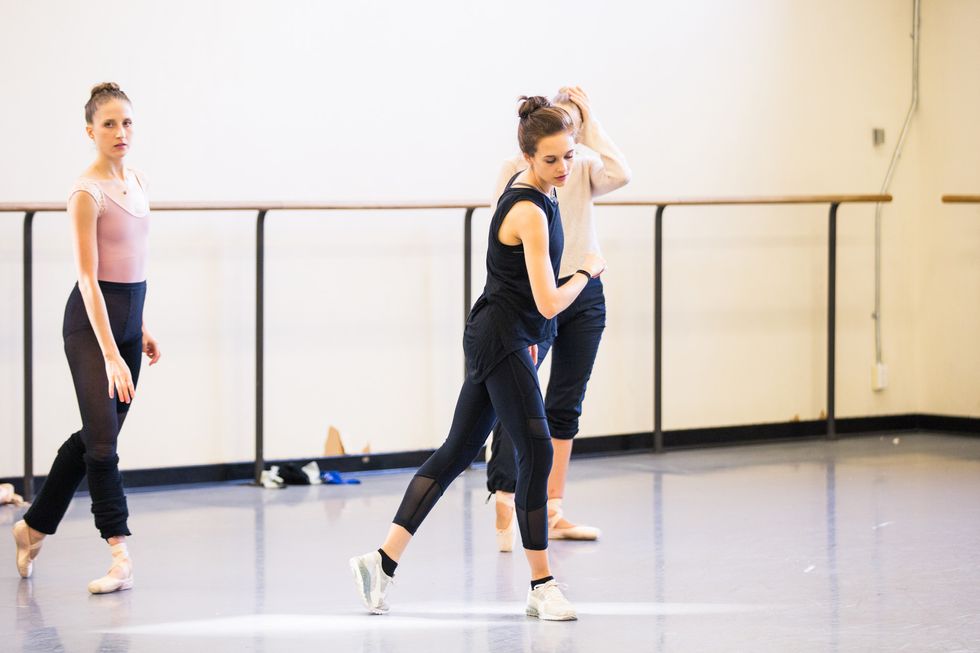 As we enter the next studio for her ballet's rehearsal, there is a slight, albeit noticeable shift in Lovette's energy. Although only 5'4, she commands the attention of the room, and the 10 dancers of "Not Our Fate" watch closely as she demonstrates a new step. "My favorite thing is to ask the dancer if [a move] feels good to them, because they never get asked that." She leaps up from her post at the front of the room to adjust a step for one of her male dancers. Satisfied, the piano score cues up again. "In this particular piece it started with the costumes [from Monse]. Then I found cool music that I thought would pair well, and after listening to [it] a million times, I came up with this idea of a city where everybody has their routine. But then you see windows into people's real lives. I have two men that fall in love in my ballet, which is also kind of different for the ballet world."
Lovette is also part of a larger push by NYCB for more commissions from female choreographers. "I'm looking forward to the day when it isn't such a topic. We have all-female choreography evenings, but it's still segregated. It's like, 'Oh, now the women are going to try.'" And although she is, in many ways, still at the start of her career—she has been dancing professionally since she was 17 years old—Lovette is more hopeful than ever for the next generation of ballerinas and choreographers. "It's encouraging to see how many young people are interested in [choreographing]. A lot of them follow me on Instagram and ask [for advice]. I just tell them to start making stuff. Start improvising, start trying, because nobody's ever going to just give you [an opportunity]. Young women coming up in the dance world [think], 'Maybe I can make my own rehearsal and take it into my own hands.' I think that's empowering and cool. It's kind of nice to be in charge sometimes."
Want more stories like this?
What a Ballerina Eats for Breakfast 
What Ballet Dancers Really Eat
A Ballet Warm Up You Can Do Everyday