WWWRN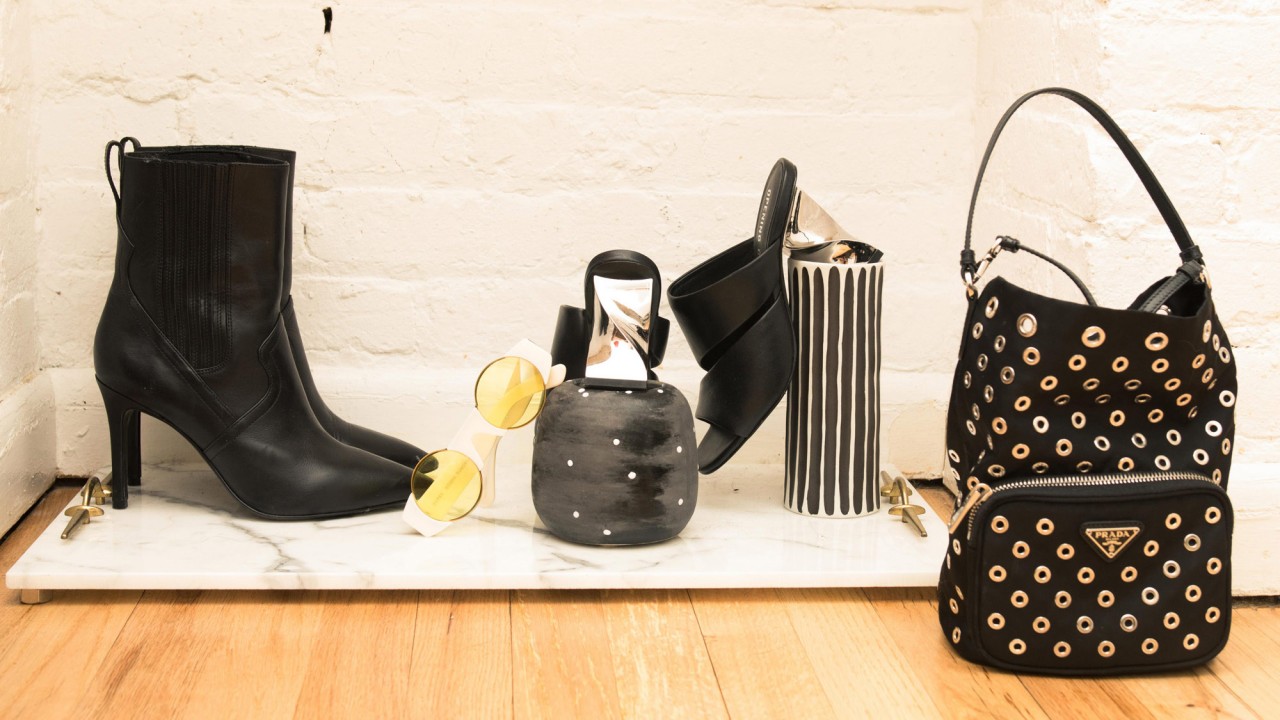 18 Fall Fashion Splurges We Want Right Now
Work hard, shop hard—right?
There are people who scoff at the idea of spending an entire paycheck on a handbag, and then there are people like us: editors who are so enamored with fashion that we're willing to live off ramen if it means owning something that makes us feel fantastic. While we don't condone ruining your credit score for the latest Balenciaga, we do think the occasional splurge is ok, and what better time to make one than the onset of fall? (We always use the cost-per-wear formula to help us justify a major purchase.) Fashion's favorite season is marked by cool jackets, great boots, and incredible pants, and needless to say, we're prepared to throw caution to the wind in the name of a few great finds. Keep scrolling and you'll see why.       
---
Meagan Wilson
MANAGER, EDITORIAL & BRANDED CONTENT
1.  Off-White Satin Wide Leg Pants: These Off-White satin trousers are like my favorite track pants, only incredibly luxurious and as reimagined for, say, the Olsens.
2. Saks Potts Shearling Coat: A coat that manages to tick off two crucial boxes on my fall shopping list: outerwear from Danish brand Saks Potts, and something in an unsettingly bright shade of mustard-y yellow-orange (this fluffy guy gets bonus points for being almost the exact shade of Kraft Dinner).
3. Laurence Dacade Ankle Boots: White boots = very necessary. Especially when they're slightly mod and make you feel straight off the set of Spice World.
---
Laurel Pantin
Editorial & Fashion Director
1. Preen Silk Dress: The thing I want more than any other thing right now (besides a rare Junya Watanabe canvas and tulle skirt; universe, please bring one to me!—update: I found one, and I got it...woohoo!) is a silky, printed dress from Preen. I've loved the brand for years, but have never been able to pull the trigger. I'm thinking this might be the year, though.
2. Lalaounis Emerald and Sapphire Ring: I borrowed this ring from Memo (which, if you're a jewelry fiend, is a must-visit site) during fashion week, and it has become such a part of my everyday look that now I'm heartbroken to part with it. It somehow goes with everything and makes every outfit look better.
3. Chloé Biker Boots: Despite the fact that I own a bajillion pairs of boots, I'm somehow still continually on the hunt for the perfect flat black pair. These Chloé combat boots would make a very nice addition to my collection.
---
KATIE BECKER
BEAUTY DIRECTOR
1. Isabel Marant Shearling Coat: I love huge coats that I can disappear in when it gets super cold outside—especially when it's still dark out in the mornings. This shearling would make me feel like I was still in bed, which is the ultimate luxury, no?
2. Anya Hindmarch Shoulder Bag: The strap on this purse makes me oh so happy. And with all those colors, it would go with anything, right? I agree, this is a very sound investment. I appreciate your support.
3. Rosie Assoulin Midi Skirt: Midi skirts are absolutely the most flattering length on me, but not like anyone would even be paying attention to that while I have a field of gorgeous wildflowers covering the lower half of my body.
---
Leah Faye Cooper
Features Editor
1. Zimmermann Maples Dress: I've never been a huge fan of polka dots, but I think that's because haven't ever seen them executed so well. The color combo going on here is divine, and with a leather or denim jacket, this is the perfect dress for fall.
2. Stuart Weitzman Over-the-Knee Boots: I'm a little over six feet tall, so finding a pair of over-the-knee boots that actually extend over my knees is…not easy. I recently tried these on (after several seasons of admiring them from afar) and they not only cleared my knees, but reached almost halfway up my thighs. I'm shook! And also reaching for my credit card.
3. Gucci Floral Bomber: A few weeks ago I saw someone on Twitter questioning whether or not Alessandro Michelle's Gucci designs were too over-the-top, and I was very tempted to hit "unfollow." What does that even mean? I love everything he sends down the runway, including this awesome floral bomber, which I'd like to live in all fall.
---
Tara Gonzalez
Assistant Editor
1. Sandy Liang Coat: I don't think Sandy Liang ever made a jacket I didn't want. Honestly, I would do crazy crazy things for one of them. This Mingo coat is incredible because it looks just like a structured overcoat...until you realize the back is covered in the dreamiest pink shearling. In a perfect world I would wear this every day of fall just to (literally) turn my back on everyone. I'm pretty sure they'd all be doing double takes.
2. Dorateymur Patent Boots: AGH. I want these boots so so so so so much. I already own four pairs of Dorateymur shoes and I don't plan on stopping there. I've been getting more piercings recently, so the septum-esque detail on this boot really speaks to me. Also, red is the color of the season, which makes these boots a must-have.
3. Alexachung Face Sweater: Ever since I laid eyes on Alexa Chung's collection, I've wanted all of it. It's essentially an entire line of every outfit she's worn that I've subsequently loved. When she posted a photo of herself in this oversized face sweater at Glastonbury, I desperately searched the internet for the designer—only to find out, months later, that it's part of her fall collection! It would definitely be the most expensive sweater I own, but come on—it has a cute face on it. Need!
---
Jodi Taylor
Assistant Editor
Part of the series:
WWWRN