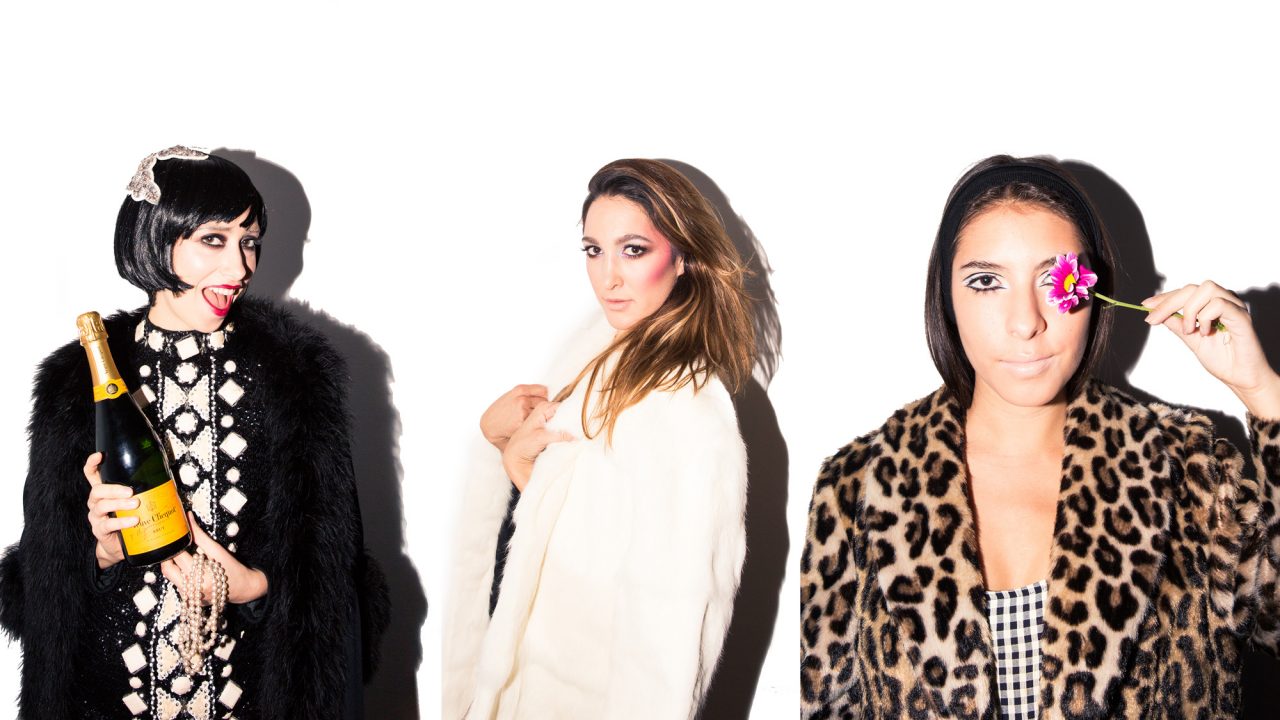 6 Halloween Costume Ideas Inspired by Retro Fashion
Six pro-level beauty looks, whether you should have been born in the '20s or in the future.
October 2016 is a strong contender for the best month ever. Our book is out, we had Wedding Week and a full run of bridal shows, it's currently Sneaker Week, *and* it's almost Halloween. Halloween, you guys! The very best, most exciting and fun day of the year!
If you haven't noticed, we're really into it, so nothing was more fun than when MAKE UP FOR EVER Director of Artistry and Education Lijha Stewart and her assistant, Lauren Aiello, MAKE UP FOR EVER Manager of Education Services, stopped by our office to do a little Halloween makeover on six lucky #TeamCov members. To complete the looks, we hit up Ricky's NYC (which has *literally* everything you could ever need for pretty much any situation—consider it a hybrid beauty boutique/drugstore with a dash of naughtiness courtesy of their "Bachelorette" section; it's a top contender for our favorite NYC chain) for wigs and props so that we could really get into character.
But because no mere spooky or sexy thing will do for us Halloween snobs, we decided to take it back. Way back, to the 18th century with Marie Antoinette, and from there we worked our way up to now-ish (actually, about 50 years from now), recreating all the best beauty through the ages. Here, six chic and easy makeup tutorials that let you live out your favorite decade, whatever it is.
And in case this doesn't quite scratch your Halloween itch, check out all of our fashion-inspired costume ideas here.
---
Marie Antoinette
Tara Gonzalez
"First, mix a white cream foundation like Clown White with a regular foundation to achieve Marie Antoinette's pale skin. Next, highlight with Clown White in the center of the face and under the eyes. Apply a few layers of HD Microfinish Powder on top. Also, white-out eyelashes using Clown White, using Artisan Brush #272.
"Next, apply Pro Sculpting Brow to define the brows, and use Aqua Cream #5, a peach color, on the eyes and cheeks. Then, mix Artist Rouge in a light pink and petal pink, and use a brush to line lips and fill them in as well. Finally, use ink liner for mole application."
Flapper
Alex McGinn
"First, apply Ultra HD Stick Foundation with a Beauty Blender for an opaque finish with a dewy glow. Next, brush on HD Blush 310 high on the cheeks, almost underneath the eyes, for a blush look of the times. For an at-home brow cover, apply MAKE UP FOR EVER Full Cover concealer directly to the eyebrows, then back-comb with a spooley brush and then back up to coat brows.
"In the 1920s, the brows were slightly downturned. Use the shape of your natural brow and apply Aqua Brow using Artisan Brush #172, bringing it lower towards the outer corner and higher in the inner corner of the brow. Next, use Aqua Black to lay down an eyeshadow base and blend outward. A smoky eye in the '20s was slightly higher-placed in the inner corner of the eye versus what we see today. Line the inner rim with Aqua XL M-10 and smudge underneath the eye. Use a brown eyeshadow like Artist Shadow M-656 to blend through the crease and eliminate any hard lines.
"The flapper lip shape is fuller on top and smaller on bottom. Pro tip: Apply a dark burgundy like Artist Rouge C-704 to the top lip first, slightly over-lining. Then, on the bottom lip, begin in the inner center of the lip and tap outward. This will give a crisp lip line on top and a more blurred line on the bottom for a '20s look."
Mod
Tatiana Bravo
"The first step is to apply Ultra HD Liquid Foundation as a base. In the '60s, women didn't wear a lot of blush, so this look isn't heavy on the cheeks. Swipe clear Brow Gel through the brows to groom, and condition the lips with lip balm.
"Use Aqua Black and a thin-point eyeliner brush like Artisan Brush 250 to 'cut the crease' or draw eyeliner positioned in the crease of the eye. Next, use Aqua XL in M-16 to fill the lid with white under the crease and down to the lash line. Then, apply the same white liner to the lower waterline.
"Apply Aqua Black to the top lash line using the same thin eyeliner brush. Pro tip: In order to maintain the white on the center of the lid, make sure the eyeliner on the top lash line is very thin. Pull the liner downward in the outer corner, almost like a reverse cat eye. Next, apply Aqua Black on the lower lash line. Be sure to leave the inner and outer corners disconnected from the top line. Use Excessive Lash mascara [on] the top and bottom lashes.
"Using individual lashes, apply 3 clusters to the bottom lashes, toward the outer corner. Last, apply Artist Rouge C-103 for a creamy beige lip. To lighten a lipstick at home, add a small amount of concealer and mix on the lips. Since this look doesn't contain a lot of blush, if you're feeling washed out, take a light foundation like Water Blend and tap throughout the cheeks to finish."
'70s Disco
DaMonica Boone
"To give a bronze effect, apply MAKE UP FOR EVER Water Blend formula in a shade slightly darker than your skin tone. This will give you a light, dewy coverage. Next, apply Ultra HD Concealer under the eyes and to the high planes of the face. Use the Pro Sculpting Palette to apply a light contour and sculpt the cheekbones.
"Then, apply a teal cream shadow, like Aquamatic I-20, all over the eyelid, blending into the crease. You can wing slightly to the outer corner of the eye, creating an almond shape. Apply the same shade to the lower lash line. Using a thin brush, apply Aqua Black in a winged line to the top lash line, and apply Excessive Lash mascara to the top and bottom lashes.
"Next, start with a fine glitter and apply it directly to the center of the eyelid. Use a product like MAKE UP FOR EVER's Aqua Seal or Mist and Fix to adhere the glitter. Next, apply a larger glitter like MAKE UP FOR EVER's Glitter #11 to the center [of] the eye and underneath the lash line.
"Finally, apply faux lashes that are slightly fuller in the center of the strip, like MAKE UP FOR EVER's Lash Show N-104, to the top lash line. Next, apply individual lashes to the bottom lash line, approximately 5 evenly placed clusters per eye. Allow the lash glue to dry for a few seconds before adhering the strip to the lashes. To finish the look, apply a peachy-pink lipstick like Artist Rouge C-106 and top with a gloss in a similar shade, like Plexi-Gloss 301."
'80s Supermodel
Alicia Cesaro
"Start by applying Ultra HD Liquid Foundation with Artisan Brush #150. Next use Pro Sculpting Brow #50 to define brows, and complete brows with Brow Seal to brush the brows up and groom them. Apply a cream blush like HD Blush #335, a tawny color, using Artisan Brush #150 high up on your cheeks and around to your temples.
"Then, apply Eye Kohl Pencil #1k to the eyelid as an extra-thick liner and smudge with Artisan Brush #228. Concentrate it on the outside of the eye to create a lift effect. Next, apply Star Powder #944, which is an iridescent white/turquoise, starting from the inner corner of the eye and up into the brow bone. Then apply a chestnut-brown and a shimmery purple shadow on the lid for color.
"After that, apply natural-looking false lashes, coat lashes with Excessive Lash Mascara. For the final step, use Star Powder #940, a whitish orange, for a frosty lip effect topped with gloss."
Future Girl
Andee Olson
"Start by applying Water Blend Foundation and apply Ultra HD Concealer under eyes. Next, use the Pro Sculpting Palette. For brows, apply Aqua Brow with Artisan Brush #262 to define them.
"Then, apply Aqua Cream in silver and gunmetal to the eyelids, use them to create a silvery shade on eyes, and apply more Aqua Cream in silver to inner corner of eyes. Use Aqua Black to line the upper lash line with a subtle wing at the outer corner. Next, curl your lashes, and use Excessive Lash Mascara on bottom and top lashes."
"Apply Diamond Strass rhinestones to outer and inner corner of eyelids using a pair of tweezers. Apply lash glue onto bottom of Strass to make them stick to lids. Finally, apply Artist Rouge in a shade that matches your skin tone."