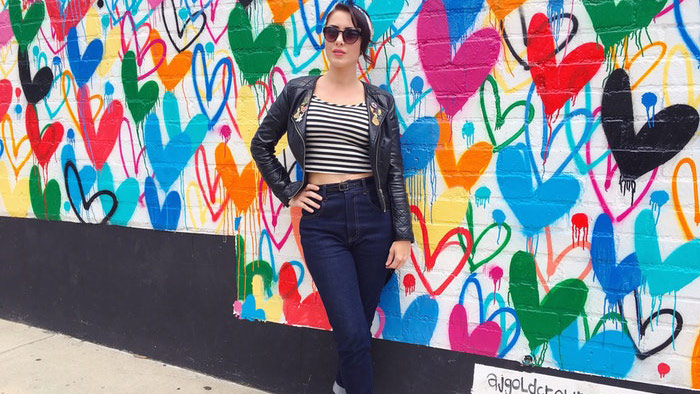 7 People Who Hate Jeans Share the One Pair They Will Wear
Consider this the easiest denim on earth.
Bustle and Coveteur are working together to bring you the best mix of the season's fashion and beauty releases, shopping tips, and service stories in ways that are both inspirational and attainable. Check The Fall Style Edit channel weekly to see what we're up to.
Many of us have our "no way, not ever" type of clothes. And even though people who hate jeans might be rarer than people who just can't live without jeans, they're definitely out there. That said, when people who don't like jeans find a pair that they absolutely love, it usually means that the jeans are really doing something special.
From dark washes to light rinses, tight skinny jeans to bell-bottom flairs to stylish culottes, there isn't just one way to wear jeans—which also means it can be overwhelming to try to find the perfect pair even if you are a denim lover. To get you inspired on finding a pair that you yourself might fall head over heels for, seven people who hate jeans share the one pair of denim they will buy. Because if they love them, then they just have to be ridiculously comfortable and confidence-building, right?
Gavyn's Stretchy Skinny Jeans
For Gavyn Taylor, a fashion blogger at Gavyn Taylor, she would much rather live in dresses or joggers than in binding denim. The issue isn't so much the look of jeans, but the way that they restrict her movement. "I'm not going to lie, I am a self-proclaimed nudist, and the first thing I do when I get home is take off everything. After my bra, jeans are the next to go!" she shares with Bustle. "It's not so much that I hate them, I just feel so constricted in my movement, especially when I am running between meetings and auditions and chasing my dog around the house."
She needs clothes that allow her to stay at her fast pace, which is why, when she does wear jeans, stretch is important. "The few pairs of jeans that I love are super stretchy mid- to high-waist jeans, like this pair from Fashion Nova. The tightness of the jeans makes me feel supported while lifting my little booty, but the super stretch allows me to squat down to play with my pup or splay out on the floor while watching Insecure."
Photo: Courtesy of Instagram/@thegavyntaylor
Audrey's High-Waist Denim
Audrey Landford, fashion blogger of Tiny Hipster, has never been a "jeans girl" because of her short and petite frame; it's hard for her to find a pair of jeans that fit quite right. But length aside, she also hates how some pairs can feel so restricting. "I like to move freely, and at times my jeans just aren't freeing. I can barely breathe, and the crotch sometimes is too tight. It's just ridiculous when you have to squeeze your curves into jeans that are unforgiving," she shares.
Even though Landford would generally rather step out in wide-leg, '70s-inspired pants, she does have one pair of jeans in her closet that have become a staple in her wardrobe.
"This is my favorite pair of jeans that I purchased a few years ago from Go Jane," she says. "The material feels comfortable, and it's easily matched with almost any top in my closet. This classic skinny jean works great for showing a great pair of heels or even when I want to opt for a more casual, laid-back look."
Photo: Courtesy of Instagram/@tinyhipster_
Ashley's Retro Denim
Ashley Thomson of Southern California Belle hates wearing jeans because it's hard to find a pair that matches her vintage-inspired flair. Simple low-riders or skinny jeans won't fit in with her pinup-like aesthetic. That, and it's super difficult for her to find the right fit.
"I also have a long torso and an hourglass figure (my hips are 15 inches bigger than my waist), so finding jeans with a tall enough rise that fit my curves is nearly impossible! I wear dresses (particularly swing dresses) instead, because they accentuate my waist and I don't have to worry whether they will fit my hips or not," she shares with Bustle.
Luckily, though, there is one pair of jeans that hit all her check marks. "I love my Vixen by Micheline Pitt jeans because she designs with the vintage-inspired woman in mind. The rise hits perfectly at my waist, easily fits my hips, and they make me look and feel amazing! I'm already saving my pennies for a backup pair, that's how much I wear them."
Photo: Courtesy of Instagram/@southerncaliforniabelle
Erica's Legging-Like Jeans
For Erica Leigh Macaranas from Sweets and Hearts, it's not so much that she hates jeans—it's that she hates trying them on. "They're always too snug in the waist or too long or too baggy in weird places. They're probably one of the hardest things to shop for," she explains. Instead, she prefers to wear skirts and shorts most of the time.
Because of the hard time she has finding a pair that fits her in all the right places, she discovered that the material of the denim is what matters most in her dressing room excursions. "I don't have much of a butt, so jeans tend to be really baggy in that area if they fit me in the waist. That's why I tend to look for jean-legging hybrids. I despise the word 'jeggings', but yes, that's basically what they are," she shares. "I like this particular pair because they are high-waisted and made from a stretch-denim. They're a little retro but still edgy with the faux leather panels on the sides, and they're super comfy and easy to move around in!"
Macranas says she loves American Eagle's hi-rise jeggings and is a fan of Paige high-rise stretch denim as well.
Photo: Courtesy of Instagram/@sweetsandhearts
Kelly's High-Rise Denim
For Kelly Jayne, jeans are not synonymous with comfort. "I typically hate jeans, and if I was forced to wear them I would rip them off the second I walked in the door," she shares with Bustle. She found a workaround, though, when she started to use Stitch Fix, an online subscription box and personal styling service. She requested a pair of boyfriend jeans since she knew she could try them on without strings attached and send them back if they didn't fit her style. The ones that were sent to her doorstep were from the brand Kut from the Kloth and she immediately fell in love with them.
"I will wear these around my house and wear them to work sometimes (preschool teacher). I'm able to be on the floor with and run around with my kids and the kids at work without issue," Jayne says.
Another major plus with this particular pair of pants is that they have a higher rise. "I think the 'low-rise' style that was in for a long time made me hate jeans because they never fit right," she explains. So these nix all her previous fears.
Victoria's High-Waisted Look
A common theme with people that skip jeans is that denim isn't usually comfortable if you have a fuller figure, and that rings true for Victoria Leandra. "I'm Latina, so I got curves! In order for me to wear jeans, I have to find the perfect pair that gracefully fits my figure and complements my curves, usually a high-waisted jean," she shares. "Don't get me wrong, I've styled many outfits with jeans, but they're not my go-to piece." Rather than piecing together an outfit with denim, she would much rather spend her time styling up dresses because they make more of a statement and are more versatile.
Part of the reason Leandra doesn't bother too much with jeans is because she doesn't like owning something that might not be used often. "I'm not a shopaholic, so I only buy pieces that can last me long and can be styled for many seasons to come," she explains. Sometimes it's easy to buy a pair of jeans and then wear them once or twice before deciding they're not the right look after all—which is something she likes to avoid. But there is one pair that has passed her tests: the minimalistic jeggings from Curve Appeal Denim.
"High-waisted jeans are perfect for both the summer and the fall, so they're a timeless piece in my closet," Leandra says.
Photo: Courtesy of Instagram/@victorialeandra
 Hoda's Slim-Fit Jeans
For Hoda Katebi of JooJoo Azad, she skips the denim because she thinks there are more fun things to wear when it's time to create a popping outfit. "I know Americans have always had this sort of love affair with denim (even though jeans actually originated in India as the uniform of the working class and were only popularized in the USA because of Black civil rights revolutionaries), but I've never really been a fan. Why wear a faded blue when you can wear black? Or bright, clashing colors?" she asks. "I guess anytime I ever considered wearing jeans with an outfit, I've ended up deciding to swap them out with something that would make the look more fun or interesting."
While she would much rather wear prints than one uniform block of color, there is one pair she tolerates: "My slim, black motorcycle jeans I snagged from a boutique in Morocco! They fit like a dream, have a bit of texture that makes them not-boring, and they hold so many memories—from mountain climbing to bad dates to getting arrested [while] protesting—these jeans have seen it all."
Photo: Courtesy of Instagram/@hodakatebi
Whether you're part of the group that swears they can't find a pair of denim that works to save their life or you're just looking for the most comfortable options out there before you go shopping, let these accounts inspire you.
Want more articles like this? Head to Bustle.com.