WWWRN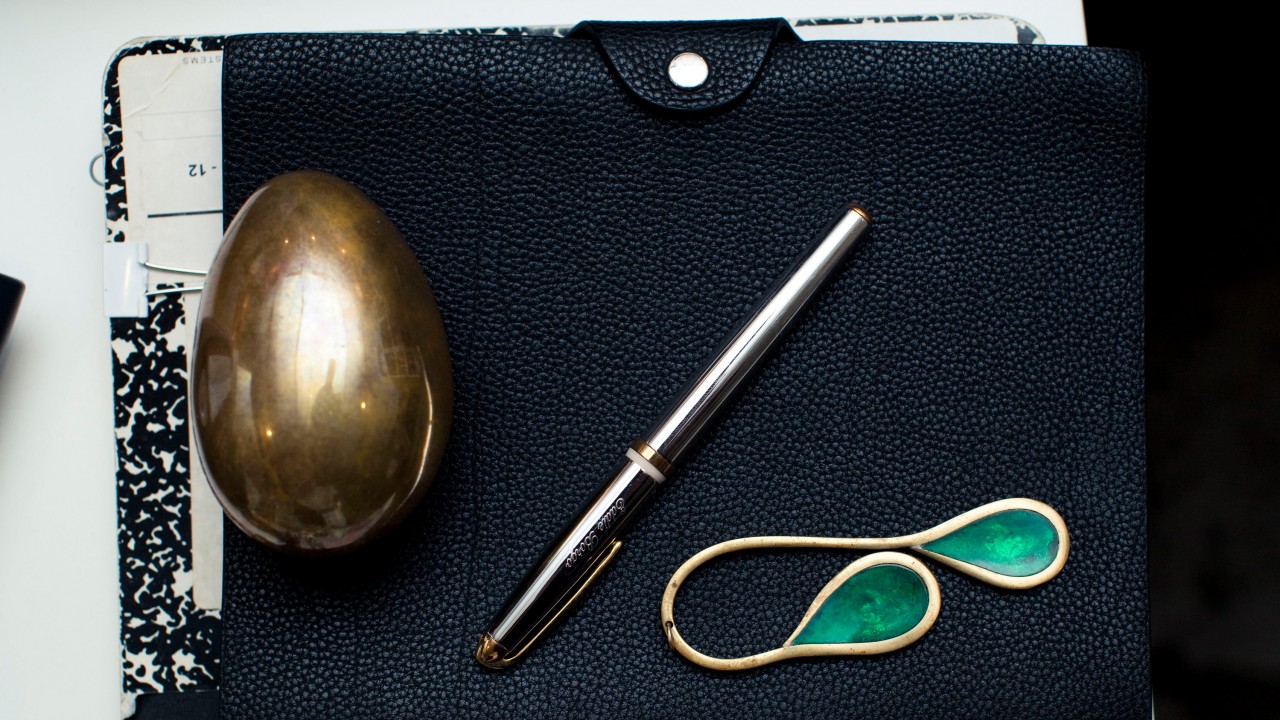 Our 12 Least Glamorous Fashion Week Essentials
It's not all Loewe bags and Balenciaga boots.
New York Fashion Week, affectionately known as #NYFW, provides us with endless style inspiration. Here at Cov HQ, we bookmark *plenty* of street style photos. Can you blame us? Everyone always looks so flawless, yet completely effortless—as if they can throw together an insanely good outfit in their sleep. We'd like to think that we land in this category from time to time, though what onlookers don't instantly pick up on is that we're often wearing flea market finds and have rather unglamorous things in our bags. Everything always seems luxe on the surface, but that's what we're here for—to give you an inside look on what editors *really* hold near and dear. From blister bandages to wrinkle spray, here are all the not-so-fancy things we're bringing and wearing to NYFW.
---
Katie Becker
Beauty Director 
1. Lacoste Showcourt Leather Sneakers: No fancy footwear for me. Doing beauty reporting backstage means you're standing for hours, trying not to stab people in the foot with a heel while you're all packed in back there, and then running between shows (the subway is way faster than dealing with cars). The nude color at least makes these kicks more discreet and leg-elongating.
2. LL Bean Tote: I need to haul my laptop around all week but don't have it in me to do a backpack (I have some standards). This waterproof zip-up tote is so practical and basic that I don't mind stowing it under the food tables backstage while I skirt between interviews with just my phone. It can't get messed up and, believe me, no one wants to take it.
3. iPhone 6: Listen, I'm waiting for the 8, OK?
---
Hannah Baxter
Assistant Editor
1. Curad Performance Series Bandages: Fashion week is the perfect time to break out some of my favorite and flashiest shoes. That often translates to platforms, snakeskin, and unfortunately, lots of blisters. I *love* these extra-long bandages from Curad. They stay secure around my ankles and toes, and they're so brightly colored I once had a fellow editor ask if they were part of a particularly painful but beloved pair of sandals. Works for me!
2. RXBAR Whole Food Protein Bar: If I'm hangry, all bets are off, even when I'm covering an event or a show for work. With so little time to grab a proper lunch during the week, I make sure to stock up in bulk on these RXBARs so that I don't crash.
3. Altoids: Space backstage is cramped, to say the least, and I'm often shoulder to shoulder with other editors, hair and makeup artists, and models; the last thing I want to worry about is my breath. Also, everyone appreciates being offered an Altoid, so at the very least it's a great way to make a few friends.
---
Samantha Sutton
Editor
1. Contigo Coffee Mug: I'm always in the mood for a nap, but during NYFW, that urge becomes even stronger—and unfortunately, between shows, shoots, writing, and regular life, there just isn't enough time! Therefore, I travel around with coffee, and my favorite mugs are Contigo. They just seal everything in so tightly that even if I don't have time to drink it right away, it's still hot an hour later.
2. Tide To Go Pen: Despite the aforementioned seal, somehow, I always forget to close the mug or trip/hit a bump/tip my cup over and end up with coffee all down my shirt. And if it's not coffee, it's makeup. And if it's not makeup, it's some mysterious stain. I keep these pens handy at all times to prevent me from looking like a mess.
3. Travel Size Downy Wrinkle Spray: I'm not the best at time management, so—surprise, surprise!—I rarely have the 10 minutes it takes to pull out the iron. Instead, I spray my stuff with wrinkle spray, hang it in the bathroom, and let the steam from my morning shower work its magic. I then carry around a small bottle to fix any wrinkles I spot throughout the day.
---
Tara Gonzalez
Assistant Editor
1. Goody Ouchless Elastic Hair Bands: At any given time I have at least one or two spare hair bands in my bag. I have very long hair which can be overwhelming (and heavy!), so I cycle through some different hairstyles throughout the day. I especially need extra hair bands during NYFW, which can take me from my desk (hair out of my face in two buns), to a show (hair all down for drama), to an after-party (in a high pony for dancing) in a single day.  
2. Clark's Trigenic Evo White Leather Sneaker: These shoes are my style secret weapon. I've been wearing them all week because the soft leather lining is so comfortable. Everyone keeps asking me where they're from and people are shocked when I say Clark's. They're so different from the classic shoes that they're known for—in the best type of way.  
3. Portable Charger: NYFW and Instagram overload go hand in hand. Everyone constantly has their phones out in an attempt to capture as much content as possible, whether it be a picture of Kim Kardashian sitting first row at Tom Ford, or a slo-mo of a fluffy blue Adam Selman dress as it goes down the runway. That being said, when I'm running from backstage to show to show to after-party, it's hard to keep my phone alive. I always carry a portable charger with me so when Nicki Minaj unexpectedly decides to walk into the Monse show I can take as many videos and pictures as possible. Who would want to miss capturing something like that?!
Part of the series:
WWWRN