Food
These 5-Ingredient-or-Fewer Recipes Are Made for Us Lazy Humans
Popcorn dinner no more.
Not a word of a lie, six out of seven days, the thought of gathering up the ingredients for a recipe you found on Pinterest or one that your mom taught you ages ago is enough to relegate you to a popcorn dinner. Hands if you agree. What if we told you that Mia Rigden of RASA put together a whole menu of recipes that you can scrape together using only four or five things you likely already have in your fridge or pantry? For real.
---
---
SPICED CARROT SALAD
---
This easy-to-make salad is great with grilled chicken or lamb. If you like to eat mezze style (as in a bunch of small, flavorful dishes), this dish is the perfect addition to your spread.
Serves 4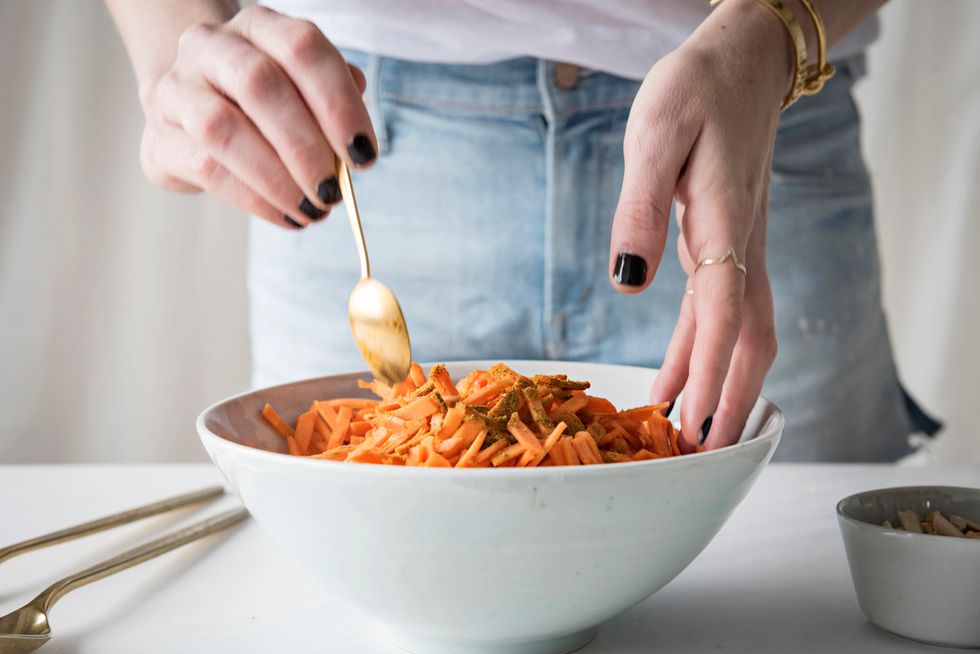 INGREDIENTS:
2 whole carrots, peeled and shredded
2 tbsp dried goji berries or currants
1 tbsp cumin
2 tbsp extra virgin olive oil
1 tbsp slivered almonds, toasted
1⁄2 tbsp Maldon sea salt
DIRECTIONS:
1. Using a mandolin, shred carrots and place in a bowl.
2. Sprinkle cumin over carrots and mix to combine.
3. Next add olive oil, goji berries and sea salt.
4. Mixing thoroughly and serve. The salad keeps in the fridge for about three to four days.
---
RASPBERRY CHIA JAM
---
This takes about 5 minutes to make and doesn't need any added sugar to taste great.
INGREDIENTS:
2 cups fresh raspberries
2 tbsp chia seeds
2 tbsp water
1 tsp fresh lemon juice
DIRECTIONS:
1. Add all ingredients to a food processor or blender and blend on high until smooth.
2. Let set for about an hour in the fridge before serving.
3. Store in an airtight container for up to one week.
---
WARM BRAISED LEEKS
---
This recipe is inspired by my favorite dish at Pasquale Jones in New York. I love the warm, satisfying flavors and the extra nutrients from the bone broth.
INGREDIENTS:
1 large leek, cut in 1⁄2-inch rounds
1 tbsp coconut oil
1 1⁄2 cups chicken bone broth
juice of 1 lemon
1⁄2 cup toasted walnut pieces
salt & pepper to taste
DIRECTIONS:
1. Thoroughly wash leeks—these suckers have a tendency to get a lot of dirt between the layers, so get in there good.
2. Cut leeks into 1⁄2-inch slices.
3. Warm coconut oil in a medium-sized pan with a lid and add leeks.
4. Sauté for about five minutes or until nice and brown, then add bone broth.
5. Lower the heat and allow the leeks and bone broth to simmer, stirring occasionally until most of the broth has evaporated.
6. Add lemon juice, season with salt and pepper and continue to stir for a few more minutes.
7. Serve warm topped with toasted walnuts. Enjoy alongside a roast chicken for a satisfying and nutritious meal.
---
DANDY MOCHA
---
Feels like coffee, but it isn't. The herbal blend can help reduce stress and energize you for the day ahead.
INGREDIENTS:
1 scoop of Dandy Blend herbal coffee alternative
1 tsp raw cacao powder
1 tbsp coconut butter
1⁄2 tsp ashwagandha
1 cup hot water
DIRECTIONS:
1. Add all ingredients to a high-speed blender and blend for about 90 seconds, or until frothy.
2. Pour into a mug and enjoy. If you prefer a little sweetener, add some stevia, coconut sugar or honey.