WWWRN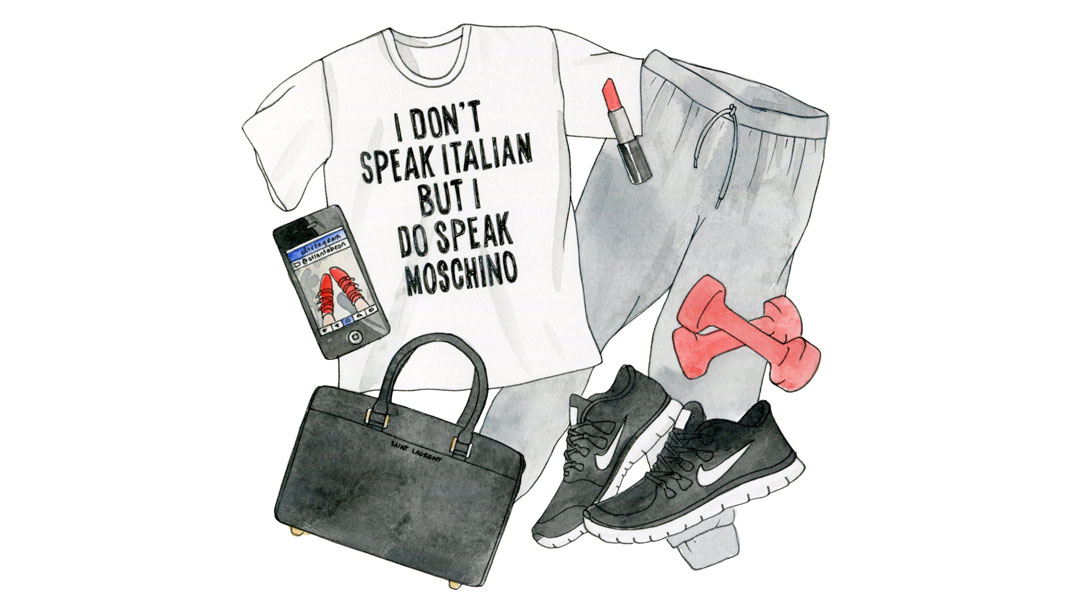 What 7 Editors Wear to Work Out
Or at least take pictures in while working out.
Let's all admit that in this age of social media frenzy, it's never been more apparent that having a cute gym outfit actually kinda matters. Whether or not you agree, it's at least important to wear gear that does what it claims to do (looking at you, one-size-fits-all sports bras) and protects you from possible injury (some of us really like to box, which means WRAPS). Since we all love sharing our newest workout obsessions—or lack thereof—in the office, we thought it couldn't hurt to reveal our editors' go-to gym clothes and accessories. So, even if you're anti taking a post-workout selfie, you'll still feel comfortable and confident in these road-tested Coveteur picks. But remember, if it's not on the 'gram, did you even lift, bro?
---
Hannah Baxter
Assistant Editor
1. Onzie Chic Bra: I'll state right off the bat that I'm not the best at working out consistently, but once I get back in the groove, you'll most likely find me at a 90-minute hot yoga class. It's even sweatier than it sounds, so that means minimal clothing and it MUST be sweat-wicking. Onzie's bras are super comfortable, have gorgeous straps, and keep my girls in place from Eagle pose to my favorite, Corpse pose—aka lying on my mat remembering how to breathe.
2. Mika Yoga Wear Aerial Capri: My workout aesthetic is all about minimalist design, but the last thing I want in the middle of an intense yoga class is to worry about my pants getting slippery and falling down. Balancing on one leg with the other lifted in the air is hard enough, so quality capris or shorts are key. This silky pair from Mika doesn't budge, has minimal camel toe (acknowledge its existence—it's okay!) and retain their shape wash after wash.
3. ASICS GT- 2000 5 Shoes: Let's say I've lost my mind and decided that instead of going to class, I'm going to run on one of my building's free treadmills. It's happened before in fits of extreme laziness or bad weather. Since I have the remnants of heel and knee injuries from years of playing soccer, plus overpronation, I require exceptional shoes. Asics might not be the flashiest on the planet, but they keep me from exacerbating old injuries and push me to stick out a 45-minute interval run.
---
Meg Gegler
Audience Development Coordinator
1. Bandier Ultracor ORDINATE Silk Bolt Set: Recently, Bandier has been my go-to spot for all things athletic wear. Their newest line, Ultracor, is my favorite. The softness of this set makes it easy to slip on, but don't worry—it won't slip during class! Extra points for the built-in underwear. I tested this set out at an intense strength-training class, and it did not disappoint.
2. Overthrow Boxing Wraps: Not only is Overthrow my favorite boxing studio in all of Manhattan (and now in Brooklyn too), but also my favorite in terms of boxing gear. Their patterned wraps are hands-down the best that I've had—not only do they protect my hands, the pattern is refreshingly fashionable for workout apparel.
3. Outdoor Voices Hat: There's nothing quite as effortless as throwing on a hat before rushing out the door to go to a workout. Recently, this Outdoor Voices hat has been my go-to. It's very lightweight, so I usually keep it on during most workouts to keep my hair in place.
---
Leah Faye Cooper
Features Editor
1. Physiclo Pro Resistance Tights: I *might* be slightly biased because my brother-in-law is a co-founder of this brand, but I promise, these legging are the truth. In addition to looking great on (I prefer solid and color-block styles to prints), they have built-in resistance bands that really amplify your workout. Running two miles in them feels like running three, which is brutal in the moment but amazing afterwards. I own two pairs and try to get at least one Physiclo-enhanced workout in each week.
2. NikeLab Essentials Tank: My workout tops need to be loose-fitting, otherwise I feel too constricted. I have several Nike tanks and I think they're the best in terms of comfort and absorbing and wicking away sweat. I haven't added this one to my collection yet, but I'm feeling the muscle cut and the cool grid print.
3. Strappy Front Cami Sports Bra: As a D cup, I'm skeptical of any sports bra that claims to be supportive and stylish, but I can confirm that this one actually is. Whether I'm sprinting (very rare), taking a cardio class (not as rare) or jogging and lifting weights (my go-to), everything stays in place. Also, if I'm doing a hot yoga class—or have the urge to take off my sweaty shirt before I reach the gym locker room—this is a sports bra I can get away with sans top.
---
Noah Lehava
Senior Editor: Health and Wellness
1. Nike Airmax 97 Ultra 17: I'm the first to admit that I buy my sneakers solely based on looks. I'm not a big runner and, when I'm not with my trainer, mostly dabble in a menu of different workouts based completely around my mood. These are the next pair I need in my running shoe roster.
2. P.E. Nation Fast Ball Cotton Tank: I hate wearing sleeves when I work out—I need ventilation! But I don't always want a dainty tank. This one from P.E. Nation has a bit more coverage but is still airy. Plus, it looks cool, so there's that.
3. Lucas Hugh Erte Leggings: I never knew how much I needed denim sandals until I spotted these. While I'm not opposed to all-blue from head to toe, white adds such a nice contrast to an otherwise monochromatic look. And the fringe, you guys? I love it.
---
Tara Gonzalez
Assistant Editor
1. Touché LA Electric Red Leggings: I try to go to the gym almost every day, which means I've amassed a huge collection of workout clothing. I've realized that unlike my actual wardrobe, my workout attire is actually pretty bland and consists of way too many pairs of black leggings. Don't get me wrong, they're a staple, but after a couple of days it gets a little boring. Come Wednesday, cute workout clothing is a necessary motivation, which is exactly why these electric red leggings are so perfect. They actually make me feel dressed up for the gym (there is never *not* a reason to dress up!), and when worn with the matching red racerback bra, they make for a great monochrome moment.
2. P.E. Nation Pace Crop: I have a tendency to wear a lot of crop tops—I'll even tie a knot at the end of a long button-down for an exposed midriff, regardless of the season. Same goes for when I work out. I feel uncomfortable in t-shirts or tanks, so I always just work out in a sports bra. The Pace Crop feels really sexy with the cross design on the back; it's definitely a confidence booster. When I feel good about myself, I work out harder. I would even wear this out with high-waisted pants and an opened-up button-down for a night where I'm feeling particularly sporty.
3. P.E. Nation Set Position Leggings: P.E. Nation is quickly becoming one of my favorite workout brands. The colors and the patterns on their workout gear are enough to make even the laziest person want to work out, just so they could wear them. All of their leggings are incredibly comfortable and flattering. Even when I'm feeling disgusting after sweating it out at Barry's or Overthrow (Meg is right–they're *the* best) I'll still feel good walking down the street in these, especially if paired with the Pace Crop.
---
Jodi Taylor
Assistant Editor
1. Nike Power Legendary Stretch Leggings: I first got my hands on a pair of these leggings two years ago, and to this day they are still my favorite to work out in. The high waist is super comfortable, especially when doing exercises such as burpees and mountain climbers. And no matter how many times I wash them, they still come out looking brand-new.
2. APL Stretch-Knit Sports Bra: I like sports bras that have a good amount of support to them, and this APL one, with its thick straps, looks like it would give me just that. I'm never fancy when it comes to my workout wear, which is why I go for plain black.
3. Y-3 + Adidas Stretch-Cotton Sweater: Yes, I know my entire workout outfit is black. Whatever. Want to hear something more crazy? I like to work out in a good pullover sweater. Guys, it makes you sweat so much more, and once you learn how to breathe through it, you are good to go.
---
Monique Kamargo
Photo Producer
1. Lululemon Wunder Hi-Rise Leggings: I strongly prefer leggings over shorts when I work out, so finding the right pair that hugs in all the right places is essential for me. I always wear these Lululemon leggings—they're great for both sweating and post-workout stretching, without feeling constricted or itchy.
2. Lululemon Free to be Zen Bra: While I do admit I feel slightly like an athleisure-obsessed soccer mom wearing Lululemon head-to-toe, I can't deny that their clothing is comfortable and form-fitting. I often forget I'm even wearing a sports bra when I work out in this one because it's so lightweight.
3. Nike Free RN Flyknit 2017: I realized how important having the right sneakers is after I accidentally left my running shoes at home and had to endure a workout class in my Adidas Stan Smiths—10/10 do not recommend. My Nike Flyknits are supportive and lightweight, perfect for an intense workout class and running around the city.
Part of the series:
WWWRN