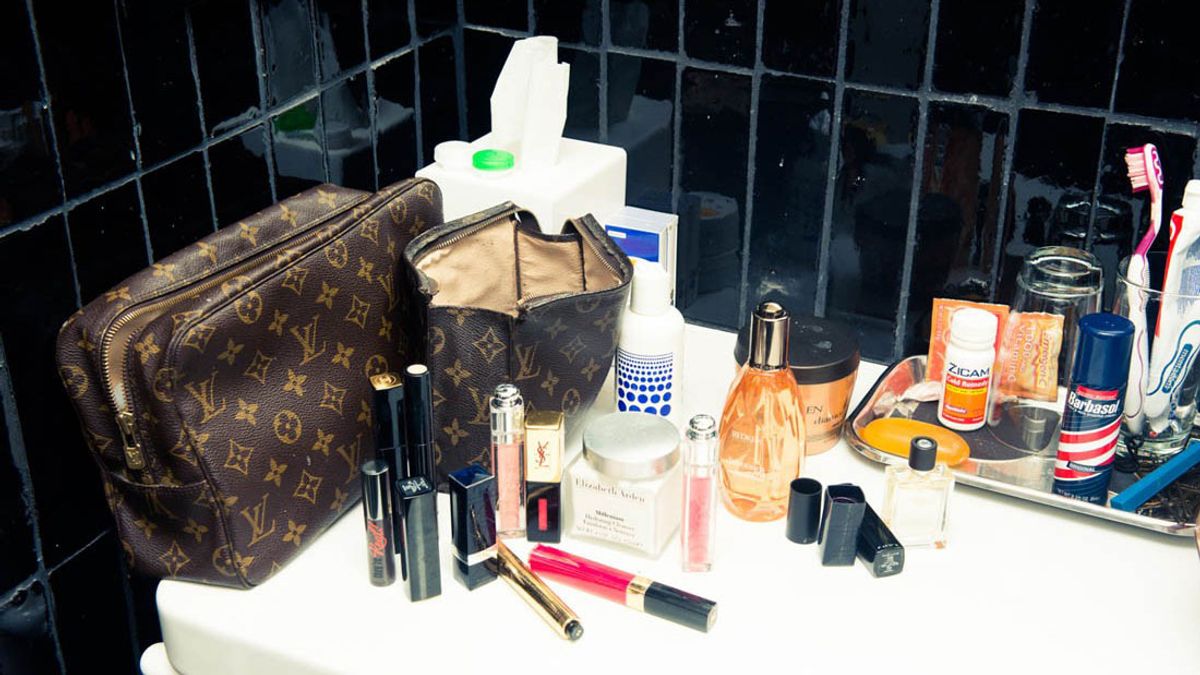 Skin
When they can't get it anywhere else, they stock up when they travel.
Bustle and Coveteur are working together to bring you the best mix of the season's fashion and beauty releases, shopping tips, and service stories in ways that are both inspirational, and attainable. Check The Fall Style Edit channel weekly to see what we're up to.
For me it's always been Fueguia's Agua Magnoliana fragrance: The one beauty product I buy in numbers that will last me until my next trip to Buenos Aires, Argentina, wrapped tightly in bubble wrap, and carefully coddled between my clothes in my checked luggage. For our Coveteur friends—editors, stylist, designers alike—who have each racked up more air miles than our collective team, it's everything from heat-up Japanese eye masks to French pharmacy staples.
---
Hexamidine, Bioderma, and Immortelle
"I am total sucker for a French pharmacy. I love stocking up on Hexamidine and Bioderma, but I can't live without A313. I hoard the mega-sizes of Biafine—nothing works better on sunburns. Sometimes I even use it on my face as a mask on the plane. When I am in Corsica, I always stock up on Immortelle Oil. It's a cure-all, from acne breakouts to summer dry patches." —Djuna Bel, model and stylist
"Every time I'm lucky enough to land a trip to Japan, I grab a few boxes of KAO Megurhythm eye masks. The box is deeply confusing (and not just because it's in Japanese), but basically, the masks heat up—and stay warm for about 10 minutes—when you put them on, working eyeball-soothing, sleep-summoning wonders on long-haul flights. The good news? KAO is finally launching them Stateside in October (they've been available for a while on Amazon, but usually at a much higher price than they go for in the Tokyo airport). The bad? The rose scent variety—my favorite—will still only be available in Asia, so any friend or acquaintance who happens to be traveling that way will have to be my mule." —April Long, Executive Beauty and Fitness Editor, Elle
Biologique Recherche and Bioderma
"When in Paris, I always smuggle in P50 from Biologique Recherche and Bioderma Crealine Water Micellaire from any pharmacy. You can get them all in NY, but they are so much cheaper in France." —Alison Chemla, Designer and Creative Director of Alison Lou 
Bioderma, Bonpoint, and Shu Uemura
"On our bi-annual trip to Paris, when selecting fabric for our collection, I always make a trip to my favorite pharmacy in the 6th arrondissement. I always pick up Bioderma Sensibio H2O for cleaning my face. It really helps to reduce pore size and clean all makeup that soap usually leaves behind. Now that I have a one-and-a-half-year-old, I am slightly more obsessed with his products than for myself. I always stock up on Bonton baby shampoo and body wash. It smells like heaven; and Bonpoint baby fragrance to spray on his little clothes. As well as Bonpoint baby face cream. However, when in Tokyo, Shu Uemura products like the cover crayon concealer is my go-to. It comes in two colors so that you can contour as well. It's hard to find their products in New York!" —Monica Paolini, Co-Founder of Sea NY