Celebrity
Drake's 8th Annual OVO Fest May Have Been His Best Yet
It's hard to argue otherwise when Travis Scott, The Weeknd, and Nelly were involved.
Jackie Beale
While Drake's annual OVO Fest always falls on Canada's civic holiday, some would argue that the festival is a holiday within itself. Most look forward to it all summer, and that inimitable energy you feel when you step inside the concert is reason enough to make it an annual tradition. For his 8th annual OVO Fest, Drake brought it back to the original outdoor venue (now renamed), The Budweiser Stage, and had a bill that was chalked full with fellow Toronto artists, from Roy Woods to DVSN, Majid Jordan, and Partynextdoor.
---
Roy Woods kicked off the show (quite literally) in head-to-toe Gucci—silver sparkly sneakers included—with a requisite OVO "Revenge" chain around his neck, performing hits like "Get You Good" and "Drama." Next up was DVSN, and singer Daniel Daley blessed us all with his vocals. The ball was really rolling and you could feel it in the crowd. When Majid Jordan hit the stage (please note: Majid was in an entire white Canadian-exclusive Kappa tracksuit—so much yes) the duo were more than well received by the crowd—everyone was out of their seats.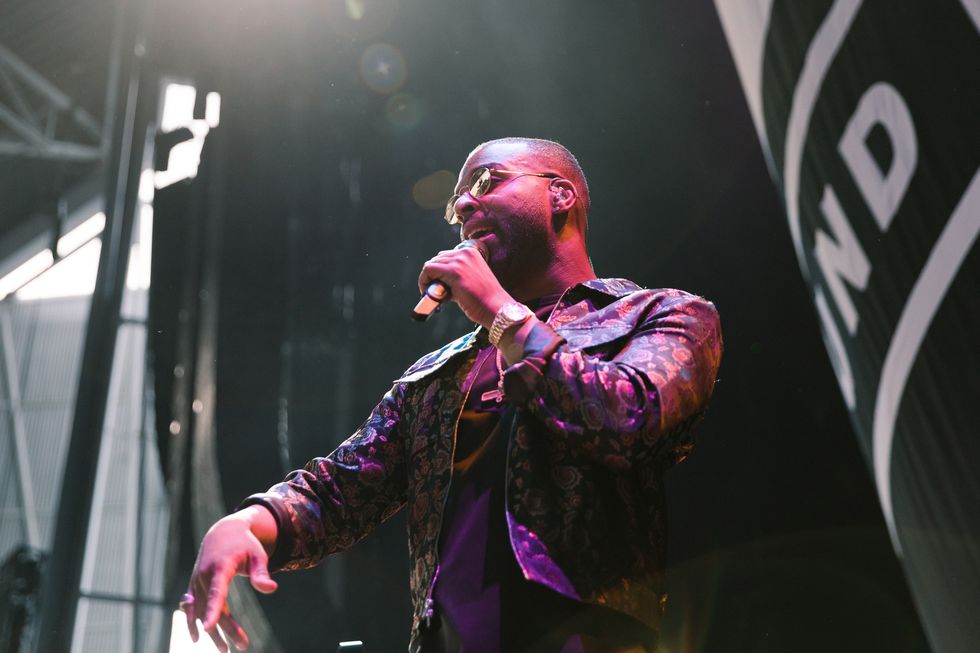 We were two hours in and by the buzzing energy you could just tell Drake was up next. Now, Views was arguably Drake's best album cover to date—you know, the one that showed him perched on top of the CN Tower, Toronto's famous landmark? So you can imagine that when the OVO Sound curtains dropped to reveal Drake sitting on top of a CN Tower replica, people absolutely lost it. You've got to hand it to Drizzy, it was a smart move—from then on, every single other artist who came out (and there were lots of them) was photographed in front of Toronto's greatest attraction.
Drake performed a few of his own songs before we got our first surprise guest: Playboi Carti, who ran out singing the summer anthem "Magnolia," followed by "Woke Up Like This." From there it was as if things moved in fast motion: Rae Sremmurd came out to perform "Black Beatles" and before we knew it French Montana had joined them on stage, singing "Unforgettable" alongside Swae Lee. Following that was a major moment for the city—Tory Lanez ran out to perform his remix of "Controlla," but if you know Toronto, you know Drake and Lanez haven't been on the best of terms. They squashed all beef right then and there on the OVO stage, hugging it out to deafening cheers. From there it was hip-hop's newest love, Cardi B with her new hit "Bodak Yellow" (the entire stage turned a bright hue of yellow), Migos (he had to, no?), Travis Scott who, let's be real, always knows how to get a crowd going, and Partynextdoor (finally!).
We weren't ready for what came next. While Drake explained to the crowd that the next person taught him you can rap and sing, everyone looked at each other in confusion, wondering out loud who it could be, and then, out came American rapper Nelly (unfortunately, sans old-school bandaid on the cheek). If we thought the love stopped there though, it definitely did not. The Weeknd put on an incredible performance with amazing production, and much to everyone's delight, he and Drake performed "Crew Love" together. Drake was quick to then put Abel on the spot, teasing him that an OVO and XO project needs to happen. We couldn't have really thought the show would be over without an appearance from Drake's recent right-hand man, Baka. Of course, out he came to perform "Live Up to My Name," getting the crowd going with his usual through-the-roof energy. Four and a half hours of pure talent. It was another OVO Fest for the books—quite honestly, one of the best ones yet. Until next year.