Fashion
A Beginner's Guide to Buying & Collecting Vintage Watches
What to look for, and where to look—along with some of the most stunning Patek Philippe watches ever made.
Maggie Shannon
Remember what we said about being able to waltz into an auction house and fondle exquisite jewels and decorative objects at Sotheby's? Well, it applies to Christie's too, and from now through Sunday in New York, their doors are open to anyone who wants to come in and touch or try on the unbelievable watches from their Patek Philippe sale. Some of the items on display are not, in fact, for sale—but you can still get a closer look at most of them.
And for those who are either watch collectors, or looking to get into that space, there's no better place to go than this exhibition to get a feel for what you like and what makes a collectible watch. We got a personal tour from Rebecca Ross, an associate specialist in the watch division at Christie's, who gave us the basics of watch collecting along with the behind-the-scenes info on some of the most special pieces from the exhibition. Keep scrolling for her tips for entry-level collectors, as well as to see some of the most beautiful pieces from the exhibition.
---
How to educate yourself:
"Christie's is a great place to educate yourself because we have watches for all different price points, and if you're an entry-level collector, you're probably on the lower side, and our online auctions are great for that. On our online auctions (we have about five a year), you have watches ranging from $2,000 all the way up to sometimes $200,000, and that's a great place to start. You can access that anywhere around the world on the Internet."
Good entry-level brands for collectors:
"If you're an entry-level collector, Patek does have some really accessible price points. Longines is definitely rising, and Universal Geneve. These aren't typical names that a lot of people have heard of, but I think they are ones that are fast appreciating, and I think if you are buying for love and investment, then those would be good choices."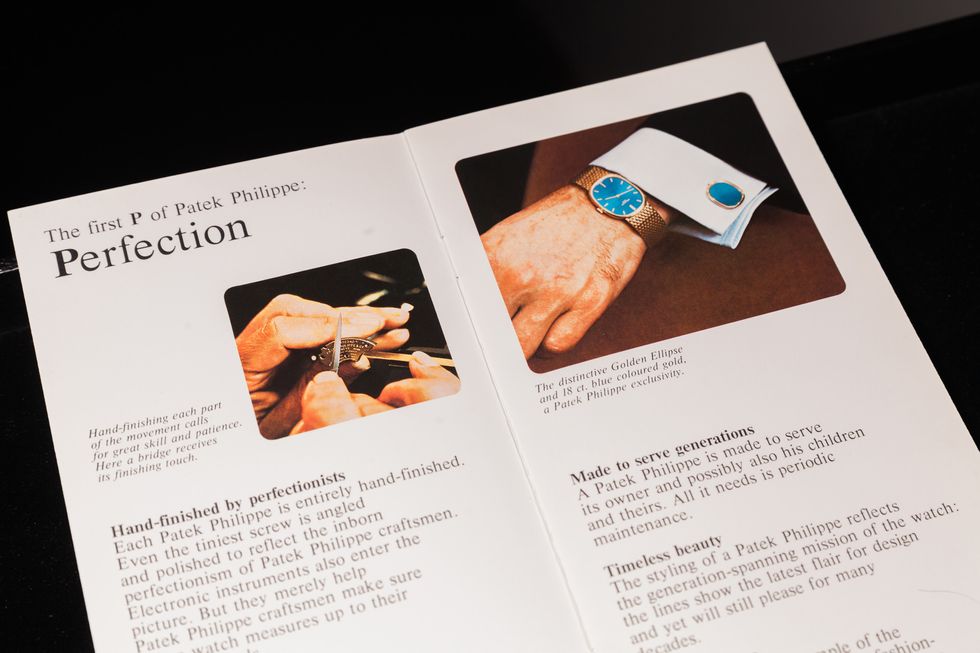 Red flags to look out for:
"In the watch world, just as location is important for real estate, condition is important for watches. It's all about condition, so you want to look for a watch that hasn't been over-polished. You want the watch to have nice, crisp, and sharp definition. If you look at the case, you'll look for a watch that has crisp edges, which means it hasn't been over-polished in its lifetime and it still has the same definition as it did when it first left the factory. You also want to look at the dial condition. You want to make sure that, if you can, that it hasn't been refinished, that it's all original. It's really the details of the dial that you need to be aware of."
Where to have a special piece cleaned and cared for:
"I always say go to the manufacturer. It sometimes can be a little bit more costly than going to 47th Street, but then you'll get a service invoice and service guarantee, which can certainly help when you're trying to resell down the road, if that's something that you're interested in doing."