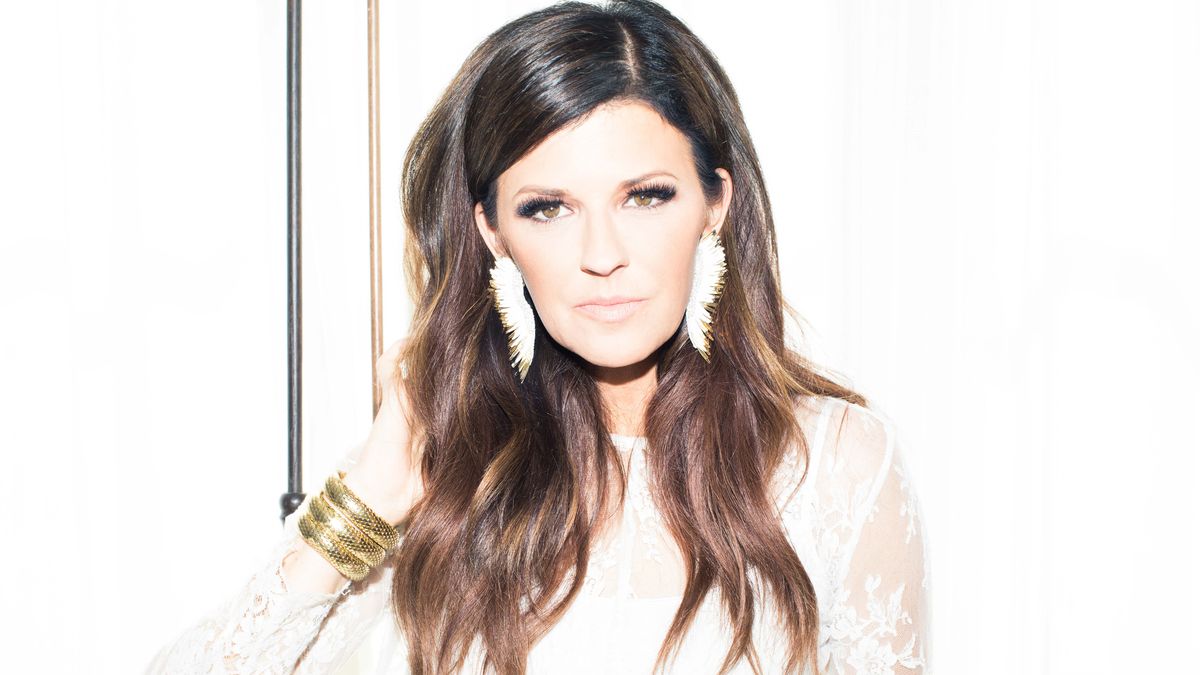 Celebrity
Same. Plus, the singer has a horror story about that dress from the "Better Man" music video.
It was late. I was tired. And our seats were so far from the stage that the performers practically looked like ants. But it didn't matter; I was here to see Little Big Town—and, more specifically, Karen Fairchild. As she entered the stage, singing crisply and clearly, it was hard to believe that this was the same woman I had met a few weeks before. The one who talked about cleaning out her closet and nearly ruining a very, very expensive couture gown.
But that's basically who Karen is—crazy-cool with out-of-this-world vocals, but still someone who tells you to try on her Balenciaga boots (in other words, insanely nice). However, you'll never forget she's a country singer—even stories Karen has about savvy shopping and creating her own fashion line are so full of detail, they could easily become hit songs. Read on for some of the best ones I heard while sitting in her hotel room.
---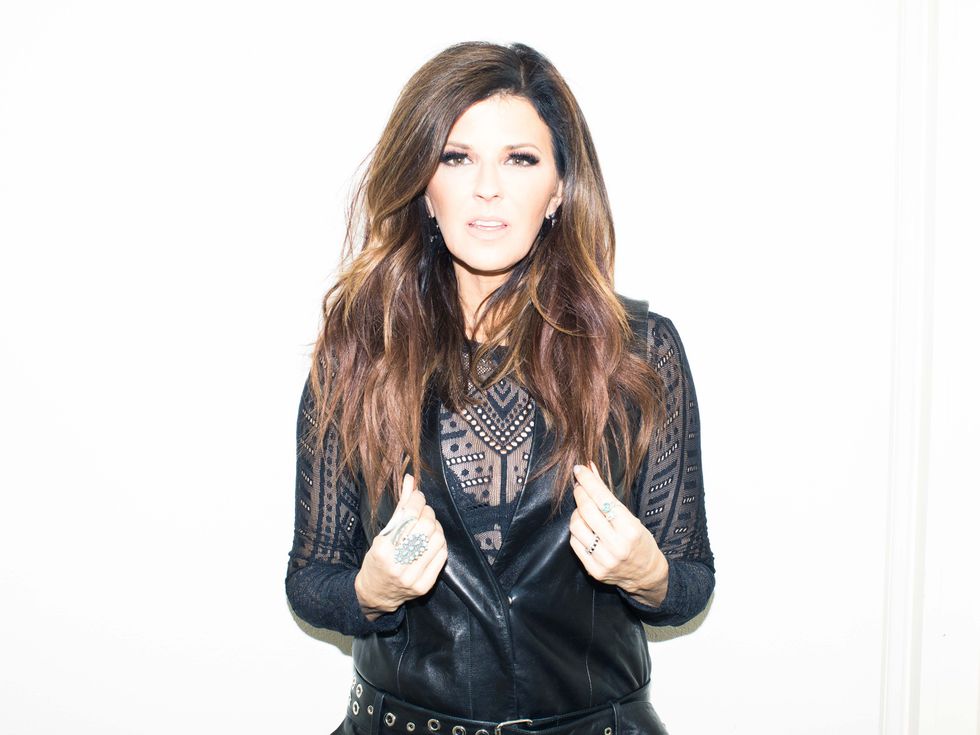 She loves a good deal:
"Some of the secrets are out, like U.A.L. [United Apparel Liquidators] in Nashville. They just have beautiful things, and a lot of [the] time, there are things leaving the runway [going straight] to maybe Neiman Marcus or something, and end up in Nashville in these shops. I'm a pretty savvy shopper, I would say, and an investigator and lover of consuming fashion. I love to find a designer and then end up finding that piece in U.A.L. That's what happened with a Marni skirt, the one with the circles. I saw it in an editorial spread, and I was like, 'Uhh, I love that piece.' I went into U.A.L. and there it was, six or eight months later."
She's an advocate for treating yourself for life's big moments:
"I get to play dress-up all of the time. I'm a lucky girl because I have excuses to buy things. The band laughs and the whole management team will be like, 'You won a Grammy, what are you going to buy?' I'm like, 'Something big.' I can't remember what I bought. I think I bought an Alexander Wang bag. Now that I can online shop…it's all over. I get on Net-a-Porter and just go click, click, click. Especially late night when you're drinking wine? It's the worst, but the best. I wake up the next morning being like, 'That's where those Givenchy boots came from. That was late-night Net-a-Porter.'"
Nashville girls inspired her own fashion line, Fair Child:
"The camo jacket is a very relevant piece. We laugh about leopard being a staple, but I kind of think camo is too, especially for Nashville girls. They're just good at finding, you know, Granddaddy's jacket and embellishing it, and putting it with some amazing denim and some kick-ass boots. It just looks effortless, in the way that Kate Moss used to dress, or still does dress. It's like, 'Oh, I woke up like this.'"
It's hard for her to clean out her closet:
"I've been thinking that I need to purge for a while, but I start to and go, 'Oh, this designer doesn't even make this anymore, and I wore it on Jay Leno's Tonight Show. I have to keep it.' I hang on to things like that, and it always comes back around. I think cowboy boots are about to have a big moment again, and Western-influenced clothing for the fall is going to be huge. You can't really let go of stuff. My biggest regret is that Karen Elson invited me to [shop] her vintage when she purged her closet, and I couldn't go."
She's all about practicality:
"I was looking at some bag the other day, I don't know who makes it, but it's a designer, and I'm like, 'They're not using that bag.' You have to unroll it five times to get it open. Who is going to do that? I appreciate it, but I can't. I'm a working mom. I'm all about a fanny pack, too—a good one. I saw one at Barneys the other day, Clare Vivier–she made one that was blue leopard on a brown belt. That is fanny pack dreams. When you can be hands-free as a mom, you're like 'Ahh.'"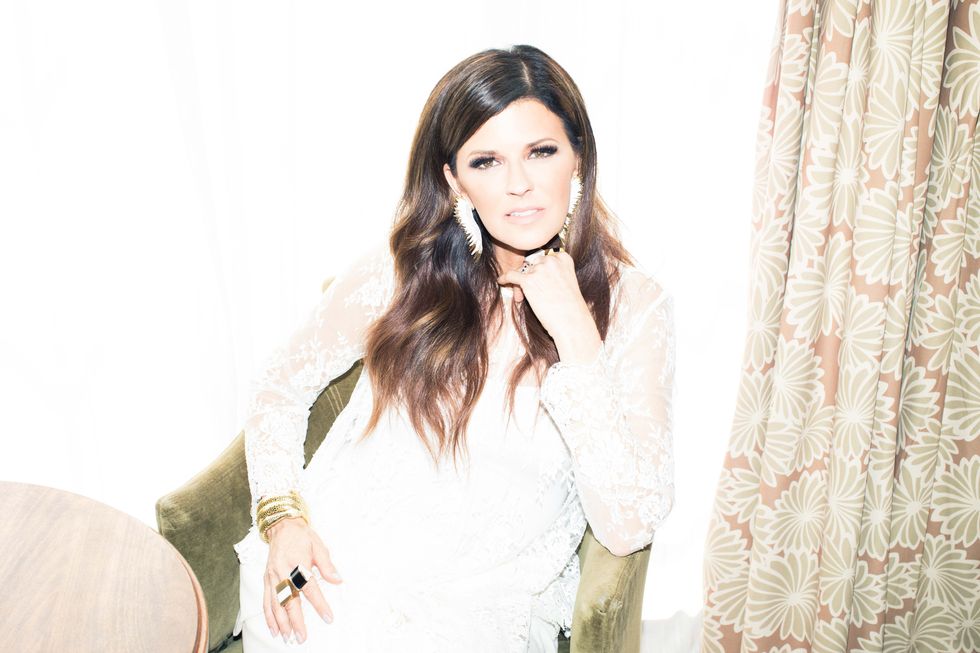 She has a crazy story about the Cavalli dress from the "Better Man" music video:
"I'm really fortunate to work with Karla Welch, who is amazing. Karla had a vision of that dress right off the bat. I think it was the first thing I tried on. She was like, 'Put this on,' and we were done. We had racks and racks of clothing, but it's this beautiful jade green; it's just so pretty. She was like, 'Let's wear your Golden Goose [cowboy boots] and make it super high-end, but pull it down.' The director was like, 'We're going to start off with you running through the field.' Erica Cloud, who now dresses Mandy Moore, was, at the time, with Karla. Karla had to go to another shoot, and Erica goes, 'No, she can't run in the field in this dress. It's a couture dress.' They were like, 'What if we clear out all of the branches and stuff?' Two of the directors were clearing out branches. They were like, 'If she just runs this way, maybe it will be fine.' The director of photography, Christopher Probst, was doing handheld stuff and going to chase me through the woods, and I was going to burst out and run in these fields. I said, 'Let's just try it. If I have to buy the dress, we'll buy the dress. It will be a memento and a keepsake for me. Text Karla and ask her how much the dress is, and I'll do the first shot.' So, I take off running, we're going through the woods, [and the DP] steps on the dress and we rip a hole in it, right off the bat. It was the first scene, the first take. Erica was like, 'Oh my gosh.' I look around and there is this big gaping hole, right at the seam. I ask, 'How much is the dress?' She goes, 'Well, good news, it's only $800.' I'm like, 'Then, it's mine. We'll make it part of the repertoire. We won't panic.' We keep running through the field, we're doing take after take after take. In the meantime, Erica comes back and goes, 'I was wrong—it's $800 a week to rent, and there will be a huge damage fee.' It was thousands and thousands of dollars if we were going to buy it. I took it off during lunch and she hand-sewed it, and it was perfect. It was right on the seam and she sewed it back together. That is my Cavalli story."