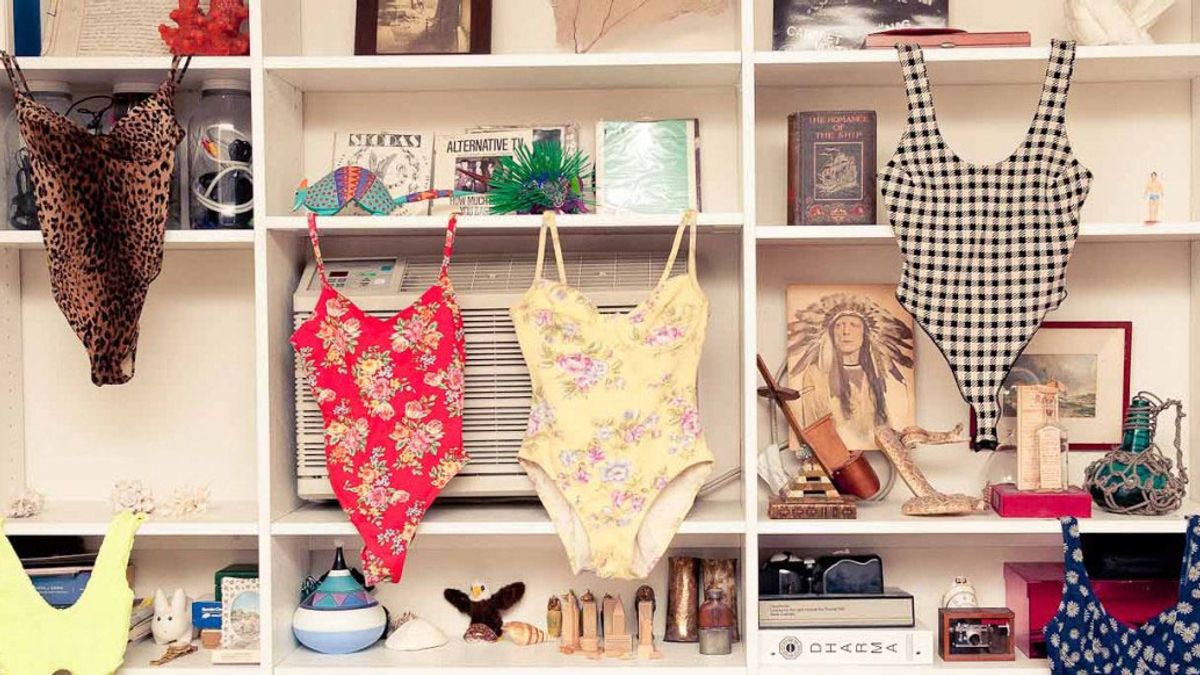 Fashion
This new website is our go-to for the most perfect one-pieces.
Bathing-suit shopping can be a bitch. You're either struggling to figure out your online sizing, or battling with awkward fitting-room mirrors (why can't they all just be slimming?). Enter Andie, a luxury one-piece swimwear company that allows you to try on the bathing suits in the comfort of your own home. The company's founders, Melanie Travis and Tess De Paula, wanted to create a comfortable and simple shopping experience while also still focusing on the quality (hence only offering one-piece suits in three different styles). But wait, there's more! Andie swimwear is "for women, by women, in the USA," aka their team is made up entirely of women, and their suits are made in a women-owned factory in downtown L.A.

To see if the swimsuit brand was as amazing as it sounded, we decided to put it to the test. We had three of our tallest friends (myself included!) try out the service (and all three suit options), talk about their experience, and then rate each one-piece by "Keep" or "Return." Let's see if Andie swimsuits will become our go-to for one-pieces; our fingers are crossed that the search is over!
---
Pear-shaped with a long torso
"I am always skeptical about trying on one-pieces—they just never seem to fit my body quite like they should. I am tall with a long torso but have a pear-shaped body, and let's just say I've been the same bra size since I was 10. I get excited when I see how cute swimsuits look online and how cute they are when I open the package, but then know within 2.5 seconds that the one-piece will be going immediately back in the box to return. It's a frustrating and discouraging experience to say the least. Enter Andie. I am suspicious, but also we have (almost) the same name, so they must be good, right? The process started off the same: cute online, cute straight out of package, tried them on but then *didn't* immediately put them back in the box to return. In fact, I wore them around a little, looked at myself in the mirror and, for the first time in a long time, thought I could actually pull this off! Each style was slimming, actually fit, and the most frustrating part of the experience was picking which of the three I liked best! I ultimately went with the Catalina because I was nervous the Tulum might be see-through when wet and the Montauk was slightly too high-neck for me, although I loved the straps on it!"
The Catalina: Keep
The Tulum: Keep (to lounge, not swim)
The Montauk: Return
Long and narrow
"My problem with one-pieces is that while I'm generally a small in bikinis (I'm essentially flat-chested and my butt is average at best), my torso is far too long to put me safely in size-small territory when it comes to maillots. And I therefore find it very difficult to rely on traditional sizing when it comes to buying swimwear online (which is honestly my usual shopping method for almost all clothing and accessories other than vintage). But here's the thing: All of the Andie suits, all in size small, were pretty darn close to perfect. Besides bagging the tiniest bit in the back and pulling a little bit in the front (tiny details that only I would notice), the black bathing suit [The Catalina] fits. I love the cut of the blue suit [The Montauk]—high over my bum and hips, and high at the neck with a low scoop back. The looseness at the top makes me think that it's cut for someone with larger breasts, but that would also leave you with some pretty serious side-boob action. The long straps cause a little bit of pull at the bottom of the scoop, but I still love how it looks. The white bathing suit [The Tulum] (a swimwear shade that's usually a deal breaker for me) actually fits me the best. In fact, as far as one-pieces go, it's close to perfect—high-cut in the thigh, feels snug and secure, but not uncomfortable. Yeah, I'll keep them all."
The Catalina: Keep
The Tulum: Keep
The Montauk: Keep
Slight hourglass with long torso
"I struggle with the same long torso problem as the above two ladies. One-piece bathing suits can be so tough to find that I typically avoid them altogether (lazy, I know). When I first got word of Andie, I was ecstatic. The fact that I could try on the bathing suits in my own home and walk around in them for a bit to get a true feel is a dream come true for me. The day my package arrived, I turned on some music and got to it. I was pleasantly surprised with each suit that I tried on. First up was The Montauk (I'm a huge fan of navy, so I was excited for this one). While it fit like a gem—I couldn't believe the straps were perfectly taught on the back—I wasn't so into the high neck, but found that the suit as a whole literally fit like a glove. Next up, The Tulum. Again, it was a great fit all around, but I did find it to be slightly see-through—a little too see-through IMO. Figuring I wouldn't want to risk it, I moved onto The Catalina and immediately started dancing around my room. Not only did the black bather make me look slim, it had a higher cut on the thigh (which I love) and felt super secure thanks to the hook closure on the back of the neck—even though it wasn't the easiest thing to do up. It's crazy how I immediately knew which suit was the perfect fit for me (I'll deal with the hook closure)—finally I had a go-to one-piece bathing suit that I knew for a fact was a good fit (and good quality) after wearing it for about 30 minutes or so around my place. Figuring a second one-piece is never a bad thing to have, I packed up The Tulum all on its lonesome to ship back. The beauty is a return slip is included in your package. One-pieces made for tall girls that you get to try on at home and don't have to pay to return—what more could we honestly ask for?"
The Catalina: Keep
The Tulum: Return
The Montauk: Keep