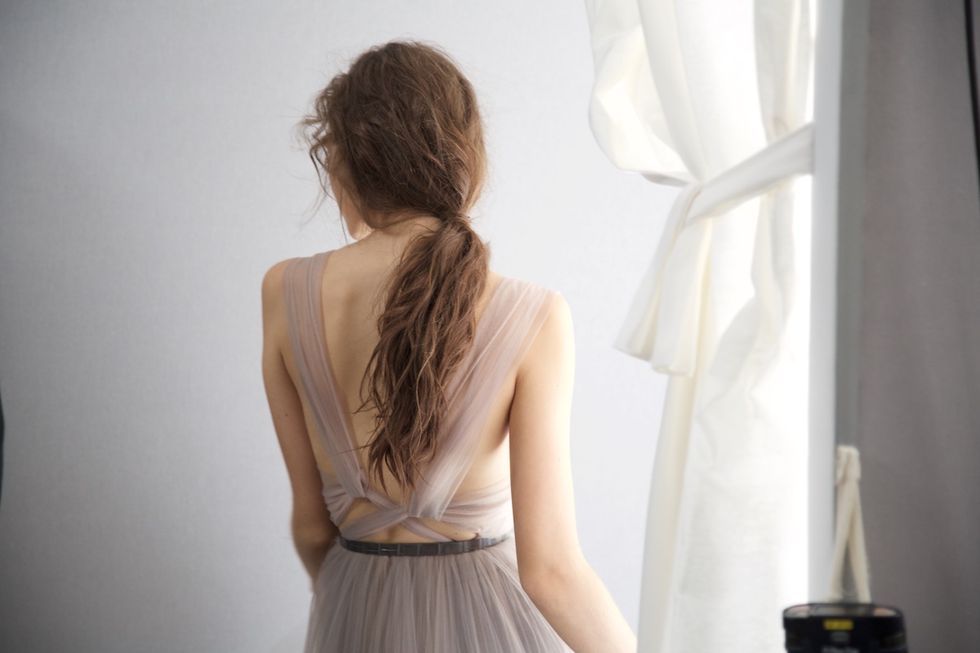 Fashion Week
Maria Grazia Chiuri's signature brand of romantic feminists brought the house down, once again.
Alfredo Piola
For Christian Dior's 70th anniversary, the brand's designer, Maria Grazia Chiuri, drew inspiration from the founder's first collection and sent out a series of reworked archival silhouettes reimagined through her feminist lens.
In her research, Chiuri discovered that after the inaugural show, Mr. Dior's dresses were sold around the world from South America to Asia. The brand's founder traveled with the gowns, promoting his collection, which was predominantly grey and used masculine fabrics like tweed and flannel. Chiuri wanted to give a nod to the women who supported the brand in the early years, and in keeping with the spirit of travel, she turned to strong female explorers from the turn of the century, such as Amelia Earhart, who provided the inspiration for the makeup look.
This season, the Italian designer focused on men's tailoring with a feminine slant. Chiuri, who presented her second haute collection for Christian Dior, continued to rework the Bar jacket, but this season's versions were softened with rounded shoulders and less exaggerated hips. Outerwear was a key focus and included heavy herringbone coats cinched at the waist with thin leather belts that were paired with billowy ankle-length pleated skirts. There was also flannel wrap-neck coats secured shut with contrasting belts but featured a fluidity to its silhouette. Leather aviator jumpsuits with shearling detailing and goggle-inspired sunglasses imbued a sense of sportiness and travel to the otherwise tailored collection.
In keeping with the tradition of haute couture and of the house, Chiuri delivered a procession of ethereal evening wear in delicate chiffon and tulle. Ebullient surfaces were seen throughout from voluminous yet weightless ruffled gowns to densely intricate floral detailing embroidered onto featherweight chiffon dresses.
The collection was a celebration of all things Dior and provided insight into how Chiuri, the first woman to helm the storied brand, will propel the brand forward with her vision of femininity. 
Click through below to check out more from backstage, and to hear how Creative and Image Director of Christian Dior Makeup Peter Phillips created the look.
---