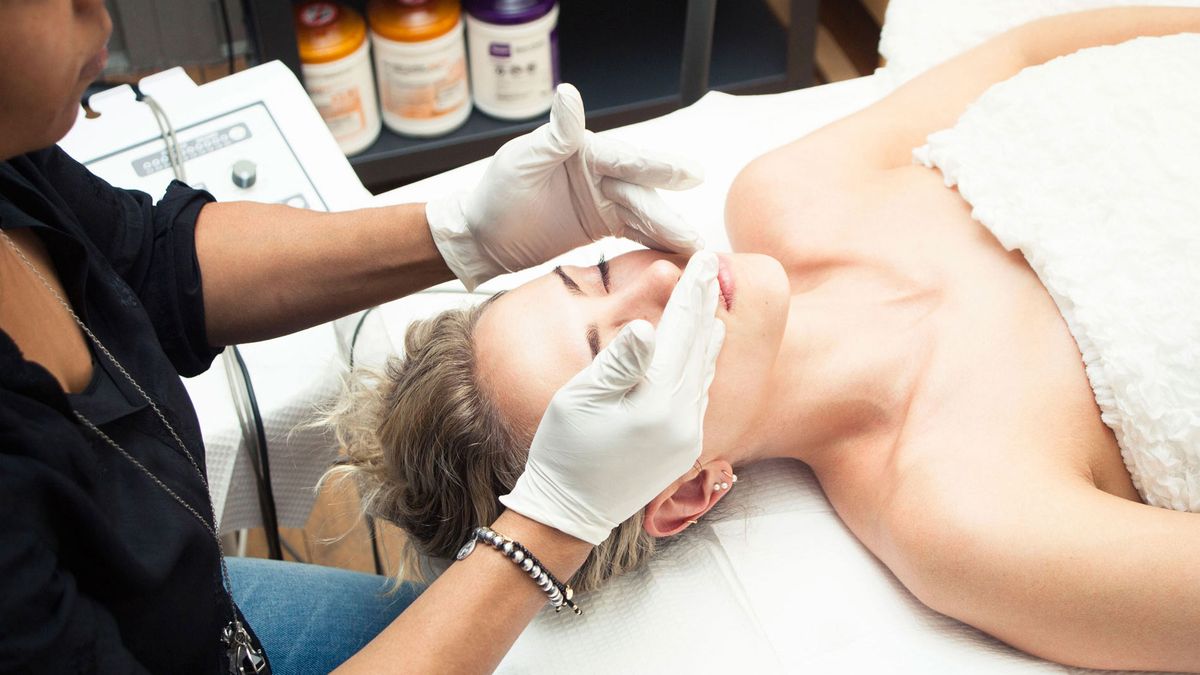 Hair
A low maintenance summer routine wouldn't be possible without them.
Are you sick of us going on and on about how it's finally summer? Or about how we are being the best version of ourselves? Before you leave us for your own summer activities, we're letting you in on some of our best-kept secrets: the summer treatments (think: waxes, brow tints, and facials) that we rely on to get us summer ready. 
---
---
Laurel Pantin
Editorial & Fashion Director
My whole Beauty MO can be summed up in one word: lazy. Okay maybe two: lackluster and lazy. I am so all over the place that I hardly do anything. I will honestly go a month and a half without shaving my legs, not because I'm trying to make a point or I don't want to, I just...forget. Given my unwillingness to put in even the most minimal of efforts, I'm all about beauty treatments that have long-lasting results. Like a brow tint, which I've dubbed "the blowout for your face" because it makes you look just slightly more put together, without giving the appearance of having tried really, really hard. Then, despite the fact that last November I declared I'd never highlight my hair again, and would spend the rest of my life enjoying my natural shade of medium (mousey) brown hair, old habits die hard and I'm blonde again. To get me back to my preferred shade, I saw colorist Miranda Shaffer at Adel Atelier, and I was actually shocked at how perfect it came out. I love her.
It took me about 25 minutes to think of another summer beauty treatment I do, but groundbreaking news, this is not, but I do enjoy a pedicure! I prefer sheer pinkish polish on my toes and fingernails because I wear so much color and jewelry as is, I don't need one more thing in the mix. Essie's Hi Maintenance is my go-to.
---
Hannah Baxter
Assistant Editor
My summer self care routine is all about streamlining, so I spend more time lounging on a beach sipping margaritas and less time worrying that my eyebrow gel has melted halfway down my face. Since I have massive brows—the kind that announce my presence before I am fully in a room—I always take extra care of them, and in the summer I can fully justify more frequent brow tints. Boom Boom Brow Bar is fast, inexpensive, and the girls always make sure my brows are on point. When the weather flips from seasonably warm to uncomfortably boiling, my skin decides to revolt and I book an emergency appointment for Heyday's 50 minute facial. The deep cleansing and extractions reset my face for the upcoming months, and there's nothing I love more than walking out bare-skinned and glowing. I've also recently plunged headfirst into life as a blonde, and my newly golden hair is all thanks to the crew at the John Barrett Salon inside Bergdorfs. Gina Monte captured my ultimate surfer girl hair dreams, while Andria Tobey Falcaro kept my waves healthy and bouncy. For me, summer will always equal perfectly sun-kissed hair, and these girls know how to deliver!
---
Jodi Taylor
Assistant Editor
I like to think that I'm pretty low maintenance, especially in the summer. Outside of moisturizing my body every day (I love cocoa butter!), I pretty much just trim my hair and get eyelash extensions, throwing in a facial here and there if my skin is feeling dull. My hair grows like a weed, so it helps that my hair stylist is one of my best friends, Brittany Libby—I visit her at Moretti Hair Salon in Toronto for my all my hair needs. For my eyelashes, I go to Naked Eye Lash Studio about every two weeks. Noah said it before, and I concur that eyelash extensions have made me more low maintenance. The only other summer beauty treatment I consider a go-to is a Purple Ray Facial at Tracie Martyn. I deal with a ton of breakouts, especially in the summer, so the extraction portion of this facial is much needed, while the LED lights and oxygen mist help chill out my skin's puffiness.
---
Tara Gonzalez
Assistant Editor
For me, summer is all about confidence; showing off more skin, more leg, more everything and completely owning it. That confidence starts with what I'm looking at all day–my hands, typing away at my computer. I have loved Chillhouse ever since it opened, and my favorite design is a white base with doodles drawn on top in black. I had my gel manicure done last month and it's lasted forever! My fingertips have been transformed into tiny paintings and people compliment them everyday. My hair, which is insanely long—I refuse to cut it—I go to Julie Dickson of Pembley who is amazing. She gave me my first blowout and I have been going back ever since. I often find people are overwhelmed with my hair (I'm not kidding when I say it's looooooong) but she always finds the cutest ways to style it.  And although this isn't necessarily a 'beauty treatment' it makes me *feel* beautiful so that counts, right?! Truly nothing feels better than sweating it out at Barry's or Tonehouse on a Friday and hitting up Rockaway Beach on a Saturday with muscle I notice (and want to flex) right away.  
---
Noah Lehava
Senior Editor: Health and Wellness
Let me preface this by saying I pare back my routine immensely for the summer. Vitamin D and a healthy dose of sun rays (I SPF, I promise) are just what my hair and skin need. But in the first month of *real* summer, I love going to the Miraj Hammam Spa by Caudalie Paris at the Shangri-La in Toronto for a Hammam & Gommage treatment. It's a little awkward the first time around—it starts with an intense session in a steam room (Hammam) and then a butt-naked scrub down (Gommage) on a slab of Jerusalem gold marble—but the results are amazing! Baby soft skin. As for the rest of my routine, other than a pedicure, which can last me through half the summer, I don't do anything else. 
---
Katie Becker
Contributing Beauty Editor
I am a pretty pale lady and I like to stay that way through summer thanks to lots of SPF 50, but it also means I can look a little ghostly without the proper precautions. First of all, I have completely blonde eyelashes, so a dye job on my lashes and brows is a must. It keeps some definition on my eyes even after a dip in the pool. Sabah at Blink has a goddess-like touch. Then, for some color on my toes, a pedicure at Jin Soon in her pretty burgundy Audacity polish is my go-to. And if ever I stray, I regret it. Burgundy is a classic like a red, but without being eye-catching, because, TBH, after these dogs have had a day on the New York City streets, I need something that's less attention-grabbing and more subtly flattering. Finally, for the old bikini line, there is nothing more effective (though dare I say painful) than sugaring, which I do at Daphne in NYC. Take a shot of tequila before you go, but it will be worth it.