Getting Ready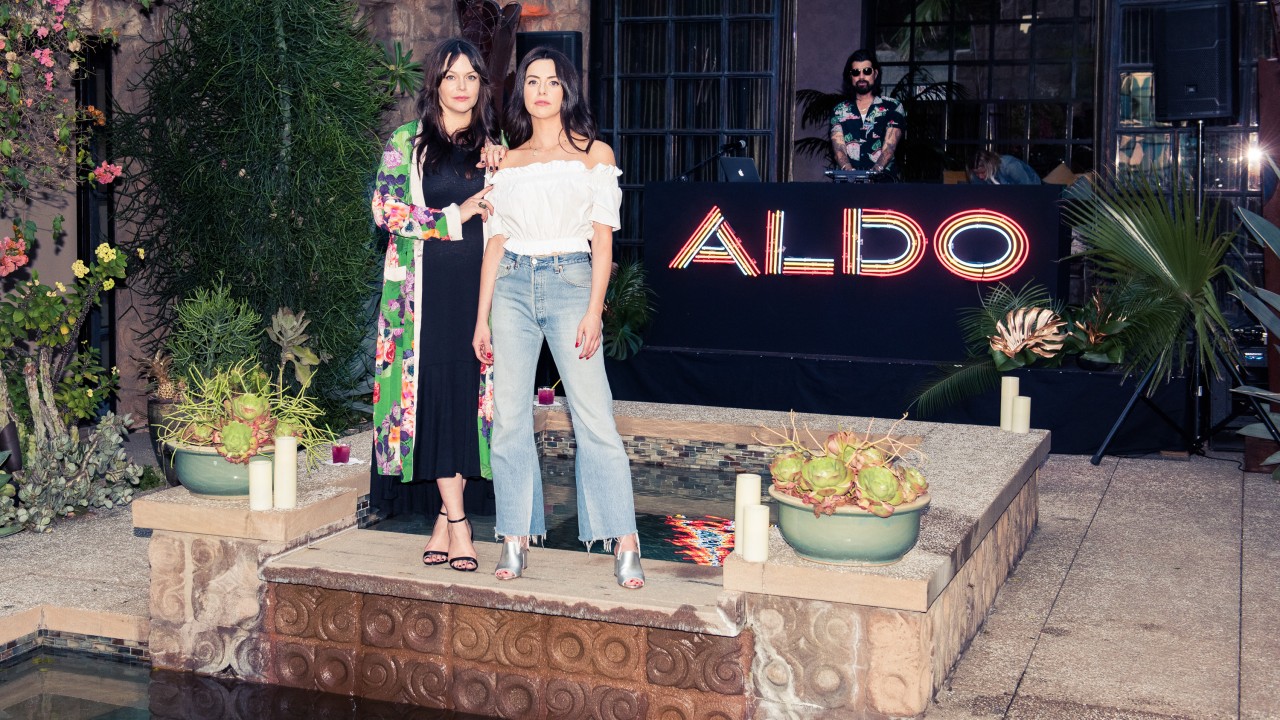 These L.A. Designers Have a Totally Relatable After-Party Indulgence
We pre-gamed with the Elkin designer-stylist duo ahead of a tropical L.A. pool party. In collaboration with Aldo.
We don't know about you, but to us, picking an outfit for a big event is always better done with friends. Better yet if that friend is also your sister, and the event happens to take place in Sowden House (which looks like a Mayan temple!) and the guest list for said party is packed with your very sartorially inclined friends. So when the designer-stylist duo of L.A.-based label Elkin, Brit and Kara Elkin, invited us to hang out ahead of Aldo's very L.A. tropical pool party and play with piles of Aldo shoes and a cache of accessories, we couldn't say no.
As the sisters sat in glam, Brit tousling her hair into undone waves, Kara swiping liner into a dramatic cat eye, and Van Morrison playing in the background, we talked skin prep before big parties, pep talks, Postmating after hours and after-parties, and of course shoes.
The morning of the party:
Brit Elkin: "I work out, have coffee, and call [Kara] to ask her what she's wearing."
The skin prep:
Kara Elkin: "I'll start with warm honey to wash my face with honey, and then I'll use Tata Harper oil face wash, face spray, and then the moisture repair, and finish with Clary Collection body oil and balm."
BE: "I'm really into scrubs, once a week, and then face masks. Charlotte Tilbury was so sweet and sent us a bunch of her skincare products from her line. I've been using her mask, and then I use a Sisley mask, which is a rose and black tea mask. I finish by us[ing] SkinCeuticals Vitamin C."
How they picked out their outfits:
BE: "I had five outfits lined up. I'm definitely a pants girl in fashion and just life. Since it's exotic glamor and tropical L.A.—a historic getaway—I just knew I wanted something like the French yé-yé girl movement. I'm no-fuss. I just went for that 'I'm on a yacht in St. Tropez' sort of look. Plus, Aldo's summer collection is like wearing a vacation on your feet."
KE: "It would take too long to talk about the shoes Brit chose for the party since she had FIVE shoe changes. But that just goes to show you how many Aldo styles went beautifully with her look that night. [I] chose a classic black sandal that was both matte and shiny (the IZABELA). It had a very cool 70s vibe, and it was refreshing to have a great basic with some layers of complexity added in.
"I went for gothic tropic. I did black nails and then a really loud tropical kimono over it. I had a baby a week and a half ago, so the kimono and the big dress are really helping my cause."
Their spirit animal in this look:
BE: "I'm like a hummingbird meets cheetah. I want fierceness, but I'm very delicate. I'm just fluttering around."
KE: "I see the animal, but I don't know what it is. It's from The Secret of NIMH, like a little gypsy rat."
The pre-game playlist:
BE: "I have one I created for every event because I'm so into music and curating a list for all my friends. I would say Van Morrison is always on my go-to. It's classic and good."
KE: "I just call her and tell her what I want my vibe to be that night, and she makes it for me. Always."
Their unique getting-ready rituals:
BE: "I can shake it. I dance and get into feeling sexy."
KE: "I lie on the bed, look at the ceiling, and give myself a pep talk."
BE: "Pep talk is her ritual—'Should I cancel?'"
The last thing they do before walking out the door:
KE: "Kiss that baby…and splash champagne on my face."
BE: "Give my dog a bone, check myself out and make sure I'm feeling confident."
They never leave the house without:
BE: "A tinted moisturizer, a lip stain, and sunglasses, really good sunglasses."
KE: "I never leave the house without Clary Balm, my Monica Vinader bracelet that has my son's name in it, my wedding band, and Tata Harper chapstick."
Their after-party indulgences:
KE: "Any late-night Postmates I can get my hands on.
BE: "Carbs, chocolate, and maybe some good red wine."
The hangover cures they swear by:
KE: "I just eat more carbs."
BE: "I do a sweat lodge in Hancock Park. Sweating it out is the best."