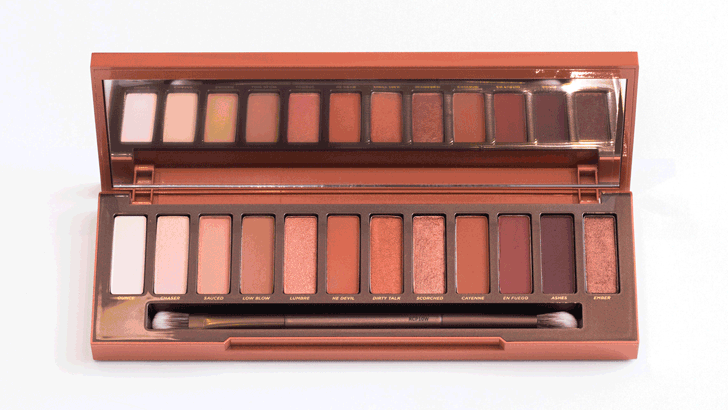 Makeup
As if you didn't want it badly enough already.
Ben Ritter
There's viral beauty products and then there's Urban Decay's Naked eyeshadow palettes. The original 12-shade compact is still one of the best-selling beauty products at Sephora even though it launched 7 years ago, and, now, six collectable iterations later, the latest Naked Heat Palette, with 12 warm, copper and rusty tones, blew through its pre-sale in 13 hours and is now on back order on UrbanDecay.com. (Hot tip: It's still available on Sephora.com and Ulta.com–for now.) In total, more than a billion dollars' worth of Urban Decay Naked eyeshadow palettes have been sold. Damn.
Thanks to friends in high places, we got our hands on a couple of palettes, and we handed one over to makeup artist Ashlee Glazer, director of makeup artistry of Pucker makeup studio in SoHo, who showed us exactly how to make the most out of the palette's warm, smoldering tones.
---
ASHLEE'S HOW-TO
Even though orange and tawny eye shadow might feel unusual for everyday wear, they're actually super flattering. "I love reddish, rusty tones because it mimics the natural tones in our skin and makes it warmer, like when you get a tan," she says. "It gives us more life."
For the look in two images below (left and right), start with shimmery Lumbre all over the upper lid, using your finger or the round brush in the palette. "It's a beautiful balance of pink and gold," Glazer explains. Then add the shimmery copper Dirty Talk on the lower lash line, using a small, pencil-sized shadow brush. "You want it close to the lash line and a little thicker than eyeliner," she says. "But it's not about being perfect when you're blending with metallic shadow." Finally, finish with the matte terra cotta He Devil in the outer upper corner. "The look is summery and effortless," she says.
INTENSIFY IT
If you're going out and want to really turn up the heat (see what we did there?), Glazer suggests using shades with the most contrast in color and texture. First, she started with the dark red-brown Ashes around the outer corner of the eye, on both top and bottom, to accentuate the eye shape. To really enhance one of the signature shades in the palette, an orangey metallic called Scorched, Glazer wet a flat brush with Evian spray water for maximum pigment payoff and applied the color to the center of the upper eyelid. Next, she blended the matte brown En Fuego into the crease and above the upper lid for depth. Finally, a nice dose of champagne-y Lumbre was applied to the inner corners to bring more light and attention. This girl is on fire.