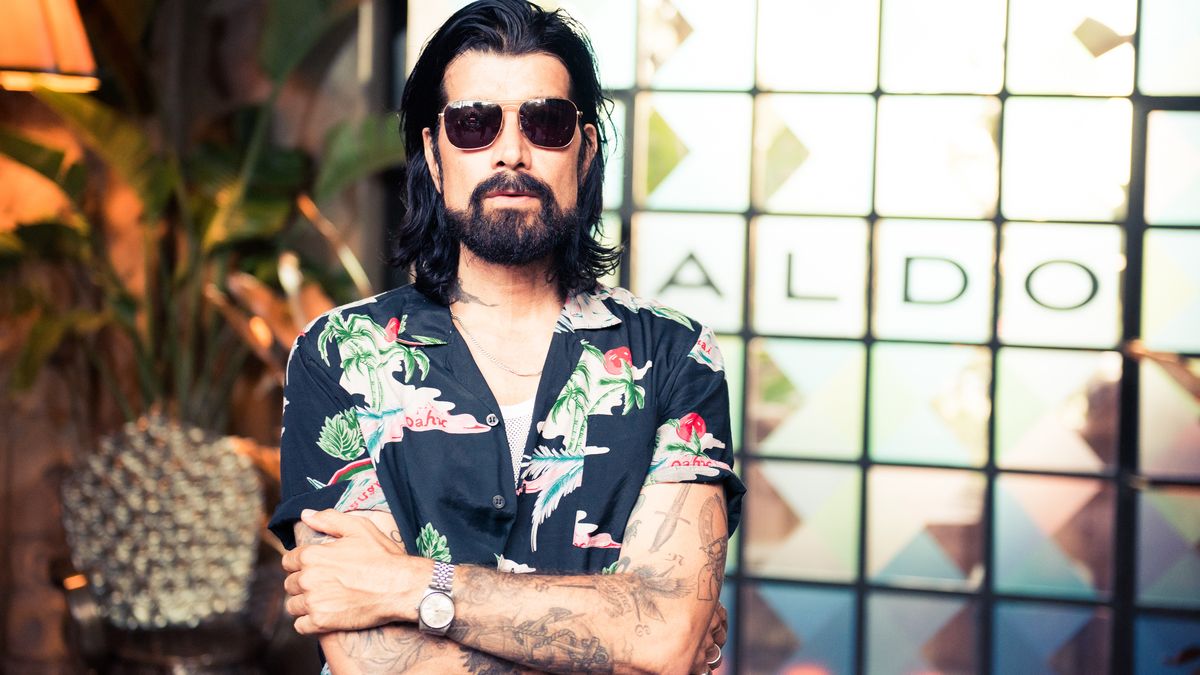 Entertaining
The Number One Rule for a Good Summer Party
Rihanna's go-to DJ has the answer. In collaboration with Aldo.
Myles Hendrik knows the secret sauce to an amazing party: music. Sure, the food, people and locale are all key ingredients, but without good music, there is no vibe. And Hendrik, well, he crafts a great one. It's no surprise, then, that the likes of Leonardo DiCaprio, Rihanna, The Weeknd (to name a few) and mega-brands like Aldo (whose party we attended with Hendrik and can attest to that aforementioned good vibe)  hand off the torch of making sure their guests are sweaty-dancing at the after-party all night long.
When we caught up with the DJ ahead of Aldo's very L.A. jungle-esque pool party to celebrate their summer collection, he told us how Hugh Hefner is the "OG" that got him in the biz (he gave him life advice), the one thing that will kill a mood, and what everyone should be listening to all summer long.
---
Hugh Hefner is the reason he started DJ-ing:
"I've grown up around music my whole life. I used to play in bands, so I was always a music aficionado. I played all sorts of instruments; I had bands, indie bands, punk bands.
"It was literally out of luck that a friend of mine suggested I play a party. So, I went along to this party that was attended by all sorts of entertainment heavyweights. One of those people that I randomly met that night was Hugh Hefner. We just had a conversation about living life to the max. He asked me what I was into, and he said, 'Well, you're really good at this DJ thing. We're having so much fun tonight, maybe this is something that's in your path and something that you should consider. Don't shut any doors.' I remind myself of this today. As far as leading me, he's probably (weirdly) the OG. Before that, DJ-ing wasn't a thing I wanted to pursue."
The difference between playing a runway show vs. a party:
"When you're making runway music, you're essentially making a soundtrack, a theme. Your music is complementary to the designer and the collection. When you're playing a party, like Aldo's summer party, it's more about energy and a different musical journey. When I do that, I'm building a set that has peaks and valleys and unexpected turns, and something that will grab your attention. The music is the medium."
His secret sauce for getting a crowd to dance:
"You have to keep the energy up and keep the song selections moving and changing. I don't really ever let go. I go in, I grab you, and you're on for the ride. We're in this journey. I think predictability is the death of a DJ set. If you're constantly turning them around, making them surprised, you won't lose them."
His summer playlist:
"I think that depends on the room, the setting. A fashion party to a Coachella tent to an Oscar party, the spectrum is so wide. If I had to, it could be anybody from Playboi Carti to Lil' Uzi to Childish Gambino, but then it can also swing to Tame Impala or Glass Animals.
"Tonight [is] all about Aldo's tropical summer collection. I wanted to create the best beach playlist you could take away with you if you're on a tropical island or in Mexico or in the Caribbean."
The signs of a good night:
"I think that's really easy. When you roll out of your last song and someone says, 'That's it?' and you kind of hear this sad sigh from the dance floor, you can tell they want more. That's when I know I did it, because they want to keep going."