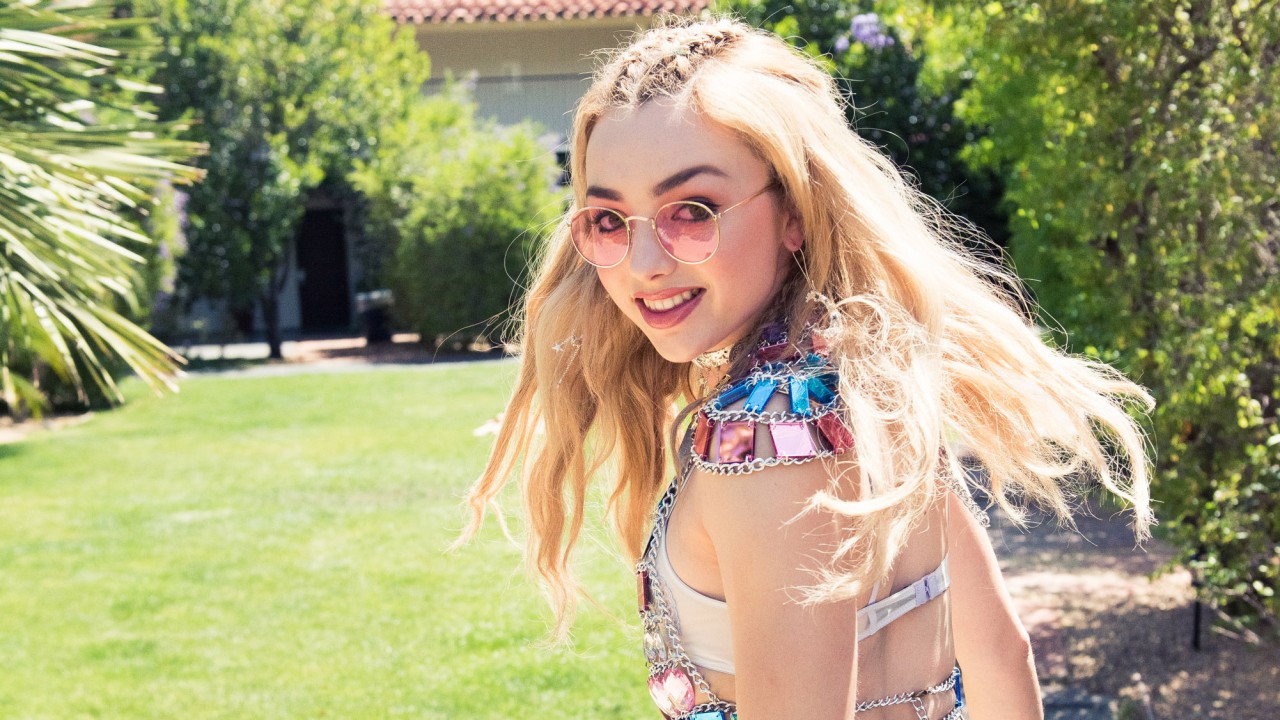 Peyton List Is a Platinum Card Holder at Yogurtland
From eating Nutella out of the jar (is there any other way?) to Marc Jacobs mascara, the actress is sharing her favorite things.
If you don't know much about Peyton List—a sweet, multi-talented, 19-year-old Disney star who recently wrapped filming the book-based movie Anthem—you *could* ask one of her 11 million (and growing) Instagram followers. Or you can keep reading: The actress is sharing some of her favorite things with us ahead, and those tiny little tidbits? Well, they're actually pretty telling. From the time she realized Beyoncé approved of her favorite restaurant to how she prefers Nutella straight out of the jar, we're now Peyton superfans—and, we promise, you will be, too.
1. Favorite Movie:
"This is such a funny one, but I've always loved the movie Pleasantville. I love when they go back in time and as they corrupt the town, it leaves black-and-white and becomes color."
2. Favorite New TV Show:
"I watched Westworld. I watched Stranger Things. Loved all those. I loved Insecure on HBO with Issa Rae. That's my favorite new show. I thought it was so relatable too, her awkwardness—that is so me. At one point she's in the club hanging out with her friend and a guy, and [while] they're hitting it off, she's trying to talk to them. Then she's like, okay no? Cool! And high-fives herself. I feel like things don't really go her way all the time, and it's very relatable and real. I like the music in the show, too."
3. Favorite Restaurant: 
"The pizza restaurant Lucali. It used to be really close to my house [in Brooklyn]. Whenever I go back, I get the calzone and the pizza. Once my dad and his brother were there talking about a girl like, wow, that girl is gorgeous, and my dad was like, that's Beyoncé! So Beyoncé and Jay-Z like that pizza place too, and it's just near my house. It's just a local place, but it's so, so good."
 4. Favorite Karaoke Song:
"We actually did karaoke [with the cast and crew of] Anthem. We all went out, and I was just letting loose and sang 'Wannabe' by the Spice Girls with all the girls. And we sang 'Mamma Mia.' People took videos, and I was looking back and was so embarrassed that I went up there and did it. But you know what? In the end I'm happier that I went up and just had fun. Also, I was really bonding with everyone on set—we really got to know each other that night."
5. Favorite Thing in Her Makeup Bag:
"I just discovered Marc Jacobs mascara is so good, so I started using that. Also this Naked highlighter that I've been using has so much nice shimmer in it. It's especially good for festivals, because I want to be so glowy."
6. Favorite Made-Up Holiday:
"Anything that gives me an excuse, like National Donut Day or National Chocolate Day. I'm like, 'Okay, guys—we've really got to make this happen.' Our National Sibling Day, Dog Day—those are all fun."
7. Favorite Pair of Shoes:
"There's a pair of Stuart Weitzman red velvet boots that I love. Also I feel like my Stuart Weitzman black knee-high boots go with so much, especially when I wear shorts and don't want to show too much skin. I just throw those on. Good go-tos for me."
8. F
avorite Dessert Food:
"I love anything with Nutella. I'll eat it straight out of the jar. I'm also a platinum card holder at Yogurtland. I used to go every day, it was so bad [laughs]. Anything with Reese's Peanut Butter Cups, or chocolate-peanut-butter combos."
9. F
avorite Thing to Do After a Bad Day:
"Also eat chocolate and Nutella! [laughs]. It's funny—it's working out because I feel like if I have all this pent-up emotion, I'll go harder in my workout and let it all out. Then I'll leave feeling so much better. Usually it's do yoga or go on a hike or something."
10: Favorite Workout

"I thought I'd hate yoga, but I actually really like it. I used to have so much tension in my shoulders, and ever since I did yoga, it stretched it out and my body feels so much better. I have all this energy all the time."
11. F
avorite Emoji:
"I usually send hearts along with everything. Or the sparkle one, or rainbows. I feel like I always send emojis because I want my message to come across the way I intended it. Sometimes, things can get so misconstrued in text."