Would You Still Wear Makeup If You Had Perfect Skin?
DJ Brittany Sky makes a convincing case.
Summer Beauty
In case you're not yet familiar with the multihyphenate DJ Brittany Sky, allow us to get you acquainted. The native New Yorker first got a taste for the music industry when she worked for HOT97, on the morning show. From there, friends and colleagues urged her to get into DJ-ing. "I was always the person referencing lines from songs. Whatever situation I was in or whatever my friends were going through, I would always have song lyrics or a bar that matched that situation," she told us. "I was hesitant at first because all of the people at the radio station I have a lot of respect for. They studied the craft, so I was tested." Turns out Sky had nothing to be worried about as she now DJs a new event almost every night. The now L.A.-based creative also spends her time creating content for her Youtube channel (more on that later). Regardless of what she is up to, Sky always looks A1. Hence why we're taking notes on all of her below beauty and skincare tips.
---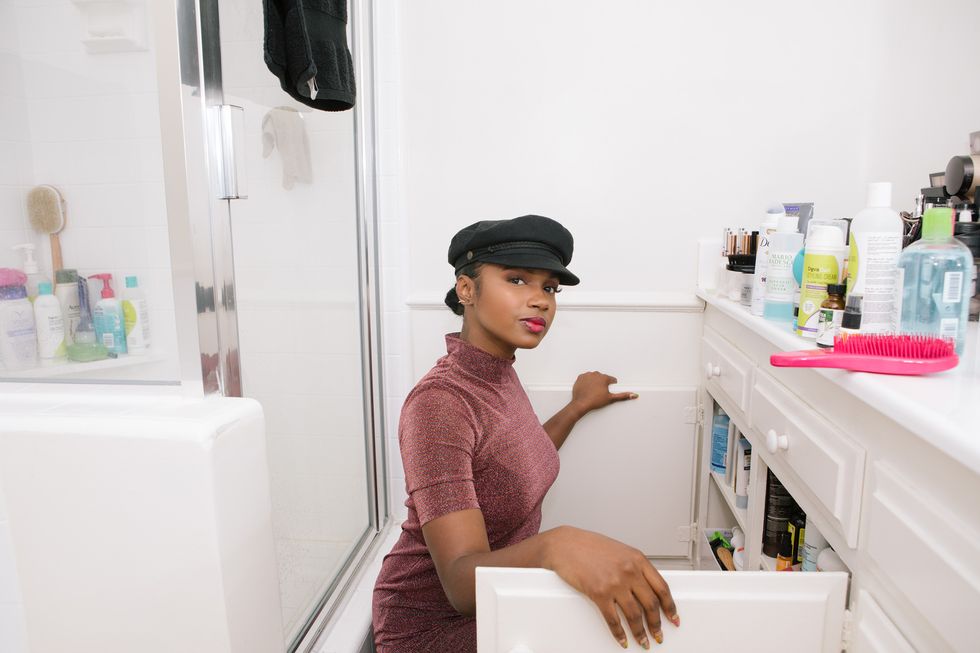 The 101 on her Youtube channel:
"I started [it a] couple years ago. I'm learning I have a presence on there because people send me e-mails or comments. At first, I started doing this music thing where I would interview my friends that were kind of industry heads, people that were creative. Beauty is something that I've always loved. People give me compliments on my skin, and I ruin it wearing makeup, but I really love makeup. That's one of my hobbies—watching YouTubers' beauty channels. I took it upon myself to start doing what I kind of knew would work for me."
She's got a pretty laid-back morning routine:
"As far as my skincare routine goes, I usually wash my face twice a day, sometimes once. I live by the Mario Badescu Glycolic Acid [Toner]. I've seen tremendous changes in my skin since I've been using it—I've been using it for two years now."
And gets more serious at night:
"My nighttime routine—I take more pride in that. I'll wash my face with Boscia and a Foreo. I tone with the Glycolic Acid and rotate through lotions. Lip scrubs are really good—I hate having chapped lips. I use Bioderma a lot, their micellar water. I swear by that. I use it to remove my makeup, to wash my face. I use the Bioderma lotion because they have one that has shine control, which is important for me because I get oily in my T-zone. I use under-eye creams at night most of the time. I actually drink a lot of water. That's one of my key ingredients for my skin."
But her nighttime beauty routine is what we really want to copy:
"I'll start with primer for my face, usually it has shine control. From there, I'll put on my foundation—I've been obsessed with the Lancome foundation, the 24-hour coverage. I then do my eyebrows [with the] Anastasia Beverly Hills [Perfect Brow] pencil—I feel like it gives me more of a natural look. I love Kat Von D concealer, I conceal under my eyes with that and then I'll set it with the Laura Mercier translucent powder. Before I do that, I contour—sometimes I use an eyeshadow or a blush by MAC to contour. Then, I've been using [Guerlain's] bronzer because I feel like it warms up your face. For highlight, I like the [Laura Geller] Gilded Honey. I'll spray with a Milk setting spray or an NYX setting spray. For lip gloss, I've been really loving neutrals—I've been using Kylie Jenner's line with Khloë Kardashian, one called 'Damn Gina.' I'll use that and line my lips with Chestnut by MAC. I wear a lot of red, too. My go-to red lipstick now is Stila Beso—I haven't found anything that can compete yet."