Celebrity
I Shared a Smoothie with Salma Hayek
It was magical (and tasted like roses).
Ben Ritter
"It tastes like roses," Salma Hayek told me, plopping another paper straw into her smoothie. I felt like she was talking to me—and, as it turns out, she was. The Academy Award-nominated actress and current star of Beatriz at Dinner (aka someone I had been so excited to meet) was looking directly into my eyes. And she was offering me a sip of her blueish-grayish drink.
I had actually hoped something like this might happen during Salma's Juice Generation Blend-It-Yourself (or BIY) event, which, I agree, definitely sounds a bit weird. But I had arrived at this fancy Noho penthouse with delusions that the star and I would leave best friends: we'd take a few selfies, laugh over my silly questions, and later I'd brag about it to literally everyone I knew. But Salma, being the super sweet and passionate person she is, spent her time behind a counter, blending and addressing everyone as a group. She explained that three of the cups of frozen, organic fruit—which she helped create with Juice Generation's Eric Helms—could also be used as masks. The two had been working on this idea for over a year, after Salma spent a day slathering Eric with homemade concoctions.
"Instead of having ice cream in your freezer, you have the shakes," she said, listing some of the superfruit and rare ingredients (like Mexican nopal) along with their health benefits. "You can do a beauty treatment on the outside and the inside, simultaneously. You can do your whole body and drink it. You see the results immediately, not in two weeks."
---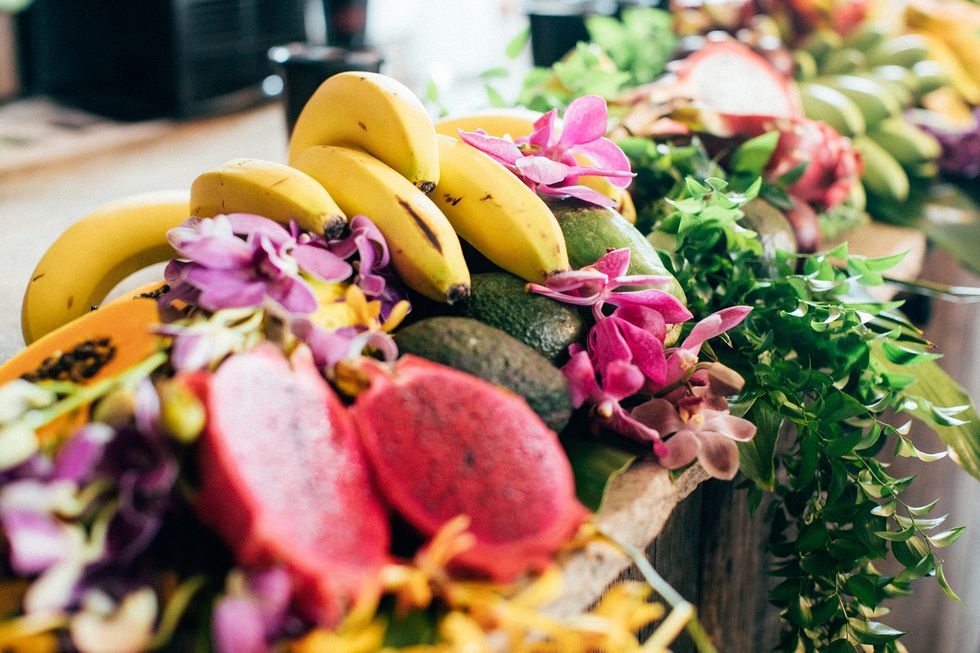 If the whole smoothie-and-shake obsession sounds a little out of left field for Salma, you probably haven't been paying attention. She *actually* started working with Juice Generation back in 2008, helping launch its Cooler Cleanse. And her experience with masks? That goes back even further. As a child, Salma's grandmother would put papaya and honey on her own face, and even advised the actress to wash with oatmeal and camomile tea.
"She was a witch," Salma revealed, half-joking, half-serious (she actually studied with herbologists in Mexico). "A good, white witch. And a cosmetologist. I grew up playing in the dirt in Mexico, and she was like, 'Get over here! Look at your elbows, look at your knees!' 'I'll wash them off!' 'It's too late! Now you'll have to do something stronger!' She'd take peroxide, baking soda, some lemons, glycerin, and salt, and created a scrub that cleanses, whitens, and softens."
Throughout Salma's anecdote and explanation that, combined with the coldness, the cup with "the hibiscus and the watermelon takes away some of the swelling, so your face is instantaneously different," it should be noted that she was looking right at me. That fact made me feel even more envious when, after asking for volunteers, two other editors stepped up to have her paint masks on their arms. ("Look at the difference," Salma said, showing the crowd the results—and, to be honest, their skin did look smoother. Ugh. Should have raised my hand sooner.)
The crazy thing is, if Salma Hayek wasn't *Salma Hayek*, you could easily believe that she was your "fun aunt" or hilarious neighbor. She was smart and silly, even suggesting that instead of "giving ice cream to your date, you can become the ice cream." When asked about her sleeping tricks, Salma quickly said calcium magnesium, adding, with a whisper, "It also helps you go to the bathroom. Life is perfect. You sleep well and you mmgh well."
And then—after cracking me up with her realness, and making me extremely curious about what these drinks tasted like—there she was, offering me a sip of hers.
"Wow, it does taste like roses," I told Salma…after what seemed like an eternity of me struggling with the paper straw. "It tastes like roses, right?" she confirmed, then moved on to tell the crowd that this particular mix helps combat water weight. Our BFF moment had happened…and then it was over. Entirely too soon.
But I didn't leave feeling defeated. I left with this amazing story. And, of course, a selfie (because I couldn't not ask—it's Salma Hayek!).