WWWRN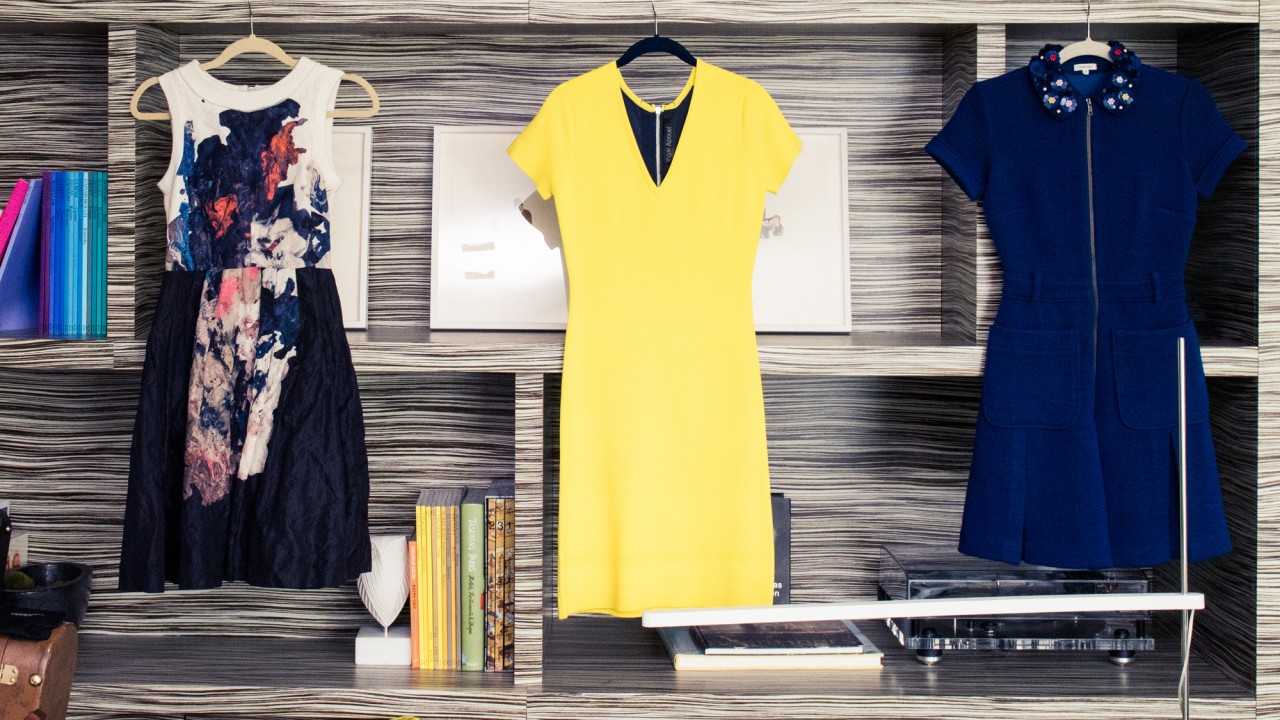 18 Summer Dresses for Looking Hot When It's Also Really Hot
These are the ones our editors are buying.
Is anything more perfect than just being able to look in your closet, love a single piece of fabric that is fashioned to fit over your body perfectly, and wearing it out all day?! No! From the subway to the office to a picnic in Central Park, or drinks on a Brooklyn rooftop (coincidentally places we'd also like to be right now), summer dresses are the best. Also considering the seasons don't allow for us to wear them year-round, we will wear these all day, every day until we absolutely have no choice but to cover up. From a sleep shirt that goes with everything to a condom-wrapper-patterned mini, here are our 18 favorites.
---
Tara Gonzalez
Assistant Editor
1. Marques'Almeida Floral Lace Ruffle Dress: Watermelon is the best summer treat, and this dress is watermelon-colored! Which also makes it a summer treat. The slits give it a less feminine feel and also create some much-needed sneaky ventilation.
2. Daisy Satin Hook Dress: Daisy is one of my new favorite designers and favorite Instagram discoveries yet. I am all for wearing lingerie as everyday wear, whether it be bustiers over t-shirts or lace bralettes underneath cropped jackets or sheer tops. Daisy's clothing is sheer, simple and sexy, and I want it all. I'll start by adding my name on the wait list for this dress.
3. Sandy Liang Louie Dress: I know I always put something Sandy Liang makes in my editor's picks, but I CANNOT help it. Everything she does is perfect, and she can do no wrong in my eyes. This dress is another example of that. My favorite part is the little pink squares, which aren't floral, but condom wrappers that say "Make Love." Saucy!
1. Ulla Johnson Ariane Maxi Dress: Even in the summer, I tend to get cold (thanks, people who blast the AC), and so the best dresses, in my opinion, are maxis, which are easy and breezy while doubling as a blanket for my legs. Plus, I love how you can change up the straps on this striped Ulla Johnson dress, making it look completely different. It's perfect for day-to-night transitions.
2. Lisa-Marie Fernandez Bow-Front Dress: It's nearly impossible for me to scroll past a Lisa-Marie Fernandez piece and not audibly sigh, "ooh," or proclaim, "I need this!"—and this feminine, bright pink, off-the-shoulder number made me do all three.
3. HVN Maria Falling Floral-Print Silk-Crepe Dress: I've been thinking about this dress since Selena Gomez wore it at Coachella, which is a sure sign I'm in love and should probably just go ahead and buy it, right? (Along with the matching neck scarf.)
---
Laurel Pantin
Editorial Director
1. DVF Dress: My summer dress MO is all about print and easy fabrics—something that DVF has been totally nailing lately. I love dresses that kind of flutter happily around you, and this one does exactly that.
2. Rixo London: I just bought my first Rixo dress, and I'm confident it won't be my last. They have the most fantastic prints and, in the grand scheme of things I want, are surprisingly affordable.
3. The Sleep Shirt: I've talked about my obsession with this brand before, but honestly, I wear this dress 99% of the summer. It's insanely comfortable, and the easiest thing to wear—add some ankle-tie sandals, a basket bag and hoop earrings, and you're done.
---
Hannah Baxter
Assistant Editor
1. Reformation Carina Dress: I seriously cannot get enough wrap dresses in the summer, and this printed style from Reformation hits every mark for me. The silhouette is a classic for a reason!
2. Mara Hoffman Rainbow Stripe Linen Dress: I've never met a stripe that I didn't like, so clearly this one-shoulder dream in breezy linen is completely my MO. From the pattern to the ruffle, the whole thing radiates pure happiness to me.
3. T By Alexander Wang Cut Out Cami Dress: For the heavy-hitter everyday summer outfit, Alexander Wang pretty much nails it with his modal dresses. The cutouts in the back are just revealing enough AND act as built in air-conditioning for those stifling subway rides from hell.
---
Katie Becker
Contributing Beauty Editor
1. Velvet by Graham & Spencer Embroidered Dress: This roomy pullover dress requires zero fuss—a must in the summer. The awesome color combo and bright tassels also mean I can forgo accessories for low maintenance, high impact.
2. Marc Jacobs Wrap Dress: Between the happy retro pattern and the sweet cut, this dress could see a lot of action this season. I forecast many a Catskills wedding, al fresco brunch, and summer Friday in its future.
3. & Other Stories Frill Dress: Some of my best memories are dates around the city with my boyfriend on hot, steamy evenings. Yes, indeed, "Those Summer Nights." This easy black wrap nips in my waist perfectly, and I also feel it would be Sandy-approved.
---
Noah Lehava
Senior Editor: Health and Wellness
Part of the series:
WWWRN