Career
Meet the 26-Year-Old Shaping the Voice of NYC's Most Legendary Institution
Kimberly Drew on bringing The Met's collection to social, interviewing Solange, and her Oprah mural.
Alec Kugler
It *probably* won't totally surprise you to learn that growing up, Kimberly Drew's interests fell largely into two categories: social media, and art (she's been computer-literate since the age of 6, and received her B.A. in art history and African-American studies at Smith). It's squarely at the intersection of those two worlds that her impact lies—whether it's at her 9-to-5, as social media manager at The Met (which, yes, involves the mammoth task of contextualizing, oh, 5,000 years of art history to the likes of Snapchat), or as curator and founder of the Tumblr Black Contemporary Art.
What *will* surprise you? The fact that despite all that digital experience, she swears that out of everything in her office (which we photographed, here, for your ~viewing pleasure~), "my greatest piece of technology is a Moleskine." Yep—don't let the Instagrams of, say, Drew interviewing Solange at Coachella (!) let you think any differently: What goes into all of that behind-the-scenes is, in reality, endless meetings, scrupulous note-taking, strategizing, and everything else synonymous with making shit happen (oh, and an Oprah mural—more on that later). That said? Drew makes a point to prioritize self-care—and expects the same of her team. "I always ask people about work-life balance," she told us. "It's always my first question, because I'm really interested in working with people, and not just productive robots."
---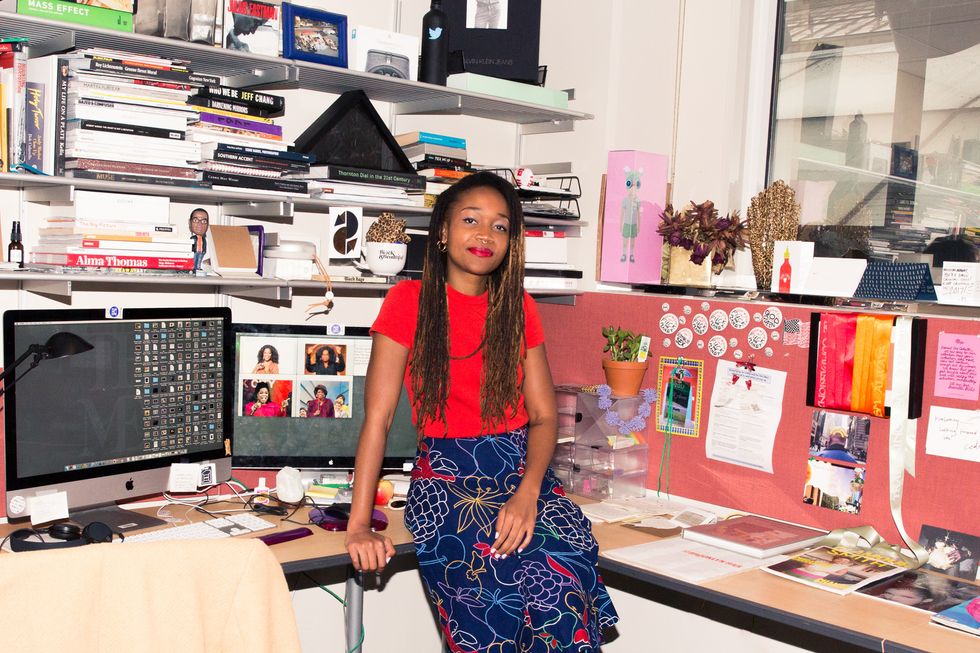 How she clicked with the digital space from a young age:
"I started using a computer when I was 6 [years old]. Digital has always been a part of my life and the way I perceive the world. It was never a conscious decision, it was more, 'I'm going to use the tools that I have to share information.' A lot of my career really started before I was working in museums. I was working on my blog online, as opposed to more traditional forms of media."
What it's like to create a digital voice for a 145+ year-old institution:
"Social media creates a shift that happens where the user's voice can be as powerful as an institutional voice. There is definitely a hierarchy, don't get me wrong. But being at the forefront of that shift happening, saying, 'Hey, we're now having an opportunity to be really dialogical with our communities. What can we do with that?' is a unique challenge. It's about providing relevance to our constituencies; as opposed to saying, 'Of course you want to know about this painting,' we're saying, 'This is how this history can work into the way that you see the world.'"
"Remaining committed to exploration and trusting your taste is something that is really necessary."
How she balances personal projects with her 9-to-5:
"I'm really lucky because there are so many intersections in the work that I'm doing personally and professionally. Personally, I'm using social media to talk about art; professionally, I'm using social media to talk about art. It's just a matter of which stories are being told. If I'm acting as the institution, I have the ability to be able to communicate through 5,000 years of art history, whereas when I'm talking as myself, I am very well aware that there is a lot more to learn."
How she furthers the work of Black artists:
"I'm always really adamant about taking the research of Black artists very seriously. Communicating to people that this is an entire discourse, there are so many different mediums to which people work, there are so many different histories to consider. That's why I built my blog the way that I did, to show a plethora of ideas that are being explored from a Black perspective. That's what will keep the discourse successful for generations to come—an awareness of being part of a community."
How she thinks institutions across the board can do a better job of being inclusive:
"To not only feature people from marginalized communities, but also allow them to contribute their own voices. Historically, there have been a number of instances where there is a movement, but then the writer is someone who is on staff, or the narrative is still being told by the same gatekeepers. I'm really looking to see more organizations give people from unserved communities a shot, so that their story can be told and not just shown. If you can have them on set, you can have them be your contributors, too. Those things are really necessary."
Her surprising go-to productivity tool:
"My greatest piece of technology is a Moleskine. It's a place where I can put everything on the same page. Aside from that, I just live on GoogleDocs and Drives, Excel Sheets. I don't have a ton of super cool efficiency tools. I've still been mourning the loss of the Sunrise Calendar."
Why her books are her favorite thing in her office (also, that Oprah mural):
"My Oprah mural is pretty important to me. It's always a conversation starter. It helps break the ice. Other than that, I'm really in love with my book collection. I wanted to bring that personal nature into the workspace. Offices can be really rigid and corporate. I like the coziness, and I think that the bookshelf is the first avenue towards it."
Her thoughts on nailing a job interview (plus, the question she always asks):
"I always ask people about work-life balance. It's always my first question, because I'm really interested in working with people and not just productive robots. It's a job where you're on the front line with the public, and so hearing what people are doing outside of work is so integral.
"Being well researched is always good. Within social, because it's such a democratic discourse, everybody is so convinced that they can do it. When people can arrive and actually talk about particular ways that they have used a platform as an institution is always helpful."
Her advice for anyone aspiring to work in the arts:
"I want to say, 'follow your passion,' which is literally the worst answer. It's true! Remaining committed to exploration and trusting your taste is something that is really necessary. Especially now, working in the arts is such an incredibl[y] important thing to do. Being able to be of service to the public in the way that we are is very serious work. There is no right way to do it. It's really important to follow your gut, be really thoughtful, interview people and ask questions. You're the authority on what you like and enjoy. That will make you the greatest asset to whatever team you join."