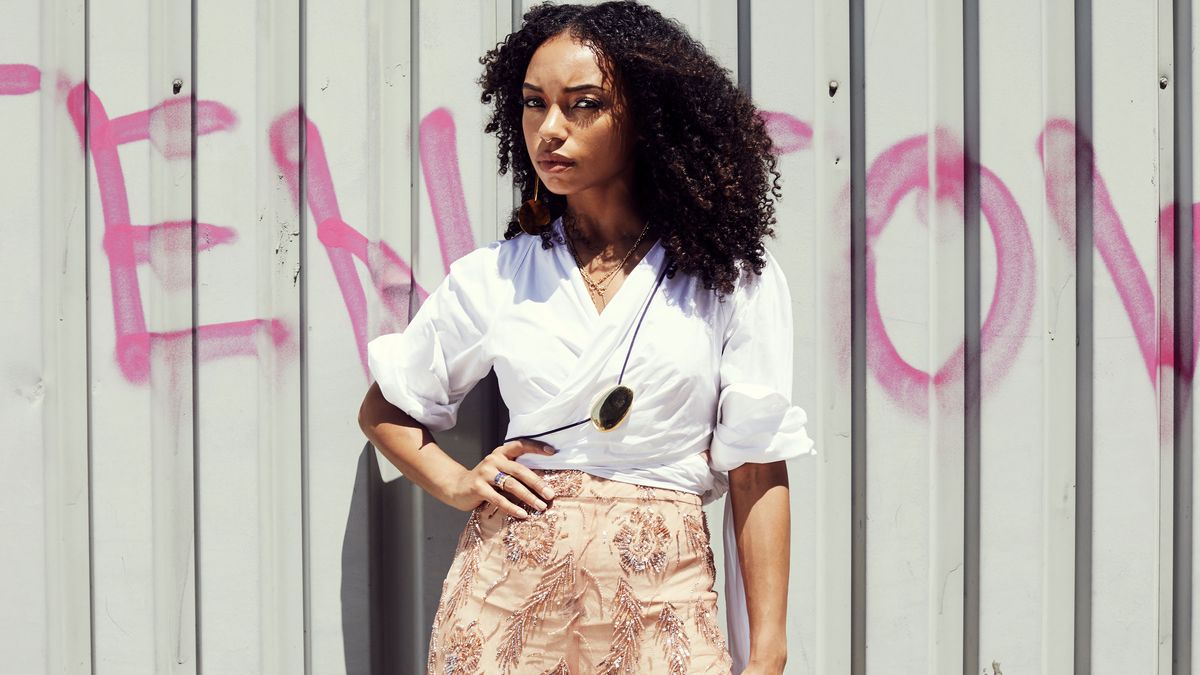 Celebrity
Dear White People's Logan Browning Isn't Just an Actress, She's an Activist
The star has a ton in common with her on-screen alter ego.
Erik Tanner
Laurel Pantin, Tara Gonzalez
A few hours after leaving Coveteur's photo shoot with Logan Browning, a message popped up on my Instagram. "Can you send me any photos or vids you liked from today?" the actress asked—casually, like she wasn't the star of the Netflix hit Dear White People (which I had just binge-watched days before). "I adore your energy. Sending you the bestest of wishes."
It was beyond cool, and telling of the down-to-earth, sweet type of person Logan is in real life.
I sent along every stunning behind-the-scenes shot I had.
It's crazy to think that a few weeks prior, Dear White People hadn't been at the top of my queue—a grave mistake on my part, but one that Logan, who plays Samantha White on the show, fully understands. "When I first saw the title of the movie [which the show is based on], I wasn't necessarily going to be the first person in line to see it," she admits. "But I did see it. I gave it a chance, and I loved it."
---
Reception of the series has been similar. For starters, the name, as Logan points out, is a misnomer. And while it touches on many serious and relevant topics, it's a comedy (yes, a comedy!) that has a little something for everyone, no matter who you are.
"The themes are far surpassing what the title leads you to believe—gender identity, sexuality, your relationships in college, needing to have a safe space as a marginalized group on a mostly white campus," Logan explains. "From the beginning, when you meet Sam, you understand that anything you think the show is going to be preaching to you, it's not. Then, when you get to move away from Sam a little bit, you meet Lionel, and Coco, and Troy, and [see] the different opinions within this black community and the way that one event is perceived through different lenses. It gives you a chance to fall in love with each character on their own."
Creator Justin Simien is the person to thank for that. His writing, says Logan, is what she really loves about her role.
"The way Justin writes for Sam is so beautiful. I'm just so excited that I get these words to express feelings that I've had about a lot of our current political issues. It's kind of therapeutic to be able to have a soapbox to stand on as a character and say real names. It's a fictional show, but I'm saying Philando Castile, Trayvon Martin, Sandra Bland—those are real people. It's giving me an opportunity to really connect to a character, but also connect to the world through my character."
Off-screen, there are similarities between the star and her alter ego. Logan openly talks about her struggle to find her place—"I'm constantly searching for my identity in groups of people"—there's also the fact that she isn't shy about publicly expressing her opinions.
"I relate to Sam wanting to be the leader of a movement but also not necessarily always feeling equipped, you know?" Logan tells me. "For instance, I'm now put in the position to talk about really important topics, and I will admit, today and forever, that I will not always have the answers. It's a difficult position, and it is also a great responsibility because people are listening to you. I always want to make sure I'm being an asset to the best cause, not hurting it or harming it in any way."
Recently, Logan had a heated Twitter exchange, debating two topics she touched on in a HuffPost Black Voices video: "reverse racism" and the use of the N word.
"I'm not saying that people of any race can't be bigots, or judgmental, or biased, or hateful, because they can," she says, addressing the conversation. "That word, 'racism'—and the reason it's so dangerous for people to use the term 'reverse racism'—is racism is a vehicle used to oppress people of a marginalized group based on the superiority of a race. Hypothetically, if people of color were the majority and used their advantage to oppress white people in a system of a racial hierarchy, then and only then could the idea of reverse racism exist."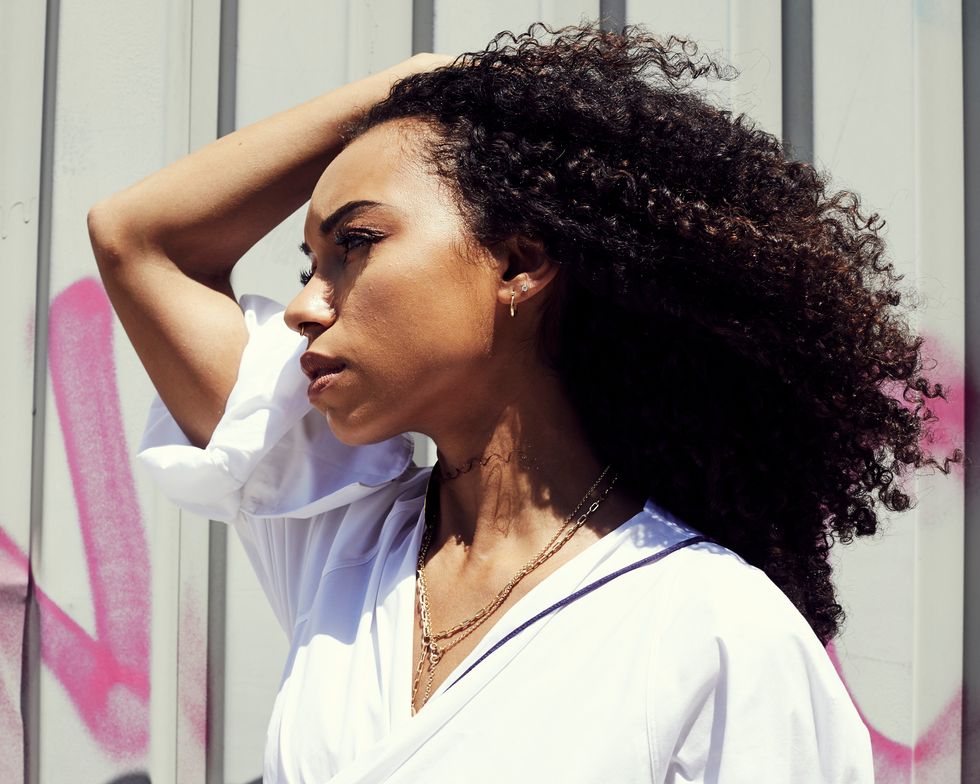 Jumpsuit, Monique Lhuillier; Shirt, Elizabeth & James; Necklace, Elizabeth & James; Long Earring Paige Novack for Tibi; Hoop Earring, Shinola; Rings, Foundrae, Pamela Love, Shinola
Jumpsuit, Monique Lhuillier; Shirt, Elizabeth & James; Necklace, Elizabeth & James; Long Earring Paige Novack for Tibi; Hoop Earring, Shinola; Rings, Foundrae, Pamela Love, Shinola
And as for the N word? Her thoughts mirror those expressed during a party scene in the show.
"It's weird to me that the conversation about the N word is something that I'm even having," Logan says. "I get that you don't understand why some people can and some people can't [use it], and maybe that's not the way things should go. But at the very least, one group of people should not ever say it. I can talk all day about whether black people should say it or not, whether it should be in songs or not. I think there are progressive conversations there, and I don't have all of the answers about it. I have said, we don't know the social and systemic benefits of white people not using that word. We haven't seen it yet."
The future is no doubt bright for Logan—both as an activist and an actress. But what's in store for Sam?
"I don't even think we scratched the surface," says Logan, admitting that's what intrigues her about Sam. "What she is made of, in terms of her biological makeup, her upbringing, and what made her into the pro-black voice that she is. Her identifying with or suppressing either side of herself, her relationship with her parents, and even her love for cinema. All of those underlying things are really what drew me to her."
Fans of the show (aka me) will agree, patiently waiting for confirmation of season two. More episodes of this brilliant show—and more of sweet, intelligent, conversation-starting stars like Logan—is definitely what the world needs.
Hair by Naivasha Johnson for Exclusive Artists using Phyto Paris and T3 Tools; Makeup by Lucky Smyler.